2014 Able Muse Write Prize: Contest Winners Announcement
Submitted by Alex Pepple on Sun, 09/14/2014 - 16:03.


~

Able Muse Write Prize (for Poetry & Fiction)

~



2014 Contest Winners Announcement
Able Muse is pleased to announce the winners of the Write Prize for poetry & fiction (judged anonymously throughout by the Able Muse Contest Committee and the final judges, Amit Majmudar for fiction, and Dick Allen for poetry). The winning writer and the winning poet will each receive a $500 prize.
Write Prize (for Fiction), Final Judge: Amit Majmudar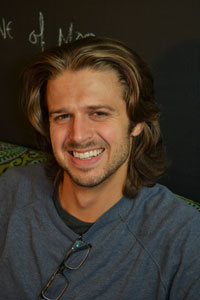 FICTION WINNER: J. Preston Witt - "Lesson One"
Here is what Amit Majmudar has to say about J. Preston Witt's winning story:
I chose "Lesson One" after reading the anonymized shortlist of stories for a variety of reasons, but the main reason was the refusal to try and compress the conventional MFA-realist short story into a supershort format. This is what almost all of the other stories did, except for the one or two that tried to write the flash fiction form as a lyric poem (that is, keeping to a minimum of characterization and incident). Instead, the author practiced the flash fiction form with a nod toward its true ancestry, writing a piece that comes close to the parable. I cannot know for sure whether the author intended us to interpret "Lesson One" in a metaphysical or Kafkaesque light, but the makings of a dark parable are all there: the slightly inscrutable capital-F "Father," the "meditation" the two sons are made to practice, the mortally dangerous teaching method, the fighting moves taught by the Father that are then used against the Father (at this point, the "enemy"), the body of water, the caregiving Mother-figure, and the final mysterious refusal to look but knowing he (He) is there. . . . One could go on, but the author wisely didn't, creating a flash fiction that strikes like lightning, brief but illuminating. All this, and it was actually exciting to read.
The winning story will be published in the Winter 2014 issue of Able Muse, print edition. (No other entry in the fiction category achieved selection for publication.)
FICTION HONORABLE MENTION:
• Andrea Witzke Slot - "Penelope Thinks She Remembers Her Father"


SHORTLIST:
Here are the entries that made the fiction shortlist:
• Hal Ackerman - "A Walk in The Park"
• Ronald Aden Alexander - "Immortality"
• Kathleen Coskran - "Gull Man"
• Val Haynes - "History Lesson"
• James Keegan - "Last Exit before Toll"
• R.C. Neighbors - "The Hook and the Worm"
• R.C. Neighbors - "Puzzle Pieces"
• Luke Tennis - "Starfish"
• Jeannine Vesser - "That Summer"
• E. D. Watson - "Open All Night"

* * * *
Write Prize (for Poetry), Final Judge: Dick Allen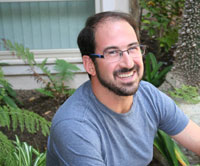 POETRY WINNER: Scott M. Miller - "Costanza e Preziosa"
Here is what Dick Allen has to say about Scott M. Miller's winning poem:

The two-column poem, ideally made to be read straight across the columns as well as down one column and then the other, is notoriously difficult to compose. Almost always, its tour-de-force element overwhelms its subject and theme. Not so here. "Costanza e Preziosa" cries out to the reader. It sends us back to the famously scandalous sculpture by Bernini. Its passionate imagery—that hair!—reminds us of how each female lover can be, separately and together, "model, mistress, muse" and of how great passion sculpts the ages. Crafted with notable devotion, this is one of the finest ekphrastic poems I now know.

FINALISTS:
Dick Allen observed of the finalists that "their different merits seem to me to make them pretty equivalent." These finalists are a good representation of the outstanding quality of the poems entered in the contest. I have to add that some of the poems which did not make the finals were also quite good—especially, the poems that made the shortlist, mentions further down below.



Eric Berlin - "For Lack of What Is Found"


Catherine Chandler - "Discovery"



Marilyn L. Taylor - "River II: Accidental Reflection"


- The winning and finalist poems will be published in the Winter 2014 issue of Able Muse, print edition.
SHORTLIST:
Here are the shortlisted entries, which were good indeed, and top the unusually large number of quality poems that were entered in the competition.
• Eric Berlin - "Aire Libre"
• Eric Berlin - "Legacy"
• David Culwell - "Glory"
• William E. Rogers - "The Decline of the Bourgeoisie"
• William E. Rogers - "Twins"
• Safiya Sinclair - "Center of the World"
• Safiya Sinclair - "How to Be a More Interesting Woman: A Polite Guide for the Poetess"
• David Southward - "Wallace at the Office"

Congratulations to our winners, and finalists. Well done to the shorlisted entrants. And thank you to everyone who entered.
**NOTE: The results for the 2014 Able Muse Book Award are not yet available. They're expected before yearend.
Subscribe now to Able Muse to read the fine work of the contest winners and finalists in the forthcoming Winter 2014 issue.


Stay tuned for the announcements coming soon for the 2015 Able Muse contests.
The Special new issue of Able Muse, Translation Anthology Feature - Print Editon (Number 17 - Summer 2014), has just been released, with order/subscription information (for print & Kindle, NOOK, Kobo & iBooks editions), with online excerpts and the subscribers' online edition at: www.AbleMuse.com
A TRANSLATION ANTHOLOGY FEATURE ISSUE -
Guest Edited by Charles Martin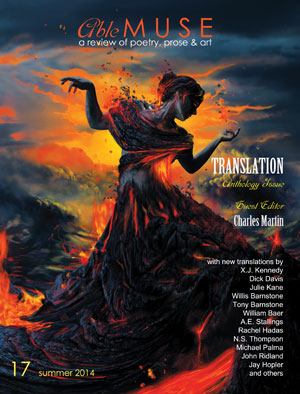 • guest editorial: Charles Martin • editorial: Alexander Pepple
• poetry translations by: X.J. Kennedy, A.E. Stallings, Rachel Hadas, William Baer, Willis Barnstone, Tony Barnstone, Michael Palma, Dick Davis, Jay Hopler, Ned Balbo, N.S. Thompson, John Ridland, Kate Light, John Whitworth, Andrew Frisardi, Diane Furtney, Teresa Iverson, Julie Kane, Maryann Corbett, Bilal Shaw, Mark S. Bauer, Michael Bradburn-Ruster, Heidi Czerwiec, Claudia Routon, Brett Foster, Catherine Chandler, Terese Coe, Adam Elgar, Rima Krasauskytė, Kent Leatham, R.C. Neighbors, Deborah Ann Percy, Dona Roşu, Arnold Johnston, Maria Picone, Robert Schechter, Wendy Sloan, Jeff Sypeck, Ryan Wilson, Shifra Zisman, Laine Zisman Newman.

• poetry translations of: Victor Hugo, Arthur Rimbaud, C.P. Cavafy, Fernando Pessoa, Miguel de Unamuno, Catullus, Charles Baudelaire, Francesco Petrarch, Rainer Maria Rilke, Asadullah Khan Ghalib, Horace, Martial, José Luis Puerto, José Corredor-Matheos, Cecco Angiolieri, Delmira Agustini, Heinrich Heine, Christine de Pizan, Nur Jahan, Ayesheh-ye afghan, Jahan Khanom, Reshheh, Gaspara Stampa, Dante Alighieri, Armand Sully Prudhomme, Gérard de Nerval, François Villon, Euripides, Georg Trakl, Nelly Sachs, Tautvyda Marcinkevičiūtė, Gavin Douglas, William Fowler, William Dunbar, Bertolt Brecht, Antonio Malatesti, Giovanni Raboni, Fosildo Mirtunzio (Pseudonym), Zaharia Stancu, Paul Valéry, Tove Ditlevsen, Sor Juana Inés de la Cruz, Giacomo Leopardi, Paul the Deacon, Giovanni Pascoli, Meleager, Lope de Vega, Dovid Zisman.
----
With special thanks for an outstanding new issue to -- Charles Martin (Guest Editor), Janice D. Soderling (Associate Guest Editor).

Alexander Pepple, Editor
www.AbleMuse.com
. . . read more


ABLE MUSE (Print Edition)




The Able Muse back issues - the Inaugural Print Edition, Winter 2010, and the Print Edition, Summer 2011, and every issue after that are still available at Able Muse Press, Amazon and other online & offline bookstore.


Subscribe now for the next releases of Able Muse, Print Edition.

SUBMISSIONS:

Able Muse (print edition):
1) reads submissions year-round. Submit now for a chance to appear in Able Muse - send your best poetry, art, fiction, essays, book reviews. The submission guidelines are available here.
2) Submit now for our Translation Special Issue. guest edited by acclaimed poet, critic and translator Charles Martin.

Able Muse Press:
reads submissions during the yearly open reading period, next period is May 1 - July 15, 2015. Submit your poetry/fiction manuscript now. The submission guidelines are available here.
Coming Soon:
Translation Bake-Off, 2014 with Distinguished Guest & Host Julie Stoner
Held Previously:
Double-blind Sonnet Bake-Off, 2014 with Top Secret Distinguished Guests!
-----------------------------------------------------------------------
Newsletter Signup | Forward