Able Muse Short Fiction Workshop
The Able Muse Short Fiction Workshop
open to poets, essayists, fiction writers, screenwriters, and playwrights
By popular demand after the recently concluded 30-Day Writing Program by Nina Schuyler, we now bring you the Short Fiction Workshop, starting soon, February 1, 2012. Our last online workshop by Nina, the Able Muse / Eratosphere 30-Day Writing Program, was highly popular and praised by the participants. Here are some of their comments:
____________________________________________________________





The materials will continue to be helpful long after the thirty days. - E.B.

The prompts led to some startling new places in my writing. - L.S.R.

The course was excellent. - M.J.A.

........
____________________________________________________________
This worshop will be limited to

10 students only!

Don't miss out ... register now!
Instructor:

Nina Schuyler
Course Dates:

February 1 to March 10, 2012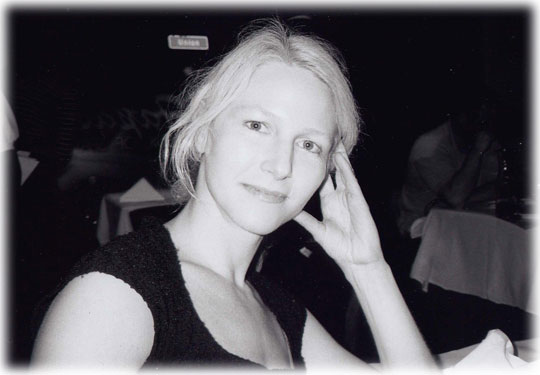 Nina Schuyler's first novel, The Painting, (Algonquin Books of Chapel Hill, 2004), was nominated for the Northern California Book Award and named a Best Book by The San Francisco Chronicle, and a "fearless debut" by MSNBC. Her second novel, Accidental Birds, will be published in 2012 by Vagabondage Press. She is the Fiction Editor of Able Muse.
Her short story, "Water Babies" was chosen as the Santa Clara Review's Editor's Choice Prize winner for fiction, Spring/Summer 2008 issue. Her short short, "Black Holes" won the Big Ugly Review 2008 Short Short Contest. Her short story, "The Big Break" placed second in the 580 Split Fiction Contest in 2006. Her short story, "Road Trip" placed second in the Big Ugly Review Fiction Contest in 2006. Her short story, "Don't Mess with Mr. In Between" was a finalist in the Lewis "Buddy" Nordan Fiction Contest, sponsored by Nidus, a journal published by the University of Pittsburgh. Her stories have been nominated for a Pushcart Prize and Best New American Voices. Her poems, short stories and essays have appeared in ZYZZYVA, Fiction Attic, Flash Quake, Nimble, Fugue, Prime Mincer, The Meadowland Review, Tumbleweed Review, Oxygen, EM Literary, Watchwordpress, Red Weather: A Journal of Poetry and Culture, Transfer, Sojourn Literary Arts Journal, New Town, Newsday and other publications.
She earned her MFA in fiction with an emphasis on poetry at San Francisco State University. She currently teaches creative writing at the University of San Francisco.

Course Description
A good short story is like a magical treasure box—so much packed in such a small, contained form.
In this six-week online course, we'll learn how to make these treasure boxes, stretching the treasures far beyond what literally appears on the page. You will learn how to generate more meaning and implication for any given amount of words. Whether we are reading your work or published short stories, we will seek principles that explain the writer's craft choices, deciding what works and what doesn't. We'll cover the usual ground-- characterization, setting, structure, plot, and point of view. But we'll move beyond that to discuss the value of the arrangement of scenes, imagery, repetition, and negative space, or thinking of the story that isn't on the page. Weekly writing exercises are designed to practice these principles and expand the possibilities of your writing. Throughout, I will encourage you to push the boundaries of your work, to take risks with your writing, and to challenge the conventions of the short story.
Each week there will be a live lecture and time for questions and discussion. At the end of the course, you can submit your revised short story to the instructor for further comments.
The class is open to poets, essayists, fiction writers, screenwriters, and playwrights, whether you are just starting out or you've been making treasure for a while. The class will be limited to 10 students.
In sum:
You will workshop one manuscript 10-20 pages long
Receive critiques from your fellow students and instructor
Receive weekly writing exercises
Read published short stories to understand craft elements
Receive live lectures, with time for questions and discussion.
Receive a final critique from your instructor.
Total cost: $200
(plus cost of course reader: not more than $10)
Registration
ONLINE

--Preferred registration method

securely through Google Checkout, a major online payment processor with any credit card.
Second-choice option: securely through Paypal (via major 3rd party-processor, 2Checkout) click here
Least favorite option: you can send a

check/money order

for $210.00 (please include your email address!) to:

Able Muse Review
467 Saratoga Avenue #602
San Jose, CA 95129
USA

(NOTE: Check payable to Able Muse Review. Also, contact us here immediately after payment with 1) your full name, 2) check date, and 3) check number so that your registration can be activated promptly despite potential postal delays).
If you have any question about the Able Muse Short Fiction Workshop, contact us here.