Able Muse 2016 Contests Now Open (Poetry / Fiction / Book Manuscript) & More
Submitted by Alex Pepple on Wed, 11/25/2015 - 04:19.
Announcing the 2016 Able Muse poetry/fiction/book contests:
Submissions now open for the Able Muse Write Prize & the Able Muse Book Award
Complete details, including submission information, is available at the Able Muse Press website at http://www.AbleMusePress.com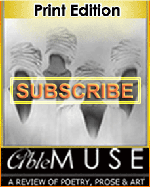 Subscribe now to Able Muse to read the fine work of the winners of our other contests, the 2015 Write Prize for poetry and fiction, in the forthcoming Winter 2015 issue.
---

2014 Able Muse Book Award WINNER
Carrie Shipers (selected by Molly Peacock)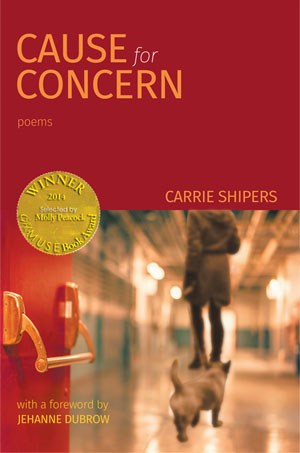 ---

Walking in on People (winner, 2013 Able Muse Book Award) - poems by Melissa Balmain
(with an foreword by David Yezzi)
. . . read more | Order your copy now!

Virtue, Big as Sin (winner, 2012 Able Muse Book Award) - poems by Frank Osen
(with an afterword by Timothy Steele)
. . . read more | Order your copy now!

Dirge for an Imaginary World (winner, 2011 Able Muse Book Award) - poems by Matthew Buckley Smith
(with an foreword by Greg Williamson)
. . . read more | Order your copy now!

• (2015 Winner Announcement here)
• (2014 Winner Announcement here)
• (2013 Winner Announcement here)
• (2012 Winner Announcement here)
• (2011 Winner Announcement here)
---
The Special issue of Able Muse, Translation Anthology Feature - Print Editon (Number 17 - Summer 2014), has just been released, with order/subscription information (for print & Kindle, NOOK, Kobo & iBooks editions), with online excerpts and the subscribers' online edition at: www.AbleMuse.com
A TRANSLATION ANTHOLOGY FEATURE ISSUE -
Guest Edited by Charles Martin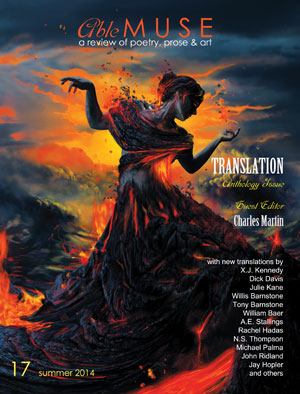 • guest editorial: Charles Martin • editorial: Alexander Pepple
• poetry translations by: Molly Peacock, A.E. Stallings, Rachel Hadas, William Baer, Willis Barnstone, Tony Barnstone, Michael Palma, Dick Davis, Jay Hopler, Ned Balbo, N.S. Thompson, John Ridland, Kate Light, John Whitworth, Andrew Frisardi, Diane Furtney, Teresa Iverson, Julie Kane, Maryann Corbett, Bilal Shaw, Mark S. Bauer, Michael Bradburn-Ruster, Heidi Czerwiec, Claudia Routon, Brett Foster, Catherine Chandler, Terese Coe, Adam Elgar, Rima Krasauskytė, Kent Leatham, R.C. Neighbors, Deborah Ann Percy, Dona Roşu, Arnold Johnston, Maria Picone, Robert Schechter, Wendy Sloan, Jeff Sypeck, Ryan Wilson, Shifra Zisman, Laine Zisman Newman.

• poetry translations of: Victor Hugo, Arthur Rimbaud, C.P. Cavafy, Fernando Pessoa, Miguel de Unamuno, Catullus, Charles Baudelaire, Francesco Petrarch, Rainer Maria Rilke, Asadullah Khan Ghalib, Horace, Martial, José Luis Puerto, José Corredor-Matheos, Cecco Angiolieri, Delmira Agustini, Heinrich Heine, Christine de Pizan, Nur Jahan, Ayesheh-ye afghan, Jahan Khanom, Reshheh, Gaspara Stampa, Dante Alighieri, Armand Sully Prudhomme, Gérard de Nerval, François Villon, Euripides, Georg Trakl, Nelly Sachs, Tautvyda Marcinkevičiūtė, Gavin Douglas, William Fowler, William Dunbar, Bertolt Brecht, Antonio Malatesti, Giovanni Raboni, Fosildo Mirtunzio (Pseudonym), Zaharia Stancu, Paul Valéry, Tove Ditlevsen, Sor Juana Inés de la Cruz, Giacomo Leopardi, Paul the Deacon, Giovanni Pascoli, Meleager, Lope de Vega, Dovid Zisman.
----
With special thanks for an outstanding new issue to -- Charles Martin (Guest Editor), Janice D. Soderling (Associate Guest Editor).

Alexander Pepple, Editor
www.AbleMuse.com
. . . read more


PUSHCART PRIZE NOMINATIONS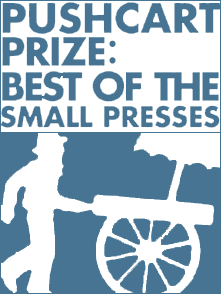 We're pleased to announce that the following four poems and two stories have been nominated for Pushcart Prize 2015 by Able Muse.

Poetry:
"How can I" by Eric McHenry
"Correcting Frame" by Maura Stanton
"Xenia" by Ryan Wilson
"Shopping with Whitney Houston" by Autumn Newman
Fiction:
"A Journey from Which Many Do Not Return" by Linda Boroff
"Action Figures" by Lane Kareska

Congratulations and good luck to all the nominees!
ABLE MUSE (Print Edition)




The Able Muse back issues - the Inaugural Print Edition, Winter 2010, and the Print Edition, Summer 2011, and every issue after that are still available at Able Muse Press, Amazon and other online & offline bookstore.


Subscribe now for the next releases of Able Muse, Print Edition.

SUBMISSIONS:

Able Muse (print edition):
1) reads submissions year-round. Submit now for a chance to appear in Able Muse - send your best poetry, art, fiction, essays, book reviews. The submission guidelines are available here.
2) Submit now for our Translation Special Issue. guest edited by acclaimed poet, critic and translator Charles Martin.

Able Muse Press:
reads submissions during the yearly open reading period, next period is May 1 - July 15, 2015. Submit your poetry/fiction manuscript now. The submission guidelines are available here.
Held Recently:
Translation Bake-Off, 2014 with Distinguished Guest & Host Julie Stoner
Double-blind Sonnet Bake-Off, 2014 with Top Secret Distinguished Guests!