Able Muse (Press) / Eratosphere -- Latest News
KINDLE EDITION
-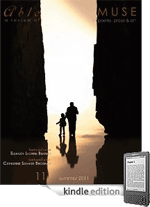 Now vailable as a Kindle digital book from ABLE MUSE, Print Edition (Number 11, Summer 2011) - Go to
Able Muse Press
for details. Or, order from
Amazon
.
FEATURES / REVIEWS
- Now featured on Ted Kooser's American Life In Poetry column -- "Our Lady of Perpetual Help" by April Lindner, from the ABLE MUSE ANTHOLOGY
here
. (after today, it will be archived
here
.)
- A review of ABLE MUSE, Inaugural Print Edition, by Newpages can be read
here
.
ERATOSPHERE EVENTS
- Recently completed: Repeating French Forms with Distinguished Guest, BRUCE BENNETT; hosted by SUSAN MCLEAN -- see Able Muse/Eratosphere
Distinguished Guest
forum)
- Coming Soon (starting June 25 on): Translation Bake-Off Event with Distinguished Guest, A.M. JUSTER; hosted by ADAM ELGAR, at Able Muse/Eratosphere
Distinguished Guest
Forum.
SUBMISSIONS
Able Muse - Submissions are read year-round, however, to appear in the forthcoming Winter 2011 issues, your poems, fictions, essays, book reviews, art and photograpy must be received by August 31, 2011. Anything received after that date will be considered for later issues only. Read guidelines and submit
here
.
Able Muse Press - The yearly, general manuscript reading period has been opened since May 1, and will be closing July 15, 2011. So, there's still time to get your poetry or fiction manuscripts over the transom. Details
here
.
Wishing you all a great summer of reading, writing and publishing!
Cheers,
...Alex
--
Able Muse -
www.AbleMuse.com
Able Muse Press -
www.AbleMusePress.com




Comments