This piece doesn't have a name yet. Any ideas are welcome.
This is the detail of the center of a larger canvas. This area and her off-shoulder dress are laid in so far. The dress is made of paper strips and beads.The face is entirely made of hole punch dots from reused packaging.
I would like comments on some of the ideas I am considering:
~ to make her hair from old video tape.
~ to create a fanciful headdress and jewelry from keys.
~ to leave the background plain as it is now. If I add some background detail it will be very subtle - distant, but what?
~In her right eye, our left, the one blue dot, which contains a touch of pupil, needs to be rotated about 60 degrees clockwise.
~ I am also toying with the idea of adding a light shine in each eye with a pearl bead. I am wondering is the increased focus created in the eye will be worth ruining the purity of the whole face being created by
only
hole punch dots. Does that make sense?
To see what I mean - compare this piece which I did with entirely beads but then messed around with it in the computer. See how the eyes come into focus with a strong highlight?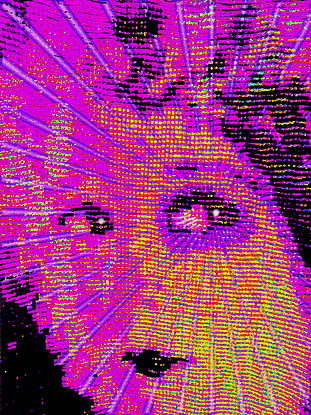 Don't worry about the jagged line of the outline, like along her forehead. This is the next job - to make the outline smooth with partial dots, as I have started to do on her chin and shoulder.