Coming Soon NOW AVAILABLE! . . . A B L E M U S E A N T H O L O G Y
The Able Muse Anthology celebrates the Able Muse, the first decade and more of the best we've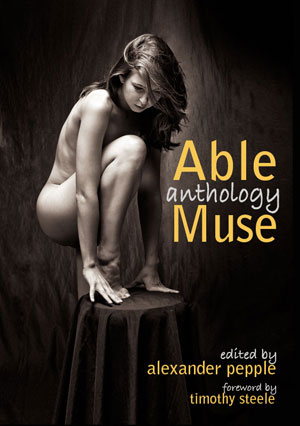 [4] published in poetry, fiction, essays, interviews, book reviews, and art & photography. The Introduction to the Able Muse Anthology is by Timothy Steele, with blurb from Dana Gioia and others.
The Able Muse Anthology includes work by established and emerging writers, including Mark Jarman, Rachel Hadas, Stephen Edgar, Geoffrey Brock, Timothy Murphy, Jennifer Reeser, Annie Finch, Dick Davis, X.J. Kennedy, A.E. Stallings, Richard Moore, R.S. Gwynn, Richard Wakefield, Julie Kane, Alan Sullivan, Chelsea Rathburn, Deborah Warren, Kim Bridgford, Diane Thiel, Leslie Monsour, Len Krisak, Dolores Hayden, Thaisa Frank and several others.
The Able Muse Anthology will be released around May, 2010, and the complete list of poets, writers, essayists and artists included and the pre-order information will be available soon.
The Able Muse Anthology is here!
Read all the details at the Able Muse Press website here [2].