Featured Poet: R.P. Lister - Interviewed by Steve Bucknell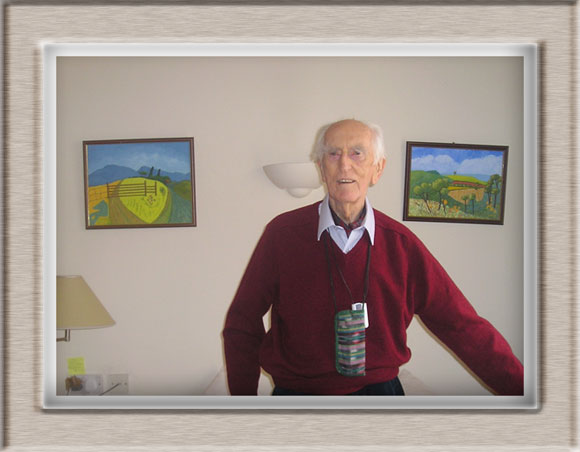 EXCERPT:
FEATURED POET
Interviewed by Steve Bucknell
Richard Percival Lister was born in Nottingham in 1914. His childhood was spent in West Didsbury, and in the Peak District of Derbyshire. After school in New Mills, he studied at Manchester University, graduating with a BSc in Metallurgy. He worked as a metallurgist in Sheffield before the Second World War, and then at the Royal Naval Torpedo Factory in Greenock in Scotland, the Royal Aircraft Establishment in Farnborough, and the Ministry of Aircraft Production in London. After an earlier marriage to Joyce Ambler, he married Ione Mary Wynniatt Husey in 1985, a very happy marriage until her death in 1989.
He became a full-time writer in 1950. He published over 400 poems, many in Punch, The New Yorker and The Atlantic Monthly. His collection of verse The Idle Demon was published in 1958 by Deutsch in the UK, and Macmillan in the USA. He published six novels, two travel books, and biographical works on Genghis Khan, Marco Polo and Herodotus. He became a Fellow of the Royal Society of Literature in 1970. From 1975, though painting became his main source of income, he continued to write stories and lyrical verse, maintaining his lifelong interest in literature, music and the arts. He reads German, Italian, French, and some Spanish, and quotes as influences on his work Heine, Dante, the French troubadour tradition, and G.K. Chesterton.
§
Steve: When we first met, you said your grandfather was a big influence on you becoming a poet. Can you tell me about the influence he had?
Richard: My grandfather was a very-well read and learned man. He was a Methodist minister, with a very good classical background. He had an MA from Edinburgh University, and knew nine languages. He spoke to me about many subjects, including literature and the arts. He opened my mind on many subjects about which I later felt compelled to write. When we used to visit him, when we were small, my brother and I played on a typewriter he owned, and he encouraged me to write. He always took an interest in what I was writing. . . .