Tolle, lege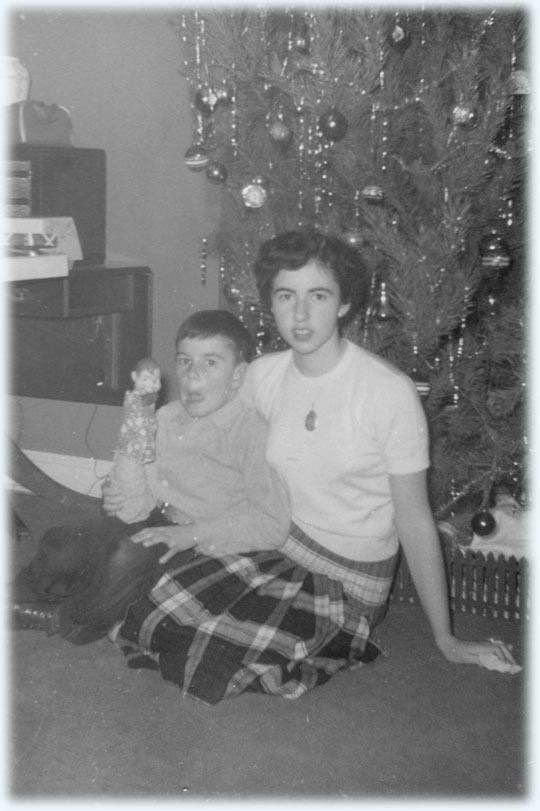 Tolle, lege
So was I speaking and weeping in the most bitter contrition of my heart, when, lo! I heard from a neighboring house a voice, as of boy or girl, I know not, chanting, and oft repeating, "Tolle, lege. Tolle, lege."
— Augustine, Confessions, 8.12.29
"Sound the letters out with me: BUH.
OH.
EEE.
BUH . . . OHHHeee.
Boy.
Where's the boy, Philip? Can you show me?
Where's the boy?"
But the boy is there beside you—
there's the boy, always there, always
the boy. And you are tired, and you have work
to do. You conjugate a German verb
(muß, mußt, muß, müssen, müßt)
and think of Doktor Faust, of all he knew,
and Dr. Lawson, and the essay due,
and father, broken-hearted, in the basement
drinking beer, and mother smoking cigarettes,
stifling her fears, and jowly Mr. Sullivan
lording over all, unmistakable,
inescapable through the narrow wall
as he rubs his hands together, triumphantly proclaims
another wonderful show tonight . . . the same
every Sunday.
Smart girl, good girl, the first
to go to college, it comes at last to this:
you must mind Philip, and you must mind your grades,
and for all you cannot change, you still can change
this much. You make of it a game: the O's
all blue, the E's all red; color the bOOts now,
color the bEd. And in that precious time
you parse a verse of Goethe, add a line,
longhand, to the paper on Macbeth, resume,
with growing disbelief, a page from Hume,
sneak, for yourself, a moment's glimpse of freedom.
It cannot last: he kicks the table, squirms,
turns his freckled face to slackly stare
up at your own, and then beyond, to where
some faint light glimmers briefly, and is gone.
He turns the question back on you; he says,
oblivious to the pointing finger on the page,
never to understand, never to learn,
never to know that simple human joy,
"Where is he, El? Show me. Where's the boy?"


*
And yet he did learn too, a miracle
to confound old David Hume. Your mother told
the tale like a lesson from the calendar
of saints, said you'd a special gift, should work
with others like him all your life.
Forgive
yourself: you would not teach another like him.
But you would teach others, like you taught him, and each
renewal of the gift would share some piece
of that first, hard-won victory. I learned
from you, for one, and he—he in his way
was your teacher, and so mine. And I too
have sat at the same table, with work from school—
that last sad winter, six months before the end,
when Ken lay stricken with a foot that would not mend,
and Phyllis, long since a prisoner of her bed,
could scarcely shift for sorrow. Grandchild on loan
to a dying household, I shoveled snow, made tea,
discreetly cleaned the messes in the bathroom,
and in the evening, dinner and dishes done,
sat with Philip trying, trying, to read—
Dickens for me (young David Copperfield
on the road to Dover in ragged shoes, three ha'pence
in his pocket) and for Phil, of course, the paper.

I don't know how you did it, Dean's Honors List
and all: he natters, clicks his dentures, coughs
his seal's-bark cough, shakes out the pages, snap
snap, rattle-snap, slurps a roaring slurp
of tea, asks again about the hound dog, the damn
dead hound dog (Is my hound dog dead, Stephen?
Is my hound dog dead at thirty-three?), scolds
himself for interrupting (Shhhh, don't talk,
Stephen's reading), slowly, grandly, turns
another page. And yet he really does—
he really does read: fire, ambulance,
school bus flipped over on its side, he finds
just enough he understands to get his fill
of one more anxious day's incomprehension.
David's alone on Blackheath as night comes on,
and here too, somewhere in snow-clad Hamilton
a child is lost. Police . . . p-lease . . . anyone
with infor- . . . in- . . . fff- . . .
"Is the boy dead, Stephen?"
he wants to know. "It's sad, the boy." And then
remembering, again, that he must be quiet,
that he mustn't be a nuisance or annoy,
he stabs a blunt finger to his lips and stares:
"Shhhhhh. Don't talk about that. About the boy."


*
No point, really, there's nothing left to mourn:
the boy is missing, and always has been. Born of,
he suffered under, was crucified, died,
was buried, descended, rose again, ascended
to sit at the right hand, judge living and dead,
in Spirit, saints, sins, body, life
everlasting, ever and always . . . somewhere else
when you need him. And if they lied to you, if you
believed the lies were true, what of that now?
You held the baby in your arms that day
when mother came home from the hospital
and father, nervous and distracted, tied
your braids so tight you couldn't blink to cry,
just smile in hope and wonder. That moment, too,
eternal, for all that what came later would
at times seem never-ending. And if the dream
returned to haunt you, alone in an alien world,
alone and lost, with a baby in your arms,
those nights you kept watch at the hospital,
when Phyllis at last lay dying, delirious,
crying for forgiveness from a mother
who never was, your mother, lying, dying
(blessed among women) crying to a faith
that failed her—if the dream of joy returned
to haunt you, Ellen, it was no less a dream.
Forgive them, then, their pious lies, and fear
no more for hard-won freedom: remember how
Phyllis herself, lucid in extremis,
sent the skulking priest scuttling out, out,
out of the goddamn room like a big black
beetle, and laugh with her in memory
as you used to laugh, when tea and tears ran dry.
Oh, she'd have loved the man in better times,
of course—she'd have set a place for him beside
her nattering, retarded son, and plied
that man of God with sympathy and gravy,
the sum of grace, when grace is said and done.
Be ye therefore perfect—and while you're at it
pass the salt. And that's the hidden lesson
behind the creed: a lie's a lie, but love
lives ever after in a moment's life
lived well. So Ellen, love yourself: you too
have lived well, and you can doubt it only
because you learned too young to ask too much
of self, too little for.
You asked me for
a present, a poem for your birthday. Here, then,
Ellen, your present. A trick of the mother tongue—
your tongue, which taught my own, and in other ways
so many others'—always there and always
missing, and always there again, it is
not mine to give; yet still I give, by this.
I bring to you the voice, the child's voice,
that sings in the garden, neither girl's nor boy's,
the voice of all the children whom you taught,
together, once more, we sound the letters out:
Tolle, lege, the essence of the creed—
your present, Ellen, take up and read.