Featured Poet: Greg Williamson - Interviewed by Stephen Kampa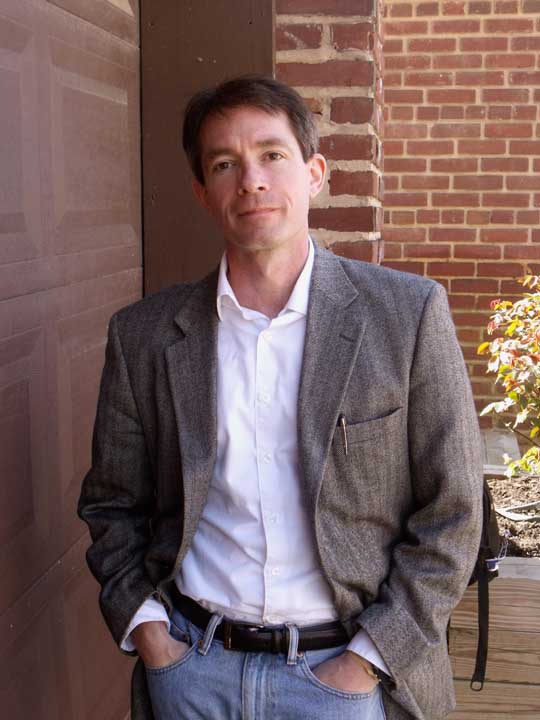 EXCERPT:
FEATURED POET
Interviewed by Stephen Kampa
Greg Williamson grew up in Nashville and was educated at Vanderbilt University, the University of Wisconsin at Madison, and the Johns Hopkins University. His first book, The Silent Partner, won the 1995 Nicholas Roerich Poetry Prize from Story Line Press and earned the praise of poets as eminent as Anthony Hecht and Richard Wilbur. His second book, Errors in the Script (Overlook Press), was a runner-up for the Poet's Prize and had at its heart a daredevilish sequence of three-in-one poems called "Double Exposures," which John Hollander described as "deploying a technical device which totally transcends gimmickry, and, itself a fecund metaphor, allows the poems themselves to raise fascinating questions about knowledge, memory, and their own stability and truth." His most recent book, A Most Marvelous Piece of Luck, received ebullient reviews from The New York Review of Books, The Yale Review, and The Times Literary Supplement; critic and poet Brad Leithauser wrote, "Cleverness of this high-flying sort can transport a book . . . quite some distance, but on its own probably would be insufficient to make A Most Marvelous Piece of Luck the success that it is. The book holds up so well, richly repaying rereading, because there's a somber, eerie iciness at its core." In addition to the Nicholas Roerich Poetry Prize, Williamson has received an Academy Award in Literature from the American Academy of Arts and Letters, the Whiting Award, the Nathan Haskell Dole Prize, a grant from the National Endowment for the Arts, and a John Atherton Fellowship. He currently teaches in the Writing Seminars at the Johns Hopkins University.
◊ ◊ ◊ ◊
SK: From the moment I first read your poems, I have admired their craftsmanship. The Silent Partner more than demonstrated your deftness in turning a metrical line and your ability to sound natural, lyrical, or comical (as the occasion required) within a complex rhyme scheme. What first attracted you to rhyme and meter? Was it a temperamental affinity, the product of your instruction at the hands of writers such as Mark Jarman and Charles Martin, or something else entirely?
GW: Thank you. Yes, I suppose it was a "temperamental affinity," as you put it. When Mark, who was my first poetry professor (and awesome), gave us our first assignment, I did rhyming quatrains. (To be honest, that may have been the assignment, but I don't think so, not exactly anyway.) But what I mean is that I think that's just what I would have done without thinking about it. It's like, I never made a decision to throw a baseball right-handed. I picked one up, and my right hand threw it. (Which also doesn't mean I threw strikes.)
But at the same time, Mark and Charles and my other professors were fantastic, encouraging instructors—and very patient, too, I might add.
SK: Certain writers seem to favor particular forms: I think of James Merrill's affection for envelope quatrains or James Cummins's devotion to the sestina. Are there any forms in which you feel particularly comfortable? (I recognize that I ask this question when your most recent book consists entirely of sonnets.) Are there any forms in which, despite your best intentions and efforts, you continue to feel that you don't sound like yourself?
GW: I hadn't thought about it that way really, but now that you bring it up, I'm scared of trochees. I haven't tried it, but I think it would be difficult to sound as at ease, or as much like oneself, in the falling trochees and dactyls of hendecasyllabics or Sapphics, say, or Hiawatha. Not that it would be super difficult to be metrically accurate; that's not so tough. But the natural speech of most of us tends to be so much more in the rising rhythms of iambs and anapests that the inverse presents a challenge to sounding completely natural.
SK: I've always been fascinated not only by syllabics but also by the short shrift they're given in metrical circles. Every book on prosody I've read has apportioned little to the discussion of syllabics and included a half-hearted list of practitioners: Robert Bridges and Elizabeth Daryush, Thom Gunn, Marianne Moore, with perhaps a passing reference to Auden. (What about John Hollander? What about Richard Howard?) Have you written any poems in syllabics, and if not, why not? Do you think there's any new territory to be explored there?
GW: In English, we don't really hear the syllable count with the same unthinking instinct we hear the accents with, at least I don't, and . . .
. . . . . .
. . . .