Featured Poet: Eric McHenry - Interviewed by Cody Walker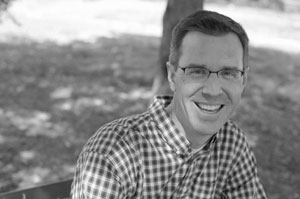 EXCERPT:
FEATURED POET
Interviewed by Cody Walker
Eric McHenry is the poet laureate of Kansas for 2015 – 2017. His new book of poems, Odd Evening, will be published by Waywiser Press in 2016. Previous collections include Potscrubber Lullabies, which won the Kate Tufts Discovery Award in 2007, and Mommy Daddy Evan Sage, a children's book illustrated by Nicholas Garland. He also edited and introduced Peggy of the Flint Hills, a memoir by Zula Bennington Greene. His poems have appeared in The New Republic, Yale Review, Cincinnati Review, Field, Orion, The Guardian (UK), Poetry Daily and Poetry Northwest, from whom he received the 2010 Theodore Roethke Prize. Since 2001, he has been a poetry critic for The New York Times Book Review. He lives in Lawrence, Kansas, with his wife and two children, and teaches creative writing at Washburn University.
◊ ◊ ◊ ◊
CW: I was rereading your new manuscript, Odd Evening, yesterday afternoon, and I paused at the italicized last line of "Turkeys and Strippers": "When I have power I am going to use it differently." You're the new poet laureate of Kansas! How will you use your power?
EM: With restraint, I hope. Luckily, the framers of the state Constitution set up our government so as to prevent too much power from concentrating in the hands of the poet laureate. I do look forward to using my bully pulpit and my bully bullhorn to promote poetry all over Kansas, and particularly to promote Kansas poetry. There are so many great poets from this state—William Stafford, B.H. Fairchild, Gwendolyn Brooks, Amy Fleury, Ben Lerner—who ought to be household names but aren't. I don't know that I can change that, but I can wear out a set of tires trying.
CW: I love that answer—but I can't let the laureate discussion drop without quoting from the news release that announced your appointment. In the release, you said, "There's nothing I love more than sharing poetry with people, and I look forward to doing that in every corner of Kansas over the next two years." My understanding of Kansas is that it has three pretty obvious corners (NW, SW, SE), plus this jagged northeastern section that looks like a baby chewed on it. Is this section comprised of many corners? Is this where you'll be spending most of your time?
EM: I'll go wherever I'm needed. Like Batman, if the Batmobile were a 2004 Corolla he'd bought from his batgrandmother. The Kansas Humanities Council, which administers the poet laureate program, has the state divided into six regions, and I'll be visiting each of them several times during my two years. I already spend most of my time in the northeast corner, and I love it here; it's my homeland. But there's no shortage of literary activity in this part of the state, with Lawrence and Manhattan and Topeka and a good chunk of Kansas City here. I'm eager to take the poetry show to Garden City and Parsons and Concordia and Liberal.
CW: Liberal, Kansas: that's kind of fabulous. As is the news of your appointment. But let's get back to Odd Evening. I love the title, and I love how well it pairs with the title of your first collection, Potscrubber Lullabies. How did you decide that it was the right title for this collection? Were there other candidates?
EM: I've become a collector of quiet oxymorons—"middle initial," "compound fracture," "charm offensive," "Liberal, Kansas." I think I must have decided they made for good book titles after reading Mary Jo Salter's Open Shutters. Thanks to your question, I went back into an old Word document and dug out a longlist of possible titles that I was keeping in about 2011 . . .
. . . . . .
. . . .