Featured Poet: Amit Majmudar - Interviewed by Daniel Brown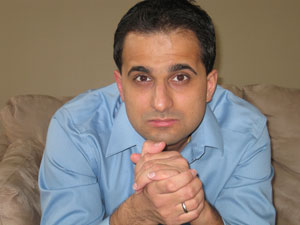 EXCERPT:
FEATURED POET
Interviewed by Daniel Brown
Amit Majmudar is a widely published poet, novelist, and essayist whose next book Dothead, is forthcoming from Alfred A. Knopf in March 2016. More information is available at www.amitmajmudar.com.
◊ ◊ ◊ ◊
DB: You were raised in Cleveland, and the diction (and plenty of the matter) of your poems is as American as all get-out, but I'm going to stick my neck out and say that at least your paternal heritage seems Indian. I imagine a kid brought up essentially Midwestern, but in a family rich in Indian heritage. Have I got this right?
AM: Actually, I'm of Hindu Indian heritage on both sides. I was born in New York City, but my family moved to a small town called West Union, Ohio, when I was six months old or so. We stayed there for a bit, then moved to a suburb of Cleveland, where my first memories take place. I did second and third grade in Ahmedabad, India, when my family tried to relocate, but that didn't work out—we came right back to Cleveland. So except for that interlude, I've spent my whole life in Ohio—most of it within a 2.5-hour radius of Cleveland, college and medical training included.
DB: The basal Americanness of your poetry incorporates a fair amount of Indian (especially Hindu) matter. How do you tend to see the American and Indian sides of your poetry in relation to one another? Held in (fruitful) tension? Fused into a third thing? Some other way? Or maybe you're too busy producing—which you do a head-spinning amount of!—to give the matter much thought.
AM: You're right, I don't think about it much. Long ago I explained it, justified it, in terms of hybrid vigor—the idea, borrowed from genetics, that the crossbreed is inherently hardier. So I always regard hybridity, in myself or anyone else, as a good thing. (Whenever I do regard it, that is, which is only when other people ask me about it in interviews.)
In any case, I see myself, literarily, as an Old European. Almost all of my major influences, as I can discern them, are Continental or British. As a poet I was built by Shakespeare, Ovid, Goethe, Ariosto, Milton. You can see perhaps why my favorite living critic is George Steiner. My soul is Hindu, and my language is American. But in between the core and the surface there's a layer of solid Old Europe. It got in there at a very formative stage, when I was first discovering literature, and now it's there for good.
DB: Your blog (in the Kenyon Review) and essays provide an intriguing window into your poetics. A couple of key points I've ferreted out of these writings are a belief that lying is vital to poetry (vis, "the truest poetry is the most feigning"), and that the art as practiced today could use a good dose of the supernatural. These views seem related to me (they perhaps could be characterized jointly as an openness—or more—to the contrafactual). When and how did you come to them? Were certain poets influential in their formation?
AM: I think those need to be separated. The idea of the truest poets being the best liars is an old one—goes back to the Greeks. Today everyone values "authentic" poetry, a sense that the poet really lived this anguish. It's this demand that limits poets: one wishes that contemporary poetry readers set their poets free to lie. Laura likely didn't exist; Shakespeare wasn't a Danish prince; Ariosto wasn't a knight. I like the novel because the focus can shift away from the writer. One needn't endlessly elegize one's dead brother. Or imagine a dead brother for elegaic purposes . . .
. . . . . .
. . . .