Mitch Dobrowner: Featured Artist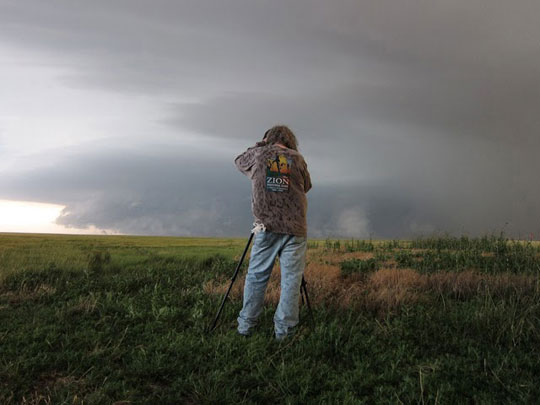 featured artist
A Photographic Exhibit
EXCERPT:
‡
The Earth is beautiful; I see our planet as a rock spinning through space. We are small in context to the universe and the landscapes we inhabit. Our landscapes are living ecosystems and environments. They have existed well before, and will hopefully be here way beyond the time we are here. When taking photographs, time and space seem hard for me to measure. While photographing I get into a zone in which things are quiet, seem simple again—and I obtain a respect and reverence for the world that is hard to communicate through words. For me these moments happen when the exterior environment and my interior world combine and I can hear my heart beat again. My hope is that the images presented help communicate what I see and how I feel about the world when I click the shutter.
"Our job is to record, each in his own way, this world of light and shadow and time that will never come again exactly as it is today."—Edward Abbey 1927–1989.
†
interview
Mitch Dobrowner: Interviewed by Sharon Passmore
Mitch Dobrowner has been chasing storms since 2009, traveling throughout Western and Midwestern America to capture nature in its full fury. Using his camera to "paint with light" in the tradition of Minor White, Dobrowner creates extraordinary black-and-white images of monsoons, tornadoes and massive thunderstorms that conjure awe and wonder. Recently, I had an opportunity to interview Mitch via e-mail, and he shared his insights about photography, his journey, and fascination with weather phenomena. You can find out more about Mitch at his website.
SP: As a teenager, when your father gave you that first camera, what did you point it at?
MD: Initially it was whatever landscapes I could find around Long Island, New York. I went to the North Shore where there were some gorgeous shorelines and cemeteries, which I always found interesting. But overall, I knew I needed to venture out and find more.
SP: Where can we see some of your early work, when you first ventured west? What were you shooting then?
MD: Those are not easily found, and most can be found today in my mother's living room. I think she's my biggest fan. There was also a write-up of my solo show at the Canon Gallery in Los Angeles in the November 1981 edition of Popular Photography. That was about the time I arrived on the West Coast a punk troublemaker kid.
SP: You have mentioned Ansel Adams and Minor White being two of your influences. They are very different. How would you compare them?
MD: To me Ansel was all about composition and the total journey of producing a print as your final product. Ansel also taught me the science behind photography. Minor White represented watching shadows and how to paint with light.
SP: Since they are both about systems of flowing energy, does your storm photography give you any insight into your work with digital infrastructures?
MD: I've learned over the years not to be intimidated by technology. Today my cameras act only as extensions of my mind, eye, and hands. I don't think about them much—only as tools, as a painter would see his or her paintbrushes. And digital printing is truly an . . . .
........