Featured Poet: Bill Coyle - Interviewed by Ernest Hilbert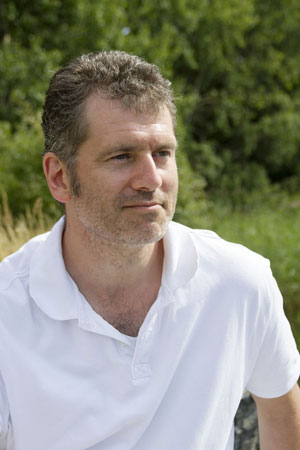 EXCERPT:
FEATURED POET
Interviewed by Ernest Hilbert
Bill Coyle's poems, translations and criticism have appeared in journals such as the Hudson Review, Image, the New Criterion, Poetry and PN Review. His collection of poetry, The God of This World to His Prophet, won the New Criterion Poetry Prize and was published in 2006. In 2010 he received a translation grant from the National Endowment for the Arts to support his translations of the Swedish poet Håkan Sandell, and a volume of these translations, Dog Star Notations: Selected Poems 1999–2016, was published earlier this year by Carcanet. He works at the Mary G. Walsh Writing Center at Salem State University in Salem, Massachusetts. He is currently completing his doctorate at Boston University's Editorial Institute, and is at work on a second book of poetry, tentatively titled Immersion. He and his wife, the photographer Cattie Coyle, live in Somerville, Massachusetts.
◊ ◊ ◊ ◊
EH: How did it all begin? I assume as a single cell.
BC: Yes, it was a simpler time. No worries about "the divided self" back then.
EH: And it was dark, I imagine, but at least you had less in the way of competition as a poet.
BC: Indeed. I was fortunate not to be a twin . . .
EH: Let us begin at the beginning, then, though not so far back. What are your earliest memories of poetry, reading or hearing or composing?
BC: It was late, I think, though I may be misremembering. My aunt apparently read chunks of Bury My Heart at Wounded Knee to me when I was very young, and I have no memory of that at all. It's entirely possible, then, that I heard poetry at an early age. I read a lot as a kid, but it tended to be sci-fi and fantasy. I wrote the occasional poem in school when assigned to do so, and usually had my efforts singled out for praise by the teacher. The first poetry I recall responding to in any kind of a spontaneous way must have been song lyrics, though. I didn't start reading poetry with any seriousness until junior year in college, when I took a poetry writing workshop because I needed an elective. Totally the wrong way round.
EH: You mention that you were influenced by song lyrics. What do you make of Bob Dylan receiving this year's Nobel Prize in Literature?
BC: I love Dylan's work, and I'm not by any means discounting song texts as literature. And I don't want to get into an argument over high versus low culture, though it would be a very good thing, I think, if such an argument became more general in society. Imagine Dylan fans outside the academy (and outside the Academy) arguing—and I mean really arguing, not just asserting—that particular songs of the Master's are on a par with other recent Nobel winners, and using close reading to make their point. A new golden age of criticism would dawn.
At the same time, I'm ambivalent about the award. That's not meant as a polite dodge, either. I'm really not sure what I think. On the one hand, the quality of Dylan's lyrics is wildly uneven, not just from song to song, but within the songs themselves. On the other, it's difficult to overestimate Dylan as a musical force; he's meant as much to rock as Miles Davis did to jazz. But I think there are a number of other songwriters whose work has greater literary value. Leonard Cohen, for one. Warren Zevon, Peter Hammill, Mike Scott (of the Waterboys) are a few others. All of them would probably insist they're not worthy to tie Dylan's shoes, and certainly none of them have changed music the way he did, or perhaps would have written as well as they have without his example. I think they're better writers, though.
Anyway, while I was trying, and failing, to put my thoughts in order and answer your question, news came that Dylan will . . .
. . . . . .
. . . .