Aaron Poochigian - Interviewed by Christopher Childers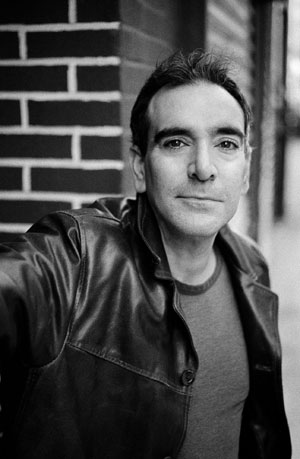 Aaron Poochigian - Featured Poet
a
FEATURED POET
Interviewed by Christopher Childers
Aaron Poochigian earned a PhD in Classics from the University of Minnesota in 2006 and an MFA in Poetry from Columbia University in 2016. His book of translations from Sappho, Stung With Love, was published by Penguin Classics in 2009, and his translation of Apollonius's Jason and the Argonauts was released October 2014. For his work in translation he was awarded a 2010–2011 Grant by the National Endowment for the Arts. His first book of original poetry, The Cosmic Purr (Able Muse Press), was published in 2012, and several of the poems in it collectively won the New England Poetry Club's Daniel Varoujan Prize. His verse novel, Mr. Either/Or, was published by Etruscan Press in 2017. His work has appeared in the Guardian, Poems Out Loud, and Poetry.
His second collection of poetry, Manhattanite, was the winner of the 2017 Able Muse Book Award.
◊ ◊ ◊ ◊
Chris: To start, I'd like to quote a poem from Manhattanite. In one of his live albums, Tom Lehrer, introducing the "southern-type song" called "I Wanna Go Back To Dixie," says that "it's always seemed to me that most of these songs really don't go far enough. The following song, on the other hand, goes too far." Lehrer made a career out of going too far. We might say the same of your poem "One Too Many" (indeed, the title might say it for us):
One Too Many

My raucous ex, Alexa Glossolalia,
has up and made off with my mouth again.
Yep, yep, this yap, her pretty little Polly, a
megaphone for a mad comedienne.

Lord, may the spastic waggling of my tongue
strike all their earsies as divine. Amen.
My larynx laughs; I hear that laughter sung.
Oh God, Oh God, the music of a hen.

Why beef this freak ain't me, my basso burr
would never have agreed to tweak like this?
My claque would roar the more if I charged her
with fucking up a good man's drunkenness.

Nah, when ecstatic blab is holding sway,
it's no use getting pissy. Best dismiss
this selfish business of a sober say
and, dummyhead, succumb to dummy bliss.
"One Too Many" illustrates in extreme form what I imagine are the first two things any new reader of your poems will notice straightway: its traditional versification and its very untraditional mishmash or clash of different kinds of diction and levels of language. That these two qualities exist side-by-side only turns up the volume on both. Let's start with the second, epitomized in the phrase "ecstatic blab," for which "One Too Many" seems a clear apologia. Throughout the poem the learned (Alexa Glossolalia) and the writerly (mad comedienne, claque) jostles against the cutesy (earsies), the slangy (beef, freak, tweak), and the vulgar. It ends on a learned allusion disguised as cutesy slang: the dummyhead's dummy bliss suggests (to me anyway) the end of Horace 4.12, dulce desipere est in loco, where the poet invites one Virgil (who may or may not be that Virgil) over to shoot the breeze and concludes that "It's sweet to act like an idiot where appropriate."
  Be that as it may, talk a little bit about the rationale behind your clearly deliberate decision to set likes, yeahs, nahs, and statements such as "just, like, freaking wow" (from "Divertimento") jostling against such writerly phrases as "beau idéal of dash and discipline" ("Tragique"), "harmony of hertz and guts" ("The Chromatist"), and lots of others. Do you ever worry about going "too far" in this direction?
Aaron: I push myself to be Shakespearean in my vocabulary—not just to know a lot of words from different registers and provenances but to use them, too, in making twenty-first-century art. Before the Modernists, poets were not supposed to mix registers within a single work, and whole categories of words were considered "unpoetic." Then came the great break-down of barriers, for better and worse, and here we are. I do consciously mix, within a single poem, words that traditionally shouldn't go together. I do it for shock value, yes, but also to achieve some specific aesthetic end.
  The poem "One Too Many" purports not just to describe but to embody a state of "ecstatic blab" that I have witnessed and experienced. A friend brought me once to a Pentecostal Church where I observed congregants speaking in tongues, and I thought of the chorus of possessed maidens in the Homeric Hymn to Apollo:
ὕµνον ἀείδουσιν, θέλγουσι δὲ φῦλ᾽ ἀνθρώπων,
πάντων δ᾽ ἀνθρώπων φωνὰς καὶ βαµβαλιαστὺν
µιµεῖσθ᾽ ἴσασιν: φαίη δέ κεν αὐτὸς ἕκαστος
φθέγγεσθ᾽: οὕτω σφιν καλὴ συνάρηρεν ἀοιδή.

. . . they sing a hymn and charm the tribes of men,
and they know how to imitate the voices and chatter of all men:
each man would say that he himself were singing,
so well-joined is their beautiful song.
In both cases the speakers/singers are possessed by some external power that raves through them. The title "One Too Many" is always meant to suggest that there is . . .
. . . . . . .
[ subscribers: login for full text ]