Matthew Buckley Smith - Interviewed by Joanna Pearson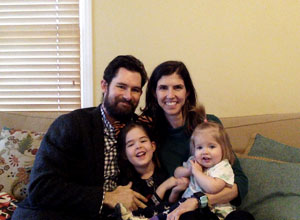 FEATURED POET
Interviewed by Joanna Pearson
Matthew Buckley Smith is the author of Dirge for an Imaginary World, winner of the 2011 Able Muse Book Award. His poems have appeared in AGNI, Beloit Poetry Journal, Commonweal, Harvard Review, New Ohio Review, Subtropics, and Threepenny Review, as well as in several anthologies, including American Life in Poetry, Best American Poetry, Poetry Daily, and Verse Daily. His fiction has appeared in Day One.
Joanna Pearson is the author of Oldest Mortal Myth, winner of the 2012 Donald Justice Prize, as well as the young adult novel The Rites and Wrongs of Janice Wills (Arthur A. Levine Books, an imprint of Scholastic, 2011), and the forthcoming short story collection Every Human Love (Acre Books, 2019). Her poems have appeared in the Bellevue Literary Review, Gulf Coast, Literary Imagination, the New Criterion, River Styx, and Subtropics, as well as in several anthologies, including Best New Poets 2005 and 2010. Her short stories have appeared in Alaska Quarterly Review, Blackbird, Colorado Review, Ecotone, Kenyon Review Online, Mississippi Review, and received a special mention in Best American Short Stories.
They were married in 2010 and now live with their daughters in North Carolina.
◊ ◊ ◊ ◊
JP
Matthew Buckley Smith—
MBS
Yes, Joanna Pearson?
JP
The way you approach writing poems is different now than when I first met you. How is it different?
MBS
Well, I wasn't writing in meter when I met you. I didn't start writing in meter until a few years after that.
JP
What changed?
MBS
When I started writing in meter?
JP
Yeah.
MBS
Uh, I finished grad school and got horribly depressed and decided to make myself write a sonnet a day, or somewhere thereabouts, for a summer. And then I wrote a verse play, and by the time I was done writing that, I had a decent handle on meter, or at least pentameter.
JP
So, it was the verse play that awakened your love of meter?
MBS
No, it just gave me a lot of practice. Um, I think it took writing—I think what I love about meter and rhyme . . . is just that it's a cross-indexing of my vocabulary, as well as my syntactical vocabulary, because words and phrases are associated with each other not by what they mean but by how they scan or how they end—the end sounds. You know, so it's sort of like aerating your word hoard. I don't know if that's true.
JP
I like that answer, and I also like that you mentioned your verse play, which I had briefly forgotten about. Tell the people about the verse play, because I actually think that is something of yours that has not seen as much daylight as it should have.
MBS
Plays are really hard to produce.
JP
Yeah.
MBS
Well, no, let me say that differently. Plays are really hard to get produced. They are also hard to produce, but that's hard because making good art is hard. But getting them produced is a whole different problem. And getting verse plays produced is not—I mean, it's barely possible, unless you're working with a theatre that exclusively does that.
JP
Is it worth publishing a verse play as something to be read on the printed page?
MBS
Basically all they are—except for a portion of Shakespeare, and even then . . . all verse plays old or new these days are basically just closet dramas.
JP
Tell the people what your verse play was.
MBS
The people.
JP
Yeah, tell the people.
MBS
It was a play about Theseus and the Minotaur, sort of.
JP
Called?
MBS
Blue Water, Black Sails.
JP
Good title. You're really good at titles. How did you get to be so good at titles?
MBS
Writing a lot of bad stories, poems, plays, and having to come up with titles for all of them, I got a lot of practice coming up with titles.
JP
What makes certain titles good?
MBS
Uh, the simplest criterion for a title is the table of contents test. Which is that if you were looking at the table of contents in a magazine or a book of poems or an anthology or whatever, you'd—I don't know if other people do this, but I look through, and I try to see if any of the titles suggest that what follows might be interesting to read. So, for one thing, a good title has to . . .
. . . . . . .
[ subscribers: login for full text ]