Featured Poet: Geoffrey Brock - Interviewed by A. E. Stallings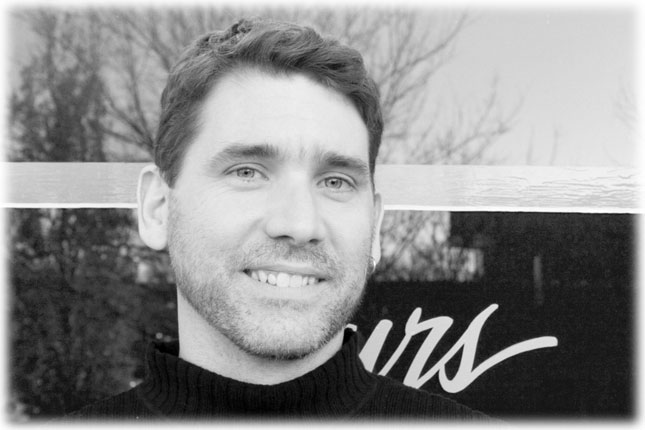 An Interview of Geoffrey Brock
by A. E. Stallings
Geoffrey Brock's book of poetry, Weighing Light, appeared in late 2005. His poems have appeared in journals including Poetry, Paris Review, PN Review, New England Review, and Hudson Review, as well as in several anthologies, including Best American Poetry 2007. He has received poetry fellowships from the NEA, the American Antiquarian Society, the Arizona Commission on the Arts, and the Florida Arts Council, and he was a Wallace Stegner Fellow from 2002-2004.
He is also a translator, and his translations include Cesare Pavese's Disaffections: Complete Poems 1930-1950, Roberto Calasso's K., Umberto Eco's The Mysterious Flame of Queen Loana, and Antonia Arslan's Skylark Farm. His translations have received Poetry's John Frederick Nims Memorial Prize, the ATA's Lewis Galantière Award, the PEN Center USA Translation Award, the MLA's Lois Roth Award, the Italian Ministry of Foreign Affairs Translation Prize, the Academy of American Poets' Raiziss/de Palchi Fellowship, and a Guggenheim Fellowship.
He is currently working on his second manuscript of poems (tentatively titled Voices Bright Flags) and compiling a bilingual anthology of 20th-century Italian poetry, to be published by Farrar Straus & Giroux. He teaches in the Arkansas Programs in Creative Writing and Translation in Fayetteville, where he lives with his wife, the writer Padma Viswanathan, and their children, Ravi and Mira.
§
AE: You dedicated your first collection, Weighing Light, to your parents, Van K. Brock and Frances Brock, both poets. What was that influence on you, growing up in such household? Was it encouraging to you as a budding writer, or in some ways inhibiting, or maybe both? What poets were you encouraged to read—is your parents' work at all a direct influence? (You mention them as your first "poetry teachers".)
GB: Having poets for parents must sound exotic, but of course it seemed normal to me. Our house was always full of poets and books of poetry—my dad was a student at Iowa when I was small and taught in FSU's creative writing program thereafter—but neither of my parents really encouraged me to write poetry, as I recall. I don't think they even read me much poetry, aside from occasional spontaneous recitations. Perhaps I didn't let them. Or perhaps they were hoping I'd do something sensible with my life. (And indeed I tried to head in a sensible direction, beginning college as a Computer Science major. But when I spent a semester abroad in Florence everything changed: suddenly art and poetry seemed vastly more vital than computers.)
I have no doubt my parents influenced my poetry in various ways, large and small, but it's hard for me to describe or quantify it. Certainly I absorbed many of their judgments (which became my early prejudices) about poetry, but I don't think my poetry much resembles either of theirs. Also, I went on to study with many other poets, at Penn and Florida and Stanford, and so my parents' fingerprints have by now been blurred by many others.
AE: You mention an epiphanic experience in your semester abroad in Florence. Was that when you became interested in Italian poetry—and translation? You had been to Italy before, I take it, when your parents were on Sabbatical. Did you acquire Italian then? What do you feel is the relationship between translation and your own work?
GB: That was my first time there—1984. My father was teaching on FSU's semester-abroad program in Florence and I was going as a student, so the whole family made the trip. And yes, that's when I first became interested in things Italian. I spoke Spanish fairly well before going, so that gave me a good head start. Later I studied Italian back in the States and returned to Italy whenever I had saved enough money. Translating Italian poetry became a way of improving two things at once: my Italian, and my understanding of poetry. Translation is like imitation in that it can be a wonderful apprentice activity for poets, a sort of private workshop, but it can also become a lasting part of a poet's vocation, which is how I see it now for me.
AE: I wonder how you feel about formal choices in translation, for instance the common practice of translating metrical and rhymed pieces into free verse—often defended on grounds that to "force" something into rhyme in English would be to do some violence to the original—(a norm that seems now to be undergoing some changes)? Of course, I imagine in some ways your lovely and utterly unstrained translations for this issue serve as their own answer...
GB: I don't have any hard and fast rules for myself on the subject, but as you know I usually try to "translate" the form as well as the content. I attempt, as I assume every translator does, to bring across whatever matters to me about the original poem, whatever I feel is crucial to the experience of reading it, and formal devices are often part of what matters to me as a reader (as one must assume they were for the writer). Pavese's insistent ternary rhythms, for example, are, for me, one of the defining aspects of reading his poetry in Italian. It's hard to ignore them. So I felt obligated to try to come up with some sort of analogue, however imperfect, in English. Anything else would have seemed a betrayal. Of course, if the translations had sounded forced or clumsy or tone-deaf as a result, then that would have been a different kind of betrayal, one which no theoretical justification could redeem. But such a failure would have shown that I was not up to the task, not that the task was impossible. (Rumors that translation is impossible are greatly exaggerated.)
With Pavese, it certainly made my job easier that he's not a rhymer; but I've also translated a fair amount of rhymed poetry, and I love the challenge of it. One reason often advanced against translating rhyming poems from Romance languages into English is that English is by comparison a rhyme-poor language, putting our translators at a terrible disadvantage. But there are several problems with this line of thinking. One is that despite that relative poverty English has managed to produce one of the world's great bodies of rhymed poetry, so it can't be too poor. Another is that, if we allow slant rhymes, English becomes in fact fairly rhyme-rich, or so it seems to me. And a third problem with that line of thinking is the existence of translators such as Richard Wilbur, who proves time and again, whether he's translating Moliere or Appollinaire or Brodsky, that so much more is possible in translation than people generally admit.
AE: Yes, I'd agree that often the "it is too difficult and strained to rhyme in translation" argument is put forth out of laziness or lack of imagination. I suppose the fear is often that a rhymed translation might "introduce" something not in the original for the sake of rhyme. Though once one departs from word-for-word glossing (as all translation must), and realizes that a word might be better rendered by a phrase, for instance, or vice versa, the vistas open up—not to mention occasional rhyming or slant rhyming. I recall sitting in on your Arkansas poetry class, and being tickled that we agreed so well on what made for a pleasing, successful slant rhyme!
I like your saying that you don't follow any hard and fast rules regarding form and translation—one sees this in your own poetry too—sometimes rhymed, sometimes not, free verse as well as metered, poems measured by the syllable as well as the foot, etc. If anything this seems to speak real mastery of form, rather than mastery by form, which is the (rightly, it often seems to me) perceived weakness of New Formalism (to mention the F word). One of the most dazzling pieces of legerdemain in Weighing Light, though it is certainly not the most ambitious poem there, is "Exercitia Spiritualia," which is entirely eye-rhymed, brilliantly demonstrating the gaucheness of, say, an American abroad, who has learned a load of high-fallutin words from reading but doesn't know how to pronounce them.
GB: I hadn't thought of your "American abroad" take on "Exercitia Spiritualia," though it makes sense—the poem is about various kinds of naivete or innocence. Rather I was thinking of those sight rhymes as being emblematic (like the great trompe l'oeil ceiling of Sant'Ignazio in Rome) of our desire to be held under the sway of impressive illusions, whether romantic, religious, or what.
You mention my formal variety, which is important to me. Part of my pleasure in writing poems is being surprised by the form they end up taking. I'm not always sure whether that form arises from the matter of the poem itself or simply from the vicissitudes of my moods, but sometimes it seems important to write something in the strictest iambics, while other times I want a looser meter, or a different meter, or no meter at all. I look for formal variety in other poets, too; I'm reading Hardy these days and never know what to expect from poem to poem—I love that about him. (That's one of the things I love about your work, too.) I feel the same way, incidentally—and this sets me firmly at odds with much of contemporary poetry—about "voice." I like a variety of voices in a book, certainly not the same damn voice throughout. It seems to me that many contemporary poets try their best to make all their poems sound the same, as if a poet's highest achievement were the carving out of a recognizable voice (as if we were univocal creatures!) rather than, say, the writing of outstanding poems. Is this just me?
On the other hand, Emily Dickinson is another of my favorite poets, and there's not a lot of formal or vocal variety there. I guess this is why I don't like hard and fast rules—whenever I try to make one, I start thinking of arguments against it.
AE: Perhaps the embracing of translation is part of that appreciation of variety in voice? For certainly translation would seem to be an extreme trying-on of other voices (and subject matters). Formal variety, and experiment, is also something I value—and Hardy is a fabulous Protean example—though as you point out there are great with a capital G poets who hew to a single form or meter—Virgil is another example, who mastered three major genres while sticking unwaveringly to dactylic hexameter.
GB: I think you're right that my interest in translation is related to my interested in using multiple voices in my poems, but I'm not exactly sure how. In my own poetry, I think there are, if this makes sense, different kinds of different voices. There are the different voices that seem to me to be my own (and one of my assumptions about people is that they have multiple voices), and then there are what might be called the performative voices, my attempts to enter characters that are decidedly not myself—though something of me must inhere even there, obviously. I am tempted to make a theoretical case for this activity, by claiming for instance that, in Toni Morrison's words, "the ability of writers to imagine what is not the self, to familiarize the strange and mystify the familiar, is the test of their power." And I believe that. But I also believe that I write the way I write not because of any theoretical beliefs, but simply because that's how I'm moved to write. Writers' theories are usually as much self-justification as anything.
AE: You have another link with Italy too, don't you—I gather from "South of Rome" that your grandfather was buried there, having been shot in the war. Is that family and historical link part of Italy's pull for you?
GB: Yes, my grandfather was killed just south of Rome, the day before the liberation of Rome, on his first day of combat. I like to think that makes him a naturalized Italian. A permanent resident, certainly. Unfortunately that doesn't make me eligible for citizenship—it should, no? It has however deepened my imaginative connection to the place. Whenever I'm over there I try to visit his grave, which is in a large American war cemetery near the beach. A beautiful, disturbing place. The mysteries of his life together with the context of his death (and its effects, particularly on my mother) are, for me, a potent cocktail. I tried to write about him for years, in various fragmentary ways, and finally I cobbled together a few of the fragments to make "South of Rome," which came out last winter in The Hudson Review.
AE: The interweaving of family history and the larger sweep of history seems to be becoming a larger theme in your work. Family and personal history loomed larger, I think, in your first book, Weighing Light. Besides being startlingly polished for a first book, it seems deeply personal; the more so perhaps for being non-confessional. Many Genesis poems have the feel of being manufactured out of allusion, but "Father Countries," your Cain and Abel poem, (one of my favorites), especially in juxtaposition to other brother poems, seems to speak directly of the complex emotions and motives known as "sibling rivalry", and perhaps too how history embodies family and vice versa.
It seems as though in your new manuscript, you are exploring history and family through this lens. What do you think is interesting you in channeling these historical voices? Do you feel the second manuscript is more "programmatic" than your first, and if so is there any danger attendant to that? There are still highly personal poems here. I myself am very attracted to the poems of parenthood, whose truth seems to me to lie in their deep ambivalence. Actually, I suppose I am wondering two, maybe related things—how parenthood has changed or affected your writing, and whether the larger historical view is in some way the result of bringing a new generation into the world.
GB: Some of the "historical" poems in my second manuscript arise from this sort of nexus between the personal and the historical. Others may seem more purely historical, though a couple of things have to take place in order for anything that might be called a poem to happen: I have to find some private way into the narrative or character, and I have to start hearing something in the language—a voice or tone. (I tried to do the same thing with certain of my favorite myths in my first book; "Father Countries," the Cain and Abel poem you mention, is a good example.) It's not something I can will to happen, by any means—there have been a number of events or people I've tried to write about only to fail utterly. With a collection like this the danger you allude to, about being too programmatic, is real, and I'm trying hard to not to include anything just in order to "cover" a certain topic. That would be awful.
As for parenthood, its main effect on my writing has been to prevent it most of the time! I suppose it has given me another subject, though with a few exceptions I've found it quite hard to write about, as such. Maybe the best thing it has done has been to extend my conception of my historical poems (which I started writing before I became a father) into the future. It will allow me to end that collection with a kind of opening out, if things go as I hope.
AE: I had mentioned the historical dimension of your poems (particularly the new manuscript), but there is also an intriguing political and civil dimension—grappling with what it means to be an American in this fraught day and age, or indeed any age, and perhaps by extension, an American poet. This is certainly emphasized by the epigraphs you are toying with (such as "It is a complex fate to be an American," "All witness darkens, eye by dimming eye," etc.) I have seen a lot of patently unsuccessful 9/11 poems, and a fair number about Iraq too that fail as poems—often out of a kind of preaching-to-the-choir self-satisfied outrage (the thousand natural shocks the Left is heir to). I think your political poems are saved from these problems by staying grounded in the texture of language while simultaneously open to doubt, irony, ambiguity.
There is the "Epitaph for a President," an epigram/epitaph that plays (as Byron does in one of his epigrams) on "lies"; there is the ironically titled "Homeland Security," about night feedings and a new baby—though alarms large and small impinge on the sleep-deprived consciousness; there are poems that address America's hauntedness with slavery and racism from present and historical perspectives: "Shades of Tucson" , the King funeral poem, the Nat Turner rebellion poem—and perhaps the most blatant in its grappling with current events and America's very identity, "Charles Graner is Not America: 2005", which succeeds through a rhetorical and dramatic irony by which the reader becomes implicated with the angry denial of the narrator. I'm intrigued by the ambition of these poems, and the desire to embrace the public as well as the private in the lyric—I wonder if you might elaborate a little on that.
GB: I don't know if I can do justice to the question about the political and civil dimensions of my newer poems. I'm learning by going, as Roethke would say. I just know I have always felt compelled, but especially in the last seven or eight years or so, to somehow attempt a more public-minded poetry that could co-exist with and hopefully interpenetrate the more narrowly personal stuff. I dislike self-righteous, one-dimensional political poetry as much as anyone (though I've occasionally written it, helplessly), and I've looked for more nuanced ways of engaging (for lack of a better term) "the world at large."

Perhaps paradoxically, one of the ways that I have found myself able to speak about the present is by speaking instead about the past, and more specifically about things in our country's past that are connected as if umbilically to things in our country's present. This allows me a kind of emotional and perhaps aesthetic distance that would be hard to come by if I tried to write directly about, say, 9/11. But then of course I also want to be able to write directly about the present. I haven't attempted 9/11, and I hope I don't, but the Charles Graner poem grew out of the Abu Ghraib debacle as it was unfolding. It's the first directly political poem I've written that I think might be a real poem. The keys in all this, I guess, are the ones you mention—doubt, irony, ambiguity. Also the willingness to implicate the self as well as the world, an ongoing attention to language as language, etc. I don't know where it's all going, but I'm glad you're intrigued with them.
AE: Maybe it is time to bring up the F word again—Formalism and, of course, New Formalism. I think the term (an –ism no less) strikes a lot of folks—me included—as unfortunate, even embarrassing, though I don't think it is going away. What is it that draws you to form, and how you feel about Formalism or about the peculiarly American Formal versus Free Verse camps—the red state/blue state partisanship of it. Part of your mastery of form (and a lot of problem with New Formalism is a dogmatic apprenticeship), it seems to me, is an ability to improvise, substitute, to have poems informed or shaped by meter without counting syllables on their toes… while also of course retaining an ability to work in strict measures if moved to do so. Do you find reviewers are able to get around the fact that many of the poems rhyme? Are there free verse poets who deeply influence you or whom you envy?
GB: Let's start with formalism, which I think itself—even before you tack "new" on the front of it—is a disappointing term, at least as it has come to be used. It ought to mean something complex and interesting, but in the world of contemporary poetry it is usually invoked simply as a way to divide poets up into camps for easy labeling. Writes in meter? Formalist. Uses rhyme? Formalist. That's just not interesting. When I call myself a formalist, I mean simply that I'm intensely concerned, as a writer and as a reader, with the shapes of poems. But this is true whether I'm writing or reading "formal" verse or "free verse" (another hopeless term)! Also, by this definition, Shakespeare and Dickinson, say, might not be considered formalists—their genius is not, it seems to me, particularly engaged in the exploration of form as such. Hardy, Auden, and Eliot would be. But so would, say, Anne Carson. Does this make sense?
Carson, to address another one of your questions, is just one of many contemporary free verse poets I admire a great deal. Her work is almost always marked by an idiosyncratic intelligence and surprising and deeply satisfying turns of language. And she has such a range of talents: she is a gifted storyteller, she can be hilariously funny, and she can move me with what used to be called knowledge of the human heart. (The latter is especially evident in Autobiography of Red, where she evokes the psychology and character of a small child as brilliantly as any novelist could do, and in her poems about her mother.) And I also consider her, as I said, a fascinating formalist—she is as formally restless and adventuresome as Hardy, if in a completely different vein. She's one of those poets I sometimes envy; I once tried to do an imitation of her, but it just sounded like an imitation of her.
AE: I'm also a fan of Anne Carson, who opens up all these exciting possibilities while still engaging meaning and pleasing rather than thwarting the intelligence—not just going off into non-sense and the ex-urbs of theory. Her "Beauty of the Husband" is maybe the only poetry book my husband has stolen off me before I finished it. We both devoured it like a novel. (Well, I guess it is a novel.)
GB: Exactly. Padma and I headed off the theft problem by reading it out loud to each other, alternating chapters. (Excuse me: tangoes.)
As for "New Formalism," I see it mostly as an interesting and necessary artifact of the 1980s and early 1990s. I should say at the outset that I am not by nature a "joiner"—didn't join clubs or play team sports in high school, for instance—and so my response to New Formalism (and other -isms) should perhaps be seen in that light. I am by nature highly suspicious of artistic movements, because the rhetoric and partisanship that defines them seems to me to belong more to the world of politics than the world of art. The best thing that can be said of these kinds of movements is that they draw notice to some poets who deserve notice. My favorite anecdote on this subject is Philip Levine's: when he asked Thom Gunn how he felt about being labeled a Movement poet, Gunn replied: "Well, it got me in the anthology." So if the Movement did anything to help Gunn get noticed, that's a good thing. But Gunn had to do the rest on his own.
Indeed, I would say that such movements should be thought of as events rather than habitations. At best, they create a splash, some good artists flock to them and talk passionately about subjects of real interest and spur each other's imaginations and ambitions. But then after a while everybody ought to get weary of the whole thing and go quietly off to rooms of their own. (As, for example, most of the Futurists did, with the exception of Marinetti himself, who clung pathetically to the label for decades). So I see New Formalism as a thing that happened a couple of decades ago, which at that time, as I was beginning to take poetry seriously, held real interest for me, but which no longer does. Some of the poets who were associated with New Formalism continue to hold my interest, of course, but not because of that association.
And this may be a bit catty or petty, but I confess also that I shake my head when any movement names itself by prefixing "new" or "neo" to its noun of choice. If we must have movements, shouldn't we at least have cool names, like Vorticism? Perhaps the "new" thing was fresh once, but it now seems (along with "post-") the least imaginative, most old-fashioned way of naming something that is meant to be "new." (Take note, all you young poets out there about to post your manifestoes!)
Perhaps you can see why I'd be a bad person to ask to join your movement. Unless we can call it Post-Newism—sign me up for that!
AE: I agree about the disappointing—and I would say, often lazy—designation of "formal" poet. I'm reviewing the new Norton sonnet anthology and keep running into "formal poet" as a descriptive term in the bios. What does that mean? Is every poet before the advent of vers libre a "formal poet"? Wouldn't that be pretty much meaningless for most of poetic history? It seems to me like talking about prose writer as "paragraphists" or "sentencers" or something. I've sometimes referred to myself jokingly as a retro-formalist, which seems about as accurate. Maybe we should start Post-Newism!
GB: Count me in. But I don't want to write the manifesto.
AE: Where did you come by your understanding and mastery of form? Was this something absorbed through reading and imitation, or did you have instruction or mentorship in it?
GB: I was a student for an inordinately long time, during which I managed to study with a lot of poets who knew a lot about traditional forms. My dad actually wrote a number of extremely accomplished formal poems when he was young (he had an exquisite terza rima poem, "The Sea Birds," in The New Yorker in the 1960s). He studied with Donald Justice and George Starbuck at Iowa, so I may have picked up a little of them second-hand, in our household air, though by the time I got old enough to be interested in such matters, my father, like most members of his generation, was no longer writing in strict forms. I also studied, very briefly, with Justice at Sewanee in the 1990s—he said we were the only father-son pair he'd had as students. I also learned a lot about form from Dan Hoffman at Penn and William Logan at Florida.
But the person who taught me the most, especially in terms of nuts-and-bolts prosody, was Judy Moffett, who was teaching at Penn when I was there. She wrote (in addition to her book on Merrill) a pair of lovely volumes of poetry in the 1970s and early 1980s, then disappeared from the poetry world to write sci-fi. I never actually took a class with her, but we met regularly to go over my poems and translations (she's also an outstanding translator), and she did something no one else had done with my early attempts at formal verse: she went through them with me, not just line by line but foot by foot and syllable by syllable, pointing out where I was padding, where I was doing violence to the syntax or diction for the sake of the form, where I was deviating from the metrical pattern I had set—and which deviations were felicitous, and which not, and why. It was one of those rare occasions when someone tells you exactly what your brain is ready to absorb, and those few meetings taught me how to read and revise my own work in form and how to learn from other poets simply by reading their poems.
Judy has recently returned to the poetry fold, by the way, and has a new volume in the works.
AE: It's interesting you mention Justice—some poems, maybe because of their subject matter or locale—reminded me a little of him—particularly the lovely unrhymed sonnet, "The Royal Palms of South Florida." (Maybe a little of Joe Bolton's work too...) And there are some playful echoes of Elizabeth Bishop as well (the nod to Hayden aside in the title), say in "My Austere and Lonely Office." I guess I forget because of the powerful dark undercurrents in so many of the poems, how often your poems are darkly and devastatingly funny—something I seem to see too little of in a lot of poetry these days.
GB: Justice is one of my absolute favorites. He may have had the best ear of any poet I've ever known—does he ever strike a false note? He didn't often try to be funny in his poems, but when he tried—"Heart," "Unflushed Urinals," "The Telephone Number of the Muse"—he was very funny. And humor has always been one of the qualities I admire in other poets. I think I said somewhere else that two things we need more of in contemporary poetry are seriousness and humor, which I suppose sounds churlish again. But humor, especially, seems an underrated quality these days, one poets have largely conceded to novelists. I'm put in mind of your delightful Martin Luther triolet, which might also have asked why novels should get all the good jokes. Certainly some poets are suspicious of humor because it smacks of light verse and they don't want to be considered light. But weight and lightness, as you know, have never been mutually exclusive.
AE: A side question to the "formalism" one… There still seems to be, hanging in the air, a vague but hard-to-dispel notion that formal choices in poetry have some sort of relationship with conservative politics—even the hostility one still encounters to form some places seems to have an odd political bent. Any thoughts on this?
GB: One of my bêtes noires has long been the notion that "formal" poetics somehow go hand-in-hand with conservative politics. It's an absurd (and I think peculiarly American) notion, one that's bad for poetry, and I find it hard to believe that anyone who has given it serious thought subscribes to it—yet I'm surprised by how often I encounter it. It's a notion that was perhaps offered a patina of legitimacy by the association of New Formalism with the New Criterion in the 1980s and 1990s. But even a cursory examination of the poetic landscape of the twentieth century shows that ideology does not inhere in forms or in formal practices: political tendencies and poetical tendencies just don't line up in any neat way, at all. Some forms do, of course, accrue traditional associations and connotations over time, but these can be as easily subverted as invoked. Is this as obvious to you as it seems to me?
AE: (Yes!)
What are you working on now in terms of translation and your own poetry? And who are you reading or looking forward to reading (past masters and/or contemporaries)? Do you have any favorite print or on-line journals?
GB: On the poetry side, the Voices Bright Flags book is inching forward. But when I have time to work these days, it's usually on the anthology of twentieth-century Italian poetry that I'm editing for FSG. I'm behind schedule, but I'm finally nearing completion. Your translation of Pascoli's Greek epigram, by the way, is the opening poem—sort of an invocation of the muses, I like to think.
Unfortunately the only poets I have time to read these days are the ones I'm teaching. Fortunately, I'm teaching good ones: Hardy, Auden, Larkin and Gunn—with Bunting's impressive Briggflatts thrown in just to show that the Brits weren't constitutionally incapable of Modernism.
As for favorite journals, the short answer is the ones I publish in. Perhaps I could just single out the relatively new journals that I admire... On the print side, Subtropics and The Cincinnati Review have quickly joined the first ranks of American lit mags, in my view. 32 Poems is also always a pleasure. All three have catholic tastes but are very open to, and very sophisticated readers of, "formal" verse. (Measure focuses exclusively on formal verse and is also good.) As for on-line journals, my three favorite new ones are linebreak.org (which does interesting things with audio—I love Leon Stokesbury's reading of Seth Abramson's "Cash at Folsom"), memorious.org (which is well edited and exquisitely designed), and unsplendid.org (which is devoted to "formal" poetry but has a refreshingly limber sense of what that means). I'm probably forgetting some I shouldn't!
AE: On a more personal note… I wonder how it works being married to another writer? Are you each other's first readers, or is that just asking for discord?
GB: Being married to another writer is great, though I'm glad we have different domains within our shared profession. That generic boundary is sort of a firewall, perhaps. As it is, our successes inspire nothing but real happiness in each other, whereas if we were competing for the same jobs or awards, our reactions might be more complex, especially if there was an obvious disparity in our levels of success. Or maybe we'd be above that—who knows? Right now the only difficulty her success poses is that it means she's traveling a lot, to promote her novel (The Toss of a Lemon—in stores now!). Which makes juggling the kids a bit tricky. But as problems go that's a nice one to have. And yes, we do read each other's work—she's one of my most trusted readers, in part because she often doesn't tell me what I want to hear.