Tobey Hiller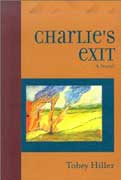 Charlie's Exit (EdgeWork, Boulder, 2002)
... more
Tobey Hiller writes fiction and poetry. Her novel Charlie's Exit was published in 2002 (EdgeWork, Boulder), and three books of her poetry, Crossings, Certain Weathers (Oyez, 1980 and 1987) and Aqueduct (Clear Mountain Press, 1993), have been published. Her poetry and fiction have appeared in various magazines and anthologies, including Abraxas, Five Fingers Review, Caliban, Transfer, Milkweed Chronicle, Berkeley Poetry Review, Giants Play Well in the Drizzle, Brief, The Poetry Flash, A Fine Madness, Embers, Beyond Baroque, Took, Qoph, Coracle: Canary (forthcoming), and Resurgent, New Writing by Women, University of Illinois Press (1992, eds. Lou Robinson & Camille Norton), Through the Mill, The Mill Press (1994, eds. Carla Kandinsky & Dale Jensen), Left-Hand Maps: San Francisco Bay Area Poets, A Small Garlic Press, which has an on-line and print magazine, (1998), Literature and its Writers, Bedford Books (1997, 2001, 2003, eds. Ann and Samuel Charters), a college text.
She has two books, a novel and a YA fantasy, in progress.
Her story, "The Seventh Blue," was a finalist for the 2009 Reynolds Price Short Fiction Award.