Andy Dolphin: Featured Artist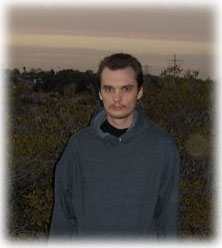 Artist Statement
‡
I did not choose art, art chose me. As a kid I always liked to draw and my uncle gave me art supplies as a gift setting off an obsession that has enriched my life and spirit. Having tried many mediums of expression I was most excited by the vivid colors of acrylics.
A blank canvas is where I start my creations and within a few strokes the painting takes me to where it will be. The only time I approach a new project with any idea of what will result is when inspired by a previous work.
Photography entered my creative mix when I realized that the camera does indeed capture souls, the souls of people, the essence of landscape, the spirt of living things frozen in a digital universe yet vibrant and alive.
The mixing of digital and conventional media reveals interesting and often hidden aspects of a new dimension that can only be seen and never fully understood. In effect the art creates itself.
When asked, "who do you paint for, what is your intended audience?'" I answer, "No one, everyone." Yet in truth, it is the artwork itself that commissions my labor.
My most valuable skill is knowing when a work is complete, yet not giving up too quickly when it is not. Often I find artwork I did not initially like very satisfying when viewed at a later date; many I consider poor are greatly enjoyed by others. Art for the sake of art is my driving force.
Mediums
A day before time: acrylic on canvas.
Chi: pen on paper digitally modified.
Recycled Reality: pen on paper digital collage.
e-Nature: photo, digitally modified.
Cacti and Purple Sky: photo, digitally modified.