Featured Poet: Jennifer Reeser - Interviewed by Timothy Murphy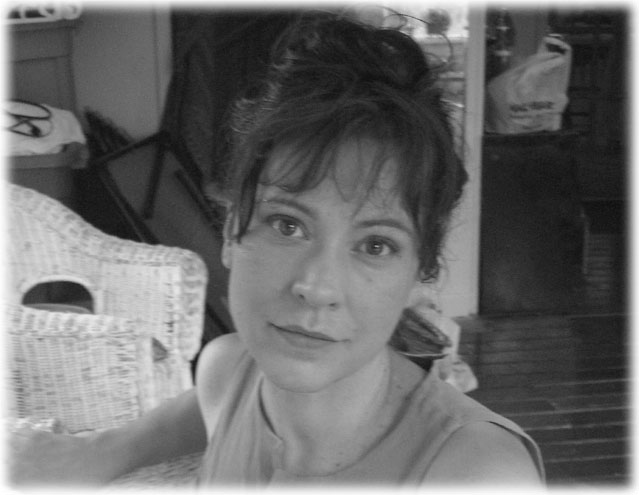 An Interview of Jennifer Reeser
by Timothy Murphy
Jennifer Reeser is the author of An Alabaster Flask, winner of the Word Press First Book Prize, and Winterproof. Her poems, essays, and translations of Russian and French literature appear internationally in such journals as Poetry, The National Review, Salt, The Formalist, Louisiana Literature, Chronicles: A Magazine of American Culture and The Dark Horse. Her work is gathered in numerous print and online anthologies, including Longman's Introduction to Poetry, edited by X.J. Kennedy and Dana Gioia, and Phoenix Rising: The Next Generation of American Formal Poets, The Alsop Review (which also produces her CD as part of its Spoken Word series), and Famous Poets and Poems Online. Her verse and vocals have been set to music by art song/classical composer Lori Laitman, and the American recording artist Briareus. She has three times been nominated for the Pushcart Prize, and received awards from the World Order of Narrative and Formalist Poets and The Lyric magazine. Jennifer has given lectures, readings and seminars at the high school and junior high levels, as well as on college campuses and community venues from New York City to the US Gulf Coast. She is the former assistant editor to Iambs & Trochees, and lives amid the bayous of southern Louisiana with her husband, the fiction writer Jason Reeser, their four sons Alex, John, Maxwell and Simon, and daughter, Kathryn.
§
Murphy: Thomas Kerrigan asserts that you, Alicia Stallings, and Rhina Espaillat are the three best women writing in English. I disagree with him. I would throw some other hats into the ring. What have you to say to that?
Reeser: One would not assume so, looking at my bank account! Mr. Kerrigan's is tremendous praise which carries me many a cold moment, and I wouldn't presume to contradict a man who has argued successfully before the Supreme Court — but neither can I begin to imagine I'm even close to being one of the best women writing in English. In addition to Espaillat and Stallings, as you say, there are so many contemporary bluestockings modeling whose hats I admire in that ring, who simultaneously cause me chronic joy and acute despair, in terms of artistic ambition with its realization.
Murphy: Our creative writing MFA programs are preaching to the kiddies the necessity of their finding a "voice," and "a sense of place." You have both. How did you come by them?
Reeser: Amat victoria curam — victory favors those who take pains, surely, but my work is not currently and never was an exercise commencing with "I will now sit and attempt to write with authentic voice and sense of place!" I was blessed with a mother and father who instilled, then fostered, strong philosophies of place, freedom and individuality. I was an extreme escapist as a child, the teachers sending home notes "Jennifer daydreams too much," and while I was not generally a procrastinator or drifter, in the way I found it necessary to return to reality to get things done, my mother proved a great counter of concrete awareness and worldly sense to my tendency to become entangled in theory and intuition, being a pragmatic soul attached to the ground, her local surroundings and their people. My father is the extrovert who ensured an understanding of my place in the larger scheme of things, from a historical and universal vantage. The voice is perhaps less easily explained. I can't honestly remember a time in life when someone wasn't telling me, "You're weird," or "You're strange," or "You're different." But Dad is a Man of Steel who seemed to appreciate — or at least, not to censure — those deviations in me which were innocent, so I felt confident enough to put myself forward ab initio. As far as one applies these to my fictitious, persona pieces? I can only attribute them to an imagination so vivid, it occasionally convinces even me, combined with my choking inclinations towards intrajection and intense empathizing.
Murphy: Catherine Savage Brosman publishes both of us. She is a creature of the Front Range and of Louisiana. In that former role, her writing is an influence on mine. Does her example influence you?
Reeser: Absolutely, but (unsurprisingly) more in the latter capacity than the former. Ms. Brosman has a sensibility recognizable here, to which I can relate (with relief), enjoy and admire, but which can transcend mere lyric topography or culture, whether she is writing of Pike's Peak or New Orleans. She has a great grasp of proportion — mingling the elements of exposition with narration and argument, etc.— that raises her above the rank of the regional poet, in my estimation. I would call her poems classic, and I return to them, to read, dissect and study. True artistry. I like her published criticism, too, which strikes me as thorough and fearless, while maintaining goodwill. She influences me to the belief it is not necessary to live in New England in order to write well! Her acceptance of my work at the Rockford Institute's Chronicles might well be that in which I take the most satisfaction. It rendered me ecstatic and gushing, in fact, for some time.
Murphy: The worst editorial mistake I ever made occurred when you sent me Alabaster Flask in manuscript and asked for comment. I was very drunk, and I peremptorily advised you to lie low for a decade or two. Sam Gwynn and Rhina Espaillat had the perspicacity to praise the book for what it is, altogether new, altogether accomplished. In this very public forum I offer my apology. Do you forgive me?
Reeser: In this very public forum, Mr. Murphy, I accept your apology, and very publically forgive you.
Murphy: You served, briefly, on the staff of Eratosphere. You and John Beaton had big shoes to fill, Alan Sullivan's. Your thoughts on your tenure there? On the wild notion of a world-wide poetry workshop?
Reeser: I love the role of editor almost as much as that of interpreter and translator. My years with Bill Carlson as assistant editor for Iambs & Trochees are very much missed. The additional aspect of the spontaneity in the online, world-wide wildness can be exhilarating. Insights from such a diffuse cartel of English speakers are often surprising, used responsibly, I think, a meaningful bounce in literary evolution — particularly considering the not-insignificant benefit and buffer of having enough "remove" not to kill each other, as has sometime been the case among creative, passionate personalities. I wish I had the leisure time, management skills and spiritual resources to continue with it, because I believe Eratosphere is the finest site of its kind on the Web, and I was reluctant to relinquish my position. Maybe when my children are a bit more formed and self-reliant, I can return to do Mr. Sullivan proud. Causes are prime movers for me.
Murphy: What marvelous responses. I hardly know how to collect my thoughts, but I shall try. My mom was a great Shakespearean actress, possessed of remarkable physical beauty, who had five kids in six years. She played Jennifer Reeser in 1951, and she and Dad both had a great deal of poetry at verbal command. I guess I see in you the girl I should have married. Unfortunately, by Lousiana standard, you're young enough to be my DAUGHTER! And any of your many boys could break me in half, so forget that! You are possessed of physical beauty which ventures on the extreme. How hard was this for you as a woman?
Jennifer, that is a real hard question. Good luck.
Reeser: Your mother sounds like a woman I would want to know. Yes — my guys are certainly all forces to be reckoned with. *laughing* As far as the physical beauty goes — I won't begin to debate with you its veracity, but after such a charged statement, be advised I am forwarding any estrogen-fueled hate mail straight your way! Of course, "every good gift comes down from the Father of lights," and this has the potential to be a vast, convoluted, volatile topic — but its negatives do bear directly on my genesis as an author, so I will angle from there, trusting it gives a glimpse into the general picture. Auden wrote of Yeats that mad Ireland hurt him into poetry. I experienced some ugly, sinister, dangerous things from early on, stuck in some bad locales, things over which a little girl has no control, from which she is unable to escape, in the flesh. Naturally, each female — each creature — reacts differently, according to her innate temperament, but in my peculiar case, those experiences served to lead me into a closet, a cloister of sorts. There, I could take those twisted, warped, chaotic attitudes and happenings, and attempt to create something beautifully meaningful with them. Or get away from them altogether in a psychic sense, making something entirely independent and new. My first serious romantic attachment was to a track team athlete named Michael. He seemed perfect in every respect except for his increasingly violent reactions to any and all of my contacts with members of the opposite sex. He blamed my appearance, and, unable to handle that brand of passion and possessiveness, unwilling to be fitted into a social burqa, I broke off our relationship. Or tried to break it off, rather, as he refused to accept my rejection, showing up continually, writing to me with the claim I was the best-looking girl he knew. I still have the letter, stored in a blue strong box along with his obituary notice printed shortly afterward, and the newspaper clippings reporting the story of how he and his brother one afternoon became embroiled in an argument. During the course of their conflict, Michael's brother shot and killed him. No one would ever tell me what the fight had been about. I was fourteen years old. When the funeral was over, I withdrew from virtually everything but literature and writing, which I took up in earnest. It was later that same year I first saw Franco Zeffirelli's film version of Shakespeare's Romeo & Juliet. It devastated me. I had found a love to replace Michael. Our attic at home was filled with my father's old college paperbacks containing Shakespeare's plays, and I began to climb into the attic, being a lonely, "latchkey" kid, my parents both with careers. I would spend afternoons and summers in the gloriously-cloying, upper-story humidity reading the Bard, listening to neighborhood boys on the ground outside ask where I was, and hearing my sister turn them away, while I remained safe with Shakespeare and the spiders where no "hopeful" could hoard, and no "hateful" could harm me.
Murphy: Do your children read poetry, especially their Mom's?
Reeser: Yes, indeed. They not only read, but perform it. My daughter is a "practicing" actress right now under the tutelage of a Juilliard graduate. She has done various poetry pieces, and performed Fantine's arrest monologue last year in an area Forensic tournament. I've had her doing Shakespeare since she was tiny! My sons are less keen on it, though one of them likes to perform Lewis Carroll's verse. I don't usually write for children, so at present the majority of them are more intrigued by the "glamorous" aspects surrounding my work: my writing appearing in an issue of Poetry which also ran the actor Alfred Molina, "Doc Oc" from the movie Spiderman, or my participation on a West Chester panel with Professor F. D. Reeve, "Superman's" dad. But my daughter's best friend recently asked permission to perform one of my poems for a school competition. My 17-year-old devours the translations, has developed an obsession with all things Russian, and wants to pursue a career as a Russian interpreter. And when I have a poem show up in some venue like The National Review, I'll call or email my oldest son — a Frost fan away studying computer science at college. "Cool," he replies, "I'll look for it."
Murphy: Jennifer, Bill Baer always closes his fine interviews with poets by quoting a favorite quatrain or two. I want to close our interview in grander style, by quoting the bookends of your second book, and saying what they mean to me as a reader
Winter-proof

Blessed be the winter-proof blossoms —
sweet pea, calendula, pink:
nothing in them of corruption,
nothing of fester or stink.
Drawing my gaze from the graveyard
violet, camellia and rose.
Blessed be the winter-proof blossoms.
I am indebted to those.
There are no winterproof blossoms in North Dakota. I cannot conjure any image for sweat pea, calendula, pink, or camellia. But I understand the mellifluous music of the poem, and I understand the rejection of the dark: "nothing of fester or stink." Better, I understand why you would close the opening of your second book with a benediction and an acknowledgement of indebtedness. I read a lot of book manuscripts, and I constantly urge poets to begin strong and end with a killer close. You do. Now the close:
In Remembrance

Since You were not bashful to break the bread,
Sown in the barren, of seedless wheat,
Since You did not shirk from feeding the dead,
I, too, Kyrié, will eat.

And as You were bold to spill the glass
Fermented in groves of hematic wine,
Though the sanguine liquid is no demi-tasse,
That sweat and blood will be mine.

So, as You arose in bread without yeast,
With the vision of me in Your eyes,
We will drain that cup at our marital feast,
And I, for You, will rise.
In Remembrance is a difficult poem. What did Eliot say, "Of necessity, modern poetry must be difficult?" Fatuous nonsense! This is difficult because it recounts the challenge you have faced all your life, the challenge all should face. How are we worthy of His death? It has its obscurities; you should know that Kyrie is Lord in Greek, and you pretty well have to know the story of the Last Supper, and you better know the rite of Communion, and if you really want to know what this is all about, it doesn't hurt to believe, as an article of faith, in the Transubstantiation of the Host. There is so much to relish in this poem, such as the choices of hematic and sanguine, words I have never used in verse, the sexual pun in the last line. But this is a rhapsodic poem, and the tradition is daunting, this business of being the bride of Christ: St. John of the Cross, Teresa of Avila, Sor Juana, Father Hopkins, your interviewer, for God's sake! As Patrick O'Brian's Captain Aubrey would say, "This is coming it pretty high, Doctor!" I congratulate you; but unlike Bill Baer, I'll let you have the last word.
Reeser: For aid with that final pun, a Bread Making 101 course wouldn't hurt, either! But to address your comment on the sacrifice, as well as your offering of last words…to quote Eliot again:
"Lord, I am not worthy
Lord, I am not worthy
but speak the word only."
Thank you so much.