Black Wine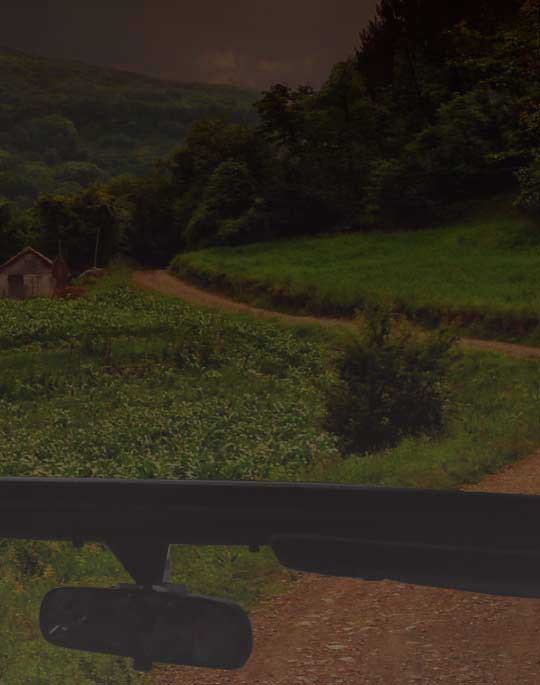 toastforbrekkie / Katarina 2353
Black Wine
§
"Black Wine."
Was she perfume or fermented liquor?
"Are you certain you want me to call you that?"
Her car door slammed shut. She rolled down its window and said, "Yes. Now get your ass in here."
It amuses me when women take the initiative. I never question if I am up to what they might offer. Often I see it as a kind of bravado and hang loose for when they forget what buttons to push, or how to throttle us out of a nose dive. Men get tired of playing the lead; it has become tiresome, boring, no spark. So when Black Wine told me to hustle my ass inside the rear of her Nash convertible, I even leaned back and smoked a Gauloise as she drove through the Pennsylvania countryside, the ragtop making clothes-on-a-line noises in the brisk night air. Occasionally a gust of wind would blow the ash off my cigarette in the drafty back seat.
"Slow down . . . Black Wine," I said several times.
"Am I going too fast for you?" she asked.
"Turn the radio on," I said.
"Ain't no radio."
"A convertible with no radio!"
"Didn't want no radio," she said.
That beat the hell out of me. We were now accelerating down a dirt road with nothing but dry cornfields on either side.
"Does your mother's washing machine got a radio?"
"Of course not," I said.
"Well, same difference."
Black Wine's Nash convertible was one of only seven hundred manufactured in America in 1947. By any stretch of the imagination it was not a machine of utility. My mother was in servitude to the wringer-washing machine. The only thing it did for her was keep her hands aseptically clean and perpetually chapped. Eventually she resorted to churning the clothes in its tub with a chopped-off broom handle. Its yellow paint got eaten away and then the damp wool fibers, began to string off its bone. But the Nash convertible—onyx black, burgundy leather seats, no radio, a horn that approximated an A flat flugelhorn burst—didn't even insinuate an air of utility. Black Wine, when being transported to her place of labor even . . . the well-being of this automobile transcended its destination. The Nash convertible elevated all things utilitarian, albeit ephemerally, like sex.
"I don't get it," I said.
"Sure's clear to me." she said.
I had ceased smoking. Now we were circling Pymalooming Lake, a good thirty miles beyond Hebron. The ragtop rippled steadily now. She had to raise her voice.
"Your mother sing when she washes clothes?"
"I've never heard my mother sing."
"Lullabies?"
"Maybe she did. Maybe she didn't. I don't remember."
"What's her name?"
"Esther."
"Oh."
"What do you mean, 'Oh'?"
"That's why she didn't sing."
I think I was beginning to catch on. "Where are we going?"  I asked.
"Be patient."
Pymatooming Lake Road ran for a good ten miles until it broke off into several small camp lanes that veined up into a range of mountains. A full moon illuminated the lake silver. I had never fished in it, but as a young man I'd swum out fifty yards off shore with a young woman friend. I lowered the bathing suit off her breasts, and we pumped our legs to keep afloat. Nothing more. It was quite serene. Our friends back on shore had no idea. I'd never felt a woman's breasts up close like that. This night with Black Wine I mused on that experience and imagined Esther stirring our clothes in the Maytag as if they were apple butter.
"You don't like the name Esther?" I asked.
"If you are called Esther, you're obliged to clean mud-stained bed sheets and pan-fry potatoes. Scour scuzzy rings out of bathtubs and toilet bowls. You got to suck dust mites out from under beds and bureaus and vinegar your windows to let the sun shine in. Esthers ain't obliged by ragtops with no radios. Only table pickings and farting, belching husbands."
She finally pulled into a dirt trail that terminated at a square clapboard shack with no porch, one window and a door. The threshold stood two feet off the hard soil with no steps. A screen door banged freely against the side of the camp. Black Wine turned to me. "You want a radio?" She laughed and motioned me to follow her into the shack. Hammering against the bottom panel of its door until it growled open, she hoisted herself up. Once inside she ignited a kerosene lantern, then reached down and pulled me in. I shut the door.
"This is Betty's place," she said.
"Oh," I muttered.
The cabin was barely furnished. A one-and-a-half-person cot primly covered by an Indian blanket sat next to a wooden table with two ladder-back chairs. A rodent-eaten, wine-colored, velvet-upholstered easy chair accompanied by a side table holding the kerosene lamp sat against the opposite wall. And over in one corner a porcelain double sink rested on two cut-off Louisville Slugger bats. No skirt. A small medicine chest hung above it with a mirror whose silver had mostly vanished. You could just gather shards of your face when you stared into it. The source of heat stood in the center of the square room: A kerosene stove-pipe heater, porcelainized Gauloises blue with chromium trim—shined and brightened like the Nash convertible. Black Wine ignited it. I sat in the easy chair. She lay down on the bed and removed her leather hiking boots that I'd admired earlier. Argyle socks somebody might have knitted brightened the dour room. The walls were painted sanctuary white and only a single piece of paper tacked alongside the one window adorned them. From a distance it looked like a child's scribbling. I rose to study it. In a child's hand, the paper, once torn from a composition book and crumpled, read: To Betty. Followed by three x's and two o's. It was signed B.W.
Black Wine was still lying on the bed. I turned to her and smiled. She broke into a feathery laugh. "Outside that door," she gestured, "there's an old Kelvinator with rubber wringers sitting on the lawn. You're welcome to turn on the radio if you want."
"What's coming out of it now?" I asked.
"No diapers, that's for sure."
"Overalls?"
"Nope."
"Bed sheets, towels 'n' handkerchiefs?"
"Dirt. A bushel of it and dead snapdragons. Real pretty in July, though."
I watched Black Wine as she took off her jeans and sat up on the bed, leaning against the wall in her panties and a khaki shirt with epaulets and pearl snap buttons. She had sterling silver barrettes holding back her auburn hair—one near each temple set with cat eyes.
"Reach under your chair," she said. I slid out a one-burner affair and placed it on the table. Canned Sterno—when I pried off its lid with a quarter, its sweet addictive odor perfumed the room. We were going to have tea.
"Where'd you bury her?" I asked as we waited for the water to boil.
She gestured behind her.
I nodded.
"Damn heavy, you know. I couldn't drag her too far. Just didn't have the strength."
"I understand," I said.
"You been to any funerals lately?" she asked.
"No," I said.
"Oh," she replied.
I poured the hot water into two mismatched, chipped china cups. One said "Coon Chicken Inn"; the other was a piece of speckle ware. Neither of us took sugar. There was no icebox to hold cream.
"When did she pass away?" I sat beside her in the narrow bed, my shoes resting alongside hers on the shiplap floor. Both our backs to the wall. Bringing the cup of liquid to her mouth and before sipping, she relished the steam rising up before her nose and eyes like a veil.
"August. One summer ago. Died right here in this room. She was ill for some time before that. We waited as long as we could, then one day she asked me to bring her away from the city. We both knew. We didn't tell anybody and drove here just like you and me did in the night.
"Waited until morning. The two of us wide awake just staring. At sunup, I took her outside, we hugged once . . . and she began to walk off out the dooryard and back up into the pine and hemlock. I hung behind her. And then I heard some branches cracking and there was a thump. Like a sack of sand bein' tossed out the back of a pickup.
"I dragged her another hundred yards or so. Kicked some soil onto her face, covered her body with last year's pine needles. I untied her shoes and put them longside her head. Just like she were lyin' in bed. They at the ready,  like two loaves of nut bread. I knelt down on my hands and knees and crossed myself . . . like I've seen the  Roman Catholics do. It don't mean nothing to me. But it might mean something to her . . . 'cause she was spiritual. No radio in her washing machine, huh?
"I said a made-up prayer. Some stupid stuff—like:
If you are going on a long trip, Betty,
carry a flask for Jesus
and yourself
and tie bark about both your legs
in case of snake bites
and if your skirt gets snagged
and rent
rip off a piece
tie it in your messy hair like a ribbon.
God likes pretty women, ya know.
And the dirt on your hands and your feet—
don't give it no mind, Betty.
He just going to lay you down anyway.
Deep down where the Shiloh runs shallow and clean.
"Then I came back here. Shoveled soil into the Kelvinator and sowed the snapdragon seeds from a package she'd placed near the basement window back in the city a few years ago. The flowers on the package had all faded. But Jesus, when I returned they were rising out of the old white porcelain barrel, waving buttery yellow in the morning sun. Weren't a clothesline around. And the air smelled just as clean as springtime. Though it were fall."
Black Wine took off  her shirt and lay down on the cot. She curled up into a fetal position and didn't give me any sign that she wanted me to come into bed with her.
"Would you like the blanket over you?" I asked.
She shook her head.
I could hear the wind blowing outside. It beat against the rag top of her car. Just like there were clothes on a non-existent line. A large quilt, perhaps, or several sheets slapping against themselves out there in the moonlight.