The West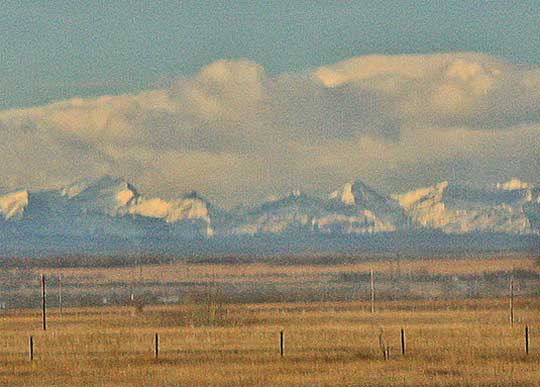 Chris & Lara Pawluk

audio: The West
The West
I. Front Range
Lean men prone to heroic understatement,
they have a drawled, laconic way of speaking.
They know that for their debts there's no abatement
nor boundaries to the vistas they are seeking.

No, there's only the Front Range of the Rockies
behind which the westering sun is setting
on stallion breakers too strong to be jockeys
and water rights the Judge of all is vetting.
II. Jornada del Muerto
There is one writer I'll re-read this fall
to whom I owe a debt I can't repay,
McMurtry, the creator of Captain Call,
Texas Ranger, and Captain Gus McCrae.

His Brokeback Mountain script, his Lonesome Dove
send me abseiling down a sandstone wall,
boots over rock. Tim and his boyhood love
years back blazed trail for Ledger and Gyllenhall.
III. Winter Wheat
Our prairie views are skewered, ever West;
ours is a land of drought and blowing sand,
and any coursing eagle can attest
it is a chore to fathom western land.
The sun subsides behind the mountain's breast,
embittered ranchers hoard the Kruggerand,
and last night when I lay down to my rest,
I heard my Father's clarion command:

The word made flesh. I breathed this to Saint John
who stood beside my bride, my own son's cross.
I built you mountains you could climb upon,
and once I even flooded inland seas
where winter wheat now rises to your knees.
You are my child. Do not compound my loss.