Book Review of Sappho: Stung with Love: Poems and Fragments Translated by Aaron Poochigian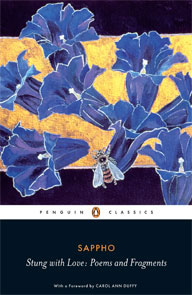 Sappho: Stung With Love: Poems and Fragmenst Translated by Aaron Poochigian, (Penguin Classics, 2009)
... more
Book Review —
Sappho: Stung with Love: Poems and Fragments
Translated with an introduction and notes by Aaron Poochigian, and with a preface by Carol Ann Duffy. Penguin Classics (London, 2009)
ISBN 978-0-140-45557-1 U.K. £8.99, Canada $17.50, U.S.A. $14.00
Book Review—Julie Stoner
Sappho: Stung with Love: Poems and Fragments.
Translated with an introduction and notes by Aaron Poochigian,
and with a preface by Carol Ann Duffy. Penguin Classics (London, 2009).
ISBN 978-0-140-45557-1 U.K. £8.99, Canada $17.50, U.S.A. $14.00
What, no Sapphic stanzas? The foxy Sappho
didn't always use them herself—no one-trick
hedgehog, she—but where are the famous stanzas
named in her honor?
Aaron P.'s translation does not attempt them.
No, instead he reaches for something bolder:
namely, Sappho's other renowned inventions—
pēctis and plectrum.
Music is the essence of Sappho's magic,
argues Aaron P., but her quantitative
(length-based) meter changes when English gives it
stress-based percussion.
Witness this review, with its weakened line-ends.
English must demote to a long-short combo
what, in Sappho's Greek, would be mainly long-long,
bold and emphatic:
- u - x - u u - u - -
- u - x - u u - u - -
- u - x - u u - u - -
- u u - u
Aaron further grieves that, while ancient cultures
instantly inferred from the Sapphic stanza
this is something songlike, our own thinks this is
prosy and awkward.
Still, free-verse translations are not the answer:
shunning formal elements Sappho valued,
these "betray her poems by their very nature."
(Thus he condemns them.)
What to do, then? Aaron invokes the song-forms
English-speakers know from their own tradition.
This is something songlike, indeed. Prepare for
aural enchantment:
Abanthis, please pick up your lyre,
Praise Gongyla. Your need to sing
Flutters about you in the air—
You gorgeous thing.
—"Abanthis, please pick up your lyre," stanza 1
Iambs, standing in for the Sapphic template,
dance through three tetrameter lines, one half-line.
Rhyme preserves the emphasis Sappho gave her
lyrical line-ends:
Because my tongue is shattered. Gauzy
Flame runs radiating under
My skin: all that I see is hazy,
My ears all thunder.

Sweat comes quickly, and a shiver
Vibrates my frame. I am more sallow
Than grass, and suffer such a fever
As death should follow.
—"That fellow strikes me as god's double," stanzas 3 and 4
On the whole, I find his approach successful,
though his frequent metrical substitutions
paired with off-rhymes (stomach/come back, and even
dalliance/battalions)
sometimes raise my eyebrows. The choice of diction
feels contemporary, with few exceptions.
(Who, this day and age, says bedizened? Must we
dance with the Webster's?)
Subtly bedizened Aphrodite,
Deathless daughter of Zeus, Wile-weaver,
I beg you, Empress, do not smite me
With anguish and fever

[intervening text omitted by reviewer]
Come to me now. Drive off this brutal
Distress. Accomplish what my pride
Demands. Come, please, and in this battle
Stand at my side.
—"Subtly bedizened Aphrodite," stanzas 1 and 7
Wonder how these excerpts have fared with others?
Here's the way Anne Carson presents them ('02,
Knopf) in If Not, Winter, although I'll skip the
Greek she puts facing:
]I bid you sing
of Gongyla, Abanthis, taking up
your lyre as (now again) longing
floats around you,

you beauty
—Sappho Fragment 22, first complete stanza plus two words
***
no: tongue breaks and thin
fire is racing under skin
and in eyes no sight and drumming
fills ears

and cold sweat holds me and shaking
grips me all, greener than grass
I am and dead—or almost
I seem to me.
—Sappho Fragment 31, stanzas 3 and 4
***
Deathless Aphrodite of the spangled mind,
child of Zeus, who twists lures, I beg you
do not break with hard pains,
O lady, my heart
[intervening text omitted by reviewer]
Come to me now: loose me from hard
care and all my heart longs
to accomplish, accomplish. You
be my ally.
—Sappho Fragment 1, stanzas 1 and 7
Anne's concern for simply transmitting extant
text is why her lines have opposing Greek, and
why so many pages contain such random
fragments as these three:
]
]right here
]
](now again)
]
]for
]
—Sappho Fragment 83 (entire)

makeup bag
—Sappho Fragment 179 (entire)

celery
—Sappho Fragment 191 (entire)
Aaron's goal, instead, is to give the reader
pleasure. String too small to be saved is absent.
Further, he's reorganized songs by topic,
not just by number.
Notes (which are detailed, and at times, amusing)
face each fragment, rather than lurk as endnotes.
Though without the numbers, it's hard to find old
favorite pieces,

Aaron P.'s achievement in this translation
stands. The graceful music of Sappho's pēctis,
plucked by rhyme as if by a skillful plectrum,
drowns my objections.
Stung with Love, the subtitle Aaron gives his
new translation, comes from the thrilling piece that
German scholars found in '04. Another
reason to buy this.