Featured Poet: Stephen Edgar - In Conversation with Timothy Murphy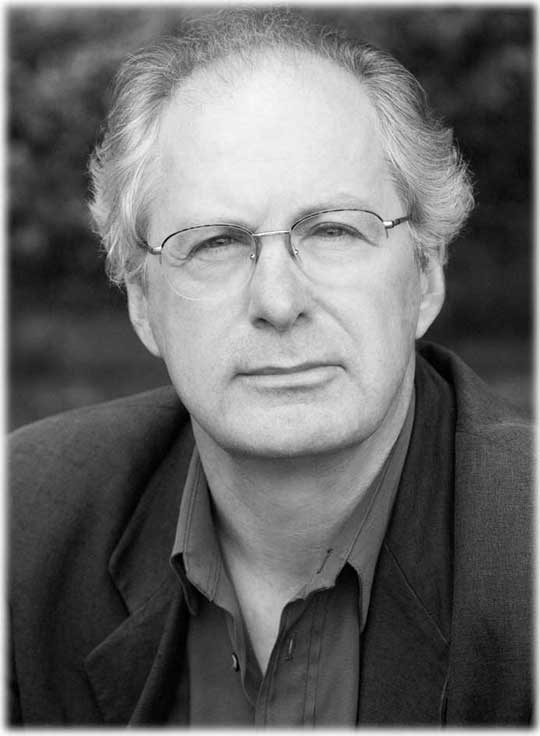 photo by Vicki Frerer
A Conversation with Stephen Edgar
by Timothy Murphy
Stephen Edgar has published seven collections of poetry, the most recent being History of the Day, published by Black Pepper Publishing in May 2009.
He was born in Sydney in 1951 and grew up and was educated there. In the early seventies he lived in London and, on returning to Australia in 1974, moved to Hobart where he lived until late 2005. He currently lives in Sydney again. He attended the University of Tasmania, studying Classics and English. For many years he worked in libraries but for the past twenty years has made his living mostly from editing, indexing and proofreading. He is married to Australian poet Judith Beveridge.
His other books include Other Summers (2006) and Lost in the Foreground (2003), which won the prestigious Grace Leven Poetry Prize. In 2006 was awarded the Philip Hodgins Memorial Medal for excellence in literature. His website gives details of all his books.
§
This is not your typical author interview, with short questions and long answers. It is instead an unfolding conversation. Stephen Edgar and I are half a world apart, although we are exact contemporaries. If you plunged a knitting needle through the globe from Hobart, Tasmania, where Stephen studied English, it would come out at Harvey, North Dakota, where I studied ducks. The proximate occasion of this converse is that Stephen and I appeared side by side in the June 2009 edition of Poetry, but my acquaintance goes back further than that, because I was reading his remarkable work, first at The Eratosphere, a forum which cultivates formal poetry, and second, at Chimaera, which Paul Stevens and Peter Bloxsom publish in Australia. Paul and Peter were the first to satisfy my appetitite for Edgar in bulk, and it is doubtless at Chimaera that Stephen came to know Murphy. Small world.
Timothy Murphy


Hi Tim,

But how come you already have the new edition of Poetry? That's the June issue, right? But it's only midway through May. Anyway, I haven't seen it yet but it will get to me eventually.

Thanks for your work file, which I look forward to reading. That's a substantial number of new poems. What I have done is to make a document with a selection of poems from my new book—not including poems you will have seen on my site; and then a selection of poems written since then, again leaving out poems you will have seen in The Chimaera and The Flea, and Poetry. Some of these poems are destined for a new book, and some—well, who knows?
Stephen Edgar
Hullow, Stephen. It was the new edition of Poetry. I am very glad to see Chris publishing us both simultaneously. Your poems were "Building of Light" and "Auspices".
I've only read your website and the poems Paul Stevens published. I am enthralled. In fact, I think you might surpass my friend Steele as Wilbur's successor. I am nothing of the sort, a throwback beyond Hardy and Yeats, a real bushman, the Banjo Patterson of America's outback. I eat what I shoot.
Let's do this. Here is my current work file. You send me yours. Then we needn't worry about postage and customs! Now keep in mind, this is a work file, not a book.
I am frankly astonished at your ability to invent and hew to a complex stanza. As you will see, I don't do that, rather I go for the reader's throat in a way you don't.
I am very pleased to make the acquaintance of so gifted a contemporary.
Timothy Murphy
Stephen, you have a visual imagination, and I, an entirely auditory one. I am color blind. You share the gift of Hope, Hecht and Wilbur. Tony's death blindsided me, and I pray for him nightly, five years on…
V.I.P. Lounge
The most exclusive anteroom in Hades
caters to those who wrote well in their eighties:
classical poets, Pindar and Sophocles
exchanging shop talk with Simonides.
Hardy and Frost, Francis and Hope are there.
Scovell, Virginia Hamilton Adair
and Janet Lewis, sharing a pot of tea,
raise their cups, praising Mnemosyne.
The Goddess turns Her back on the elect
to greet a new arrival, Anthony Hecht,
who takes his place among the Greats in Hell.
Would I could live as long or write so well.
Lux et Tenebrae
Kindness to students is a cardinal act
of mercy at which Professor Hecht excelled,
correcting us with dignity and tact
while holding us to standards he upheld.
Fiat lux, the Lord said to the night.
Hecht's answer was 'The Darkness and the Light.'
Near Mainz, his rattled comrades gunning down
women and children under a white flag,
at Flossenberg (the camp downwind from town)
a fetor fit to make a butcher gag
were horrors that returned when he was dreaming.
He told a friend, "For years I woke up screaming."
For all his blessings - an adoring spouse
whom he revered, a modicum of wealth,
the embassies of poets to his house,
a stronger voice despite precarious health -
he made of suffering an art so dark
few soldiers ever better hit the mark.
Timothy

Dear Timothy,
Hello again, Tim. I survived the rigours of the writers' festival. My brief reading went well early in the day and then I had to endure the mixed pleasures of hanging around with writers and waiting for later sessions of readings and book launches. The organizing committee's regard for poetry can be judged by the fact that there are very few sessions devoted to it and they make a point of scheduling two at the same time, thereby halving the available audience.
Terrific poems about Hecht, particularly the second. I was just reading the part of his interview dealing with Flossenberg the other day.
Speaking of interviews, I've been giving some thought to your two (modest) proposals--and thanks for your generosity. On the first, I can come up with a few poems for you to look at. Some of the ones I sent you the other day are unpublished. On the idea of the conversation you suggest in lieu of a traditional interview, my feeling is that I don't know enough about your work yet to contribute much of value to my half of the deal, and the same goes for questions about poetry in each other's lands. I don't want to sound falsely modest, but I don't consider myself particularly well qualified to talk about Australian poetry, and I am definitely totally unqualified to say anything about contemporary US poetry. I'm sure we can come up with some kind of framework for a conversation, though. The second of your proposals, on reflection, really does not appeal. I am not drawn to the idea of offering comments on other people's poems. I am fairly reserved by nature and that's just not me; I'm not a teacher or critic. Warm regards
Stephen
Dear Stephen,
That's fine, the latter point. I do want an opportunity for Spherians to engage with you. Perhaps a discussion of the verse from Oz? We can do that on the Guest Board.
It kind of blows my mind that Canada, with its 30 million, has so little to show, but Oz has Hope, Wright, Murray, Edgar, Harwood, etc., etc. And I do not exclude from etc. the younger Australians who hang
out at the Sphere. Lively pack of dingoes. Let them at the 'roos.
I have completed your forty-seven pages, and what an oasis in the Outback they were. A pure, sweetly flowing spring from an outcropping of rock. Thank you. I don't write essays, but poems about my friends, and from the forgoing sentence, I might be on my way. I have conjoined my two unpublishable files into a single enormous, slithering python of a book. See what you think. Tim
Hi Tim
Why do you call your two conjoined files unpublishable? They/it look eminently publishable to me. I have read through the slithering python and think it is excellent. There is often a lapidary quality in your clearly chiselled stanzas with their tetrameters and trimeters, like Housman, and indeed somewhat like Harwood too.
You have echoed my case almost exactly when you say you don't write essays. For the most part I don't either. What I have to say I say as poems, but I don't have much to say about poems. And that is why I am disinclined to engage (except privately) in a discussion about Australian poetry.
In reply to your quatrain about Australia I will offer my response to Bishop's "The Fish":
It avoided death
And the fish shop
Thanks to Elizabeth
Bishop.
Best
Stephen
Dear Tim,
That's very disheartening news about your manuscript. What about the publishers of your previous books? Have they turned against you? My own history with poetry publishers has been pretty unpredictable. Every time I thought I had found a good one they went out of business, or out of poetry. My current publisher, the publisher of my two most recent books, is the first one to publish two successive books by me. He seems committed to my work now, but on the other hand he smokes like a chimney and I'm afraid he's going to die on me.
Whenever something good happens to lift the spirits, such as your email via Christian Wiman, there is always a countermeasure to regulate one's pride. At the writers' festival the other day we (my wife, Judith Beveridge, also a poet, and I) were talking to another poet who knows perfectly well who I am. He mentioned that he was thinking of writing an essay about the use of form in contemporary Australian poetry, mentioned a couple of names, and asked if we could suggest any others. I looked at him closely to see if he was being ironic, but no, he was in earnest. "Ah, you could consider me," I said. It was clear not only that he had never read a single thing by me (he said as much) but didn't even know I am a formalist.
Ah, the life of art,
Stephen
My dear Stephen,
I was once goose hunting near the border. Walking in about a mile and a half to where ten thousand geese had been feeding the previous evening, I set out all the decoys we three hunters could carry on our backs. The geese returned at dawn, and as we were happily slaughtering them, a helicopter descended, one of those fast, enclosed tail rotor, military jobs. The officers informed us that we had crossed "the world's longest undefended border." If they had simply clapped us in irons rather than patted our heads and let us go, Canada could have gained a poet. By contrast Oz is blessed indeed.
My conjoined files are only unpublishable by the lights of the seven straight editors who have deemed them so. Think of it, Stephen, evangelical Christianity, full-throated love of blood sport, unapologetic homosexuality, unapologetic meter and rhyme-- something to offend nearly everyone.
More on The Fish later. With respect to my first book, Deed, published at the same age Hope was when Wandering Islands appeared, Dana Gioia observed "Expect it to have all the impact of a pebble rolling into the Grand Canyon.
aye yours, Tim
Stephen,
My publishers went broke or had second thoughts. Between the guns and the Bible, I'm a lot to handle. You can get a good take on me by waltzing over to Wikipedia and clicking the Library of Congress link. The entry was probably made by someone in Poland but subsequently rewritten by a young scholar in Canada whom we will be reading in our dotage.
Smokes like a chimney? Mr. Warren had a gigantic pink ashtray modelled upon a pair of human lungs. Rather than stub my cigarettes out there, I would always walk the dog to smoke. I once asked him if his detestation of smoking had anything to do with his having given it up. He growled, "Smoke, boy? Hell, I invented it." Red was sixty-four, possessed of the most forceful personality I have yet to encounter again. I was just eighteen!
Stephen,
It seems to me that this long exchange of emails is the conversation which might interest Alex Pepple's readers. If you agree, I have a question for you. What bent you to poetry? I shall answer that question myself, and then you have a go at it.
When I was twelve, I heard Richard Dyer Bennett perform in my home town, Moorhead, Minnesota. At the Faculty Reception thereafter, we went upstairs, and I exactly imitated his singing of Darlin Corie and Lord Randall. Twa Corbies, Jonny O' Breadesley. I was singing an octave above his glorious counter-tenor, but I had memorized those songs on first hearing.
Later my testicles descended and perfect pitch went to hell. I was ready for Yale and Warren. And I had a new love, William Butler Yeats. Ferchrissakes, I even memorized The Wanderings of Oisin!
I am no teacher, but I have had one student, Aaron Poochigian, now a contributor to Poetry. David Mason, then teaching in Moorhead, sent him to me, and a greater gift no man hath had. Alan and I would devote Sunday afternoons to the Pooch, and the project was the same as that which I had perfomed for Warren, memorization and recitation. He showed up one Sunday and announced that for that week's work he had memorized The Odes. Aaron had a terrible stammer when he was a lad, but we sat back and listened. He began with Lycidas. Then Ode to Autumn. Nightingale. Then Grecian Urn. Then Ode to Evening. Ode to the West Wind. Kublai Khan. Intimations of Mortality. Not one skip, not a stutter as he said those enormous poems from his capacious memory.
My memory is shot. I don't know if it's the river of whiskey or the amount of Murphy I have worked and reworked. On the sole occasion when Tony Hecht appeared at Eratosphere his departing advice to young poets was: "No poet I respect hasn't had a great deal, and I mean a very great deal of verse committed to memory."
So, ball back in your court, what part has Mnemosyne played in your life?
I am hardly the first person to pose this question. I once heard it posed to Greg Williamson, who is so physically beautiful that women throw themselves at him. His response? "It's a good way to pick up chicks." I posed it to Sam Gwynn, and his response was less funny, more thoughtful. "When I was sixteen I read a villanelle, Do Not Go Gentle Into That Good Night, and I thought I could do this. I'll spend the rest of my life learning how to do this."
Good morning Tim
An interesting choice of words: what bent you to poetry? This suggests that writing poetry—or making art generally—may be a deviation from the norm, or perhaps the result of some sort of wounding. There was a time when I thought the latter explanation might be correct, until the obvious penny dropped that everyone is wounded by experience in some way; and yet not everyone goes on to become an artist. In indigenous societies just about everyone is an artist, it seems. Certainly, if you consider some of the remarkable paintings produced by remote Australian Aboriginal communities, that seems to be the case.
One of the librarians at my high school spun that line about writing poetry to pick up girls. He must have been a lot more handsome in his youth than he was by the time of that conversation, because with his beer gut and booze-flushed face I couldn't see many women being seduced by whatever lines he chose to recite. No, I think in my case it was more likely the second reason: I think I can do this. And the poet who produced this feeling for me was the very same one who started Sam Gwynn on the road to poetry: Dylan Thomas. At about the same age too. That's not entirely true to history. I had already become intoxicated by poetry, or by the idea of it, about a year earlier and this intoxication doesn't seem to have been fuelled by anything more lofty than making the acquaintance of a boy at school who was already writing poetry of impressive competence and emotional depth. Perhaps that feeling of being the initiates of a mystery unknown to the rest of our friends intensified the charge of excitement surrounding the act of writing poems.
I can remember, but not with the fully present reality it had at the time, the utter imaginative excitement that writing poetry produced in me then. I couldn't think that any other activity could be as exciting or worthwhile. Not that I don't still believe that, of course, but at that time it struck me for the first time.
Anthony Hecht's advice is rather daunting. I do have whole poems committed to memory but I would be lying if I pretended that I had a great deal. There would no doubt be very many snatches and fragments. Some poems seem to almost commit themselves to one's memory; others take more conscious effort—and from time to time I do deliberately memorize poems. I know Auden too said in one of his essays something about a school for aspiring poets having as part of its syllabus the requirement to memorize huge quantities of poetry. Gwen Harwood had a prodigious memory, not just for verse but for pretty well everything. I was once cheeky enough to ask her in an interview whether for her "memorable" meant "memorizable". "Oh fuck that," she replied. There's no doubt that the human brain is capable of memorizing astonishing quantities of literature (an actor like Olivier presumably had the whole of Shakespeare committed to memory, and much else besides) but it seems to be an atrophying faculty because we have so many artificial ways now to store memories. "As for memory, our computers can do that for us," to adapt a famous remark. I think Mnemosyne is probably a very anxious goddess right now.
Bye for now
Stephen
Dear Stephen,
We have both asserted that we don't write essays about other poets, but I want to thank you for this conversation and the poems you have contributed. Murphy can be handily encapsulated:
Bird flies.
It dies.
You are a great deal more complex. I have written previously about Greg Williamson being our poet of mentation, of iteration, in the vein of Wallace Stevens, but at the time I wrote that for Chimaera, I was unaware that half way round the globe, my contemporary had assumed that mantle. I want to thank you warmly for your contributions to Able Muse.
Tim Murphy