John Beaton: Spotlight Poet - Interviewed by Timothy Murphy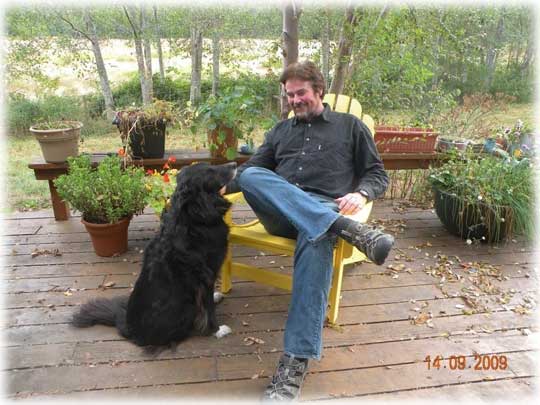 An Interview of John Beaton
by Timothy Murphy
John Beaton is a retired actuary who was raised in the highlands of Scotland and lives in Qualicum Beach on Vancouver Island. He has been a moderator of The Deep End at Eratosphere since 2006. His poetry has been published in newspapers and in literary, fishing, and environmental magazines and websites. He recites poetry at Celtic gatherings, performances of the musical group Celtic Chaos, and various other events. He is married with five grown-up children and he, his wife, and their friends and family organize several community events that combine music and spoken word.
§
Tim: John, can we start with Burns? I don't see much obvious influence on you, except the most obvious, that you try to write compelling poetry "apprehensible to the meanest understanding." Your strategies and your concerns are very different from Burns'. Yet you, like Leslie Monsour and I, are a candidate for the "Serious Burns Unit," as the immortal joke has it. Discuss your relationship with Burns and his relationship with the modern world.
John: Tim, thanks for conducting this interview and thanks to Alex for making Able Muse and the Eratosphere possible.
My earliest connection with Burns was through an old song-book we had when I was a boy. I'm not musical, but I've always enjoyed singing (a bad combination). I spent winter hours in my bedroom sounding out the melodies of these songs, doh-ray-me-wise on a tin whistle, then singing them. I thought many of them were beautiful, but his Lalands Scots didn't appeal much to me. I lived in the highlands. He was a lowlander. But my parents always had a portrait of him hanging on our wall.
Then I heard a fellow student at Glasgow University recite Tam O'Shanter. He was a literate rugby player (a good combination), and he brought it to life. I never thought of it as much more than a really good narrative, and still don't, but I liked it immensely just for that. I memorized it, but have never recited it in public.
When I came to Vancouver Island 20 years ago, some of my daughters were involved in highland dancing and the Scottish community button-held me for Burns Suppers. I agreed to do the address to the haggis for the local Legion and that was the start of a long involvement. Eventually we staged Burns Suppers in our home, but when the numbers rose to over sixty people, we (my wife, Joyce, I, and some friends) switched to the local Community Hall and made them into fundraisers. Now we feed about a hundred and sixty people every year and, with volunteer labor and donated food, we've raised tens of thousands of dollars for charity.
My favorite Burns recitation is "A Man's A Man For A' That". There are few more powerfully suitable lines for modern times than, "so let us pray that come it may/ as come it will for a' that/ that man tae man the world o'er/ shall brithers be for a' that." I wish he'd made it gender-neutral, though. "Auld Lang Syne" may have surfed the globe on the crest of the new millennium but "A Man's A Man" remains Burns's anthem for humanity. I'd love to hear Obama recite it.
This year is the 250th anniversary of his birth, and Scotland has made it occasion for "Homecoming Year", a year for Scots diaspora to return.
The "Immortal Memory" is the centerpiece of a Burns Supper and its purpose is to elicit the relevance of Burns's work to modern life. Too much has been written and said on the subject for me to address it in any depth here, but I had written an "Immortal Memory" in habbie stanza and I entered it in a competition to commemorate this "Homecoming" anniversary. It won first equal place and is available on the web—maybe some Burns Clubs will use it for their Burns Suppers.
His work ranges from slapstick (Address to the Haggis) to inspiring (A Cotter's Saturday Night). But the songs, and the way he blends love and nature in them, are what stay with me.
There's one for you, Tim: "Westlin Winds", in which he somehow manages to woo one Peggy with, and in spite of, bird-shooting.
He may have been hopelessly Scotticized, but for me he's been much more than a face on a shortbread tin.
Tim: Paul Stevens, interviewing me for Chimaera, asked "How importance is a sense of place to your work?" I answered "No more important than Ireland to Yeats, Wessex to Hardy, or New England to Frost." Like Tim Steele, you are a poet of two places, Scotland and BC, in your case, half the world apart. I think it is a great virtue of your poetry that you appear so utterly grounded in each world. Your thoughts on place in poetry and place in Beaton, if you please.
John: I've always formed deep attachments to places. Two parts of Scotland will never let me go: Skye, where my father was raised on a croft, and where I spent my childhood summers, and the valley of the River Beauly, where I grew up.
My attachments to these places gelled early. Of the little crying I did as a boy, most of it was at their overwhelming beauty.
Skye transmitted to me the intergenerational, land-imbued love possessed by the crofters, a love accentuated by laws which passed tenancy rights from generation to generation only for as long as a family member worked the land. Crofters would labor year after year putting seaweed on fields to make the soil sweet for their children after they were dead.
The Beauly Valley gave me a love of rivers: of their secrecy and revelations, and of their natal and fatal pull on the salmon that rear in them.
In those early days, one of my favorite poets was Wordsworth. I shared his attachment to nature.
In Canada, we stayed in Calgary, its oil and gas capital, for ten years. Following my childhood attachments, I gravitated to the foothill rivers, the Bow in particular, and to the alpine lakes.
Orca pods come in two types: transients and residents. The transients pass through, feeding mainly on seals and sea-lions; and the residents stay put and eat fish. Calgary was a place for transients. We wanted to be residents. So we moved to Vancouver Island and sank roots.
We have an acreage where we've watched enough seasons turn, enough wildlife flourish and die, and enough children blossom, to call it home.
Joyce loves to travel, and I like to go with her, but I'm keener on inhabiting than on visiting. Much of my poetry expresses my love of the places I've been fortunate enough to inhabit.
Tim: John, like many of today's fifty-somethings, you are a late bloomer; and so far as I know, the seed fell on the Deep End. Alan Sullivan called my attention to your first posts, and we tag-teamed your drafts. And may I say that the progress from then to the five poems that appear nearby is pretty astonishing. Reflect on your development as a poet and the role the Eratosphere has played in it.
John: I always had a bent to write poetry and it always fell into rhythm, alliteration, and rhyme. I don't know how to explain that. I wasn't musical, but I seemed to have an ear for sound and cadence. Listening to Gaelic, which I didn't speak, in Skye, and especially to the psalms sung in the kirk there, may have had something to do with my conditioning.
But I was running on instinct and had never really learned the craft of metrical poetry. I looked around the internet and found plenty of sites where participants would praise, but seldom improve, my work.
Then I found The Deep End and posted a poem there. That first post was entitled "Poacher". Alan Sullivan panned it for its apparent archaism. I snapped back with a modern version which had similar structure and rhythm. That seemed to engage Alan. He then gave me a serious, and seriously negative, critique of the poem. My eyes lit up. I thought, "Hey. That makes sense. I can see how to make this quite a lot better." I revised it and it did get better. Furthermore, I found that the Board had many other members who were similarly knowledgeable, frank, and helpful.
So began my education in metrical poetry which has now lasted for some eight years and for which I am deeply grateful. I hesitate to name names because to do so is to commit omissions, but I should at least say that, in those early days, you, Alan, Carol Taylor, and Clive Watkins, mentored me. And I should also acknowledge Timothy Steele whose book, "All The Fun's In How You Say A Thing", became my bible during this learning period.
Alan would often suggest that one of my drafts was so bad I should abandon it and move on to something worthwhile. In doing so, he triggered a stubbornness in me. If a draft didn't work, I wanted to use the negative critique to find out why and then to do better. More often than not, it worked out. I'm sure Alan knew exactly what he was doing. These challenges taught me a lot about revision: to press ahead when you have confidence in your concept; to re-conceptualize when you don't; not to shy away from radical changes or complete rewrites; and to use the implicit as well as the explicit messages of critique to guide your mind and hand.
I think the ability to revise effectively is a particularly valuable skill for a writer of metrical poetry. If a poem can be likened to a cube, I think of a metrical poem as a Rubik's cube. In a good metrical poem, form, meter, rhyme, meaning, concept, syntax, sound, and word-choice must all click into one cohesive pattern. Often, because moving one square into position dislodges another, the puzzle will not complete and you need to create a new cube. If you just keep moving the same squares, you will often get stuck. To express this idea, I once wrote a poem in which the words move around and interlock like squares:

Rubik's Roberts

before I went
to school I thought
of frost as cool
and burns as hot

I went to school
before I thought
of burns as cool
and frost as hot

When Alan stepped away from moderating, he left a huge gap. Alex invited me to help fill it and I tried to. In critique, I made a big effort to maintain the raison d'être of The Deep End by including suggestions for improvement whenever possible.
The Deep End, and the principles on which Alex and Alan founded it, is for me the best training-ground available for a serious metrical poet. Being an open board, it suffers from occasional influxes of praise-prone new members. And there are good-hearted regulars who lean towards kindness. But we always seem to have enough defenders of rigor to ensure that quality lives there, not fluff. It's a place where poets can bring an incredible pool of worldwide talent and intellect to bear on their poems in a two-minds-are-better-than-one sort of way. It's one of the few places where open-minded metrical poets can learn how to change their work for the better. It has certainly worked that way for me.
Tim: The audience for poetry is miniscule. It's hard to conceive of Longfellow and Tennyson being the best-selling authors in their countries. Burns speaks for the Scots the way David speaks for the Jews the way Stan Rogers and Ian Tyson speak for Canada. What can we do about this predicament, and specifically, what do you intend to do about it?
The potential audience for poetry is huge. People want to be edified, uplifted, touched deeply, or made to laugh. Through performances with my wife's band, "Celtic Chaos", our Burns suppers, and other spoken word events, I've now recited in front of many thousands of people. It's just a matter of choosing accessible work and presenting it in an engaging way and it's not too difficult. Very often people delight in simple poems.
I think poets who, in print or in live performance, bore the socks off their audiences and alienate them from poetry forever do poets, poetry, and the public a great disservice. I think that revitalization of the public's interest in poetry depends on suppressing poetry that is ill-matched to its audience as well as on spreading the stuff that works. So, for general audiences, I'm a strong advocate of "accessible work presented in an engaging way".
I hailed from Scotland, which had a rich heritage of song and poetry, and, at first, found little in Canada. Then I started making discoveries. Stan Rogers, now deceased, became my Canadian hero. I liked Gordon Lightfoot's "Railroad Trilogy". Then I began to discover other Canadian poets and poetic songwriters like Garnett Rogers, Stan's brother, and Nathan Rogers, Stan's son, who has performed in our home. I should mention Leonard Cohen too. I just attended his Victoria concert and it was a trip down memory lane without too much nostalgia. He's been with me every step of the way since University, but, even at 74, he's stayed fresh by continuing to write strong material. And I've now made the acquaintance of many other great Canadian poets like Earl Birney (I love "David") and poets who write of Canada, like Galway Kinnell in "The Bear". So there's a base of Canadian work, but it should be bigger. I would like to add something to it. A considerable tranche of my poetry deals with Canada.
Tim: When you lash out at clear-cutting stream banks, or lament the Enclosures of Scotland, everyone is with you. When you inveigh against this cockamamie notion of anthropogenic global warming you alienate half your potential audience. You are often brought up short for sermonizing. Tell me now, Jonno, were your people Presbyterians?
My uncle was a Free Presbyterian Minister and my father was a highland headmaster for whom regular church attendance was a social expectation. So I've heard my share of preaching.
Global warming isn't cockamamie. I don't think its perils are proven beyond doubt. But if someone tells me they think there's a bear in my woodshed, I'll give it time to come out in preference to walking in with my fingers crossed. Even if the woodstove has to stay off for a few hours.
I believe there are several problems in today's world that, with the right will, we can address.
One is that, while democracy represents the interests of current generations of humans, future generations and other life-forms have no vote.
Another is that we have globalized capitalism but not its regulation.
I care deeply about the world we leave for future life on earth. I believe that long-run solutions must involve many of the concepts of The Earth Charter as developed and promulgated by Maurice Strong and Mikhail Gorbachev. And I don't see why poetry shouldn't say those things. (OK, provided poets show and don't tell.) This month (September) I'm reading my own poeticization of the Earth Charter at Tofino's Peace Day rally.
Anyway, look who's asking. I know that you've become something of a renowned preacher yourself. (We're not on The Deep End here, Tim, so I can indulge in a little bit of ad hom.)
Tim: Perhaps alone among Able Musians, I have read 260 pages of Beaton. How long do you want your first book to be? Are you reconciled to allowing Porridgeface only a brief appearance? Are you actively seeking a publisher?
I keep what I think are my "keepers" in a draft book manuscript so that I have them all in the one place. I update it regularly with new work and use the "Acknowledgements" page to record publication progress. It's a version of that that you've read.
I want to publish but am not in a big hurry.
I'm sensitive to the consequences of "previous publishing" and "premature publishing". Early on, I would offer my best poems to anyone who invited me to publish. That put them out of bounds from then on. I don't do it anymore. I'd prefer to wait a few years for the right publication outlet than publish quickly for the sake of it.
For publication of individual poems I like to pursue non-literary channels when I can. With some help from you and others on The Deep End, I've had publication success with fishing and environmental publications.
Right now I'm educating myself on the relationships between books and other media.
I think of most of my poems as "coming alive" through live performance or recitation. I've been performing at local spoken word meetings and have been working a little with sound and video files. Having been retired for over a year, I've been getting some time to explore the world of relevant technology and the Canadian poetry community. At this stage I envisage breaking my work down into different publication components, some suitable for plain-text books, some suitable for illustrated books (e.g. the "Porridgeface" poems), and some suitable for the web, perhaps YouTube. I should explain that "Porridgeface" is a dog character in a series of humorous Scottish story-poems I perform with my wife's band, "Celtic Chaos".
My daughter, Emma Beaton, is a fine musician and won the Canadian Folk Music Awards "Young Performer of the Year" designation last year for a CD she made with Celtic Chaos called "Pretty Fair Maid". Through my involvement with her, I've been learning quite a lot about CD and video production and promotion and I think a lot of it is transferable to the poetry world.
Last year, Joyce, I, and some friends started the "Qualicum Acoustic Café", a community music and spoken word event. The venue holds only eighty and we've had to turn people away. One evening we had a spoken word feature act. I assembled a group of five poets from 17 to 57 (me) and we entertained a general audience for about an hour. That's where my heart lies: in interaction with audiences and collaborative performers.
I've joined a local group of writers and we're in the process of publishing an anthology, so some of my work will appear there.
If I have to wait a few years for a book of my own, that's fine. It's important to me that, if I publish, the products will appeal to general readers and not fall into the poems-for-poets sections of bookshelves. In the meantime, I like to keep writing, adding to my stockpile, memorizing more poems for recitation, laying a foundation for publication, and working on other writing projects.
Tim: John, it is obvious to me that for you, as for me, poetry exists very much more in the ear than on the page. For all the aspiring poets who might read this, I'd like you to conclude our interview with your thoughts on memorization.
For me, memorization is a powerful aid to delivery of a poem to an audience. By internalizing a poem through memorization, I find I "automate" many of the distracting logistics of communication and am free to concentrate on the poem and the audience. I see it as having four stages:
In the first stage, I memorize the words. This is a chunk-by-chunk exercise and I find it laborious. For this reason, I usually try to have a few memorizations on the go at once. That way, I can mix this boring stage of one poem with more interesting stages of others.
The second stage is achieving fluency. That means making the poem so automatic in your mind that you can launch into it with confidence and not have to worry about searching for words or stumbling. This is a matter of repetition. Say it enough times and it will become like a musician's muscle memory. I tend to do this while jogging. I recall reading that people thought Wordsworth eccentric because he would go on long walks in a somewhat trance-like state. I have sometimes wondered whether he too was memorizing. Passers-by probably think I'm eccentric.
The third stage is developing expression. As you repeat the poem, you become immersed in its meaning, pace, and sounds. The second stage repetition naturally evolves into reflection of those dimensions in the way you deliver the poem.
The fourth stage is developing live interaction. If you are alert to your audiences, the twentieth time you recite a poem will be far better than the first. You will have seen audiences react, sensed their engagement or lack of it, and had ideas about how to elevate the whole delivery to engage them more.
Before recording the sound files in this issue, I did not have the poems memorized. But I did memorize them specifically for that purpose. Although it's normal to create sound files by reading, I feel more comfortable with the due diligence of memorization in place.

A danger of delivering poetry is that a poet can read a poem while remaining insulated from the audience and, aided by some polite feedback, think they've done quite well. When I listen to a poet, I want them to be speaking to me, not thinking about exact pronunciation in their own mental space. I think memorization helps free a poet to take that step.