Billy Monday: Featured Artist - Interviewed by Sharon Passmore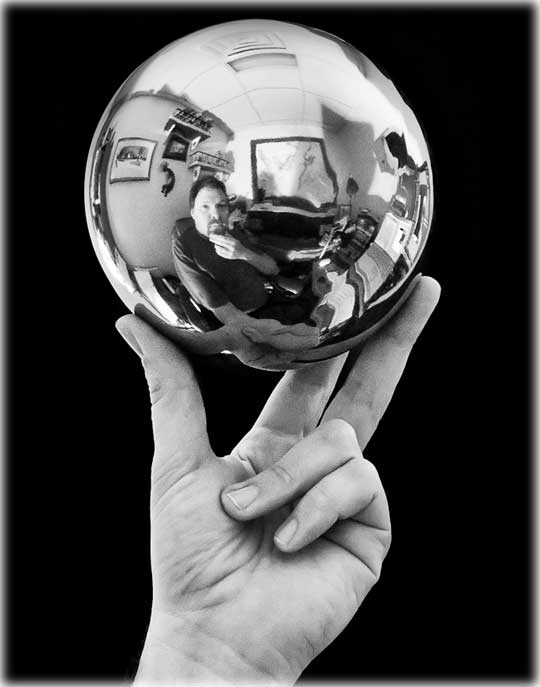 An Interview of Billy Monday
by Sharon Passmore
‡
Artist Statement
For me, the nude is the ultimate photographic challenge. This is the wonder of God's creation - His masterpiece - and must be approached with great sensitivity. The beauty and complexity of the human form are fascinating, and the task of capturing it in respectful images is one that I greatly enjoy.
My photographs can be placed in two general categories: those images which I make in the studio are studies in lighting, contrast and geometry; whereas the images made in the natural environment are an attempt to fuse landscape photography with figure art.
I have the good fortune to live in the scenic rolling hills and mountains of western Maryland. Here, the natural environment offers puffy clouds, rocky cliffs, and waterfalls cascading through verdant forests. Occasional trips to the American West and other compelling locales offer more opportunities for my models and me to create the photos which haunt my dreams.
When the winter winds blow, it's into the studio to enjoy the control and flexibility which that environment affords. Indoors, the models and I work on concepts which explore geometry and the drama of strong negative spaces.
All of my photographs, whether captured on film or digitally, go through a digital post-processing stage. Negatives are scanned immediately after development, and from then on are treated as digital images. My prints are made with a pigment-on-paper printer on archival art papers.
§
Do you always have a location in mind when you work outdoors?
Yes, always. The location concept might be as unformed as "I remember that there are some interesting waterfalls up in that park in Pennsylvania," or it could be as specific as "the light hits that tree by the Potomac from exactly the right angle at 7:30." In any case, I do my best to have all the elements of a session planned before heading out with a model and a camera. The practical considerations of working with a living subject are that you don't want to waste anyone's time or talent on an ill-conceived plan.
Ansel Adams said, "There's nothing worse than a brilliant image of a fuzzy concept."
Anyway, one of the things I enjoy most is to scout for locations. We live in an area which is intertwined with beautiful trails, and each one contains many surprises. Looking around and imagining what can be done with each spot is a real joy.
Are there certain times of day you prefer?
Photographers frequently speak of the "golden hour," the time just before sunrise or after sunset. Unfortunately the "hour" only lasts for about 15 minutes, but that is the time during which I prefer to shoot.
Working with nudes, the morning hours are easier since the likelihood of running into hikers or mountain bikers is lower. Reaching many of my favorite locations involves driving followed by a bit of hiking, so I have a very effective alarm clock and I occasionally resort to bribing my subjects with enormous amounts of coffee (and sometimes chocolate).
What sort of a location will catch your eye?
The frustration I have when working in the Appalachian woodlands is that the environment tends to be very cluttered with small leaves and branches. This "high frequency" background tends to distract from my subjects, so I'm always in search of rocky cliffs where the sky is the background, or interesting watercourses which are less visually active and somewhat more abstract.
This is one reason why I try to travel to the desert Southwest. The open spaces, clear skies and spectacular rock formations make for some great images. It's not surprising to me that so many of the great photographers from the last century made the area their home.
Water seems to hold a particular fascination for me. It has a sensuous quality, and the movement of the water can be used to advantage in a photograph. Around here it's usually freezing cold, so my models are not as fond of it as I am. I end up buying more coffee for them.
What are some of the different challenges involved with working on location?
Weather, light, and hikers keep my stress levels up. Each shoot needs to bear fruit, and if the weather is nasty, or the light is too harsh, the results don't measure up. It's possible to carry a lot of gear which helps to tame the harsh light, but sometimes that is just not practical.
We try to keep our work as discreet as possible but being drawn to the more dramatic locations means that we have to share those spaces with hikers and so forth. From time to time, this has resulted in some amusing moments, but it also breaks the flow of the session.
Do you have any favorite locations that you return to again and again? If so, what is it about those places that draws you?
I do return to locations. In fact I even plan cross country trips to return to locations which are strong in my memory. There are practical considerations to choosing these spots: privacy, availability, a particularly ergonomic environment—but there also seems to be a sort of energy at some of the places I like.
Also, models ask to return to certain locations. When a location "speaks" to a model I am not one to ignore it. Having a model who is enthusiastic about a particular scene or concept is fantastic.
Do you always have your camera with you?
These days, I carry an iPhone. So, yes. It's useful for recording locations or quick ideas. But as a rule I'm not carrying a "real" camera. I find that the images which please me most have a lot of planning behind them.
I notice a strong contrast between rough and smooth, hard and soft, in your black and white work, for example in your piece "Marooned". How does this change when you introduce color?
Hopefully, it doesn't. Your question hints at the reason why I usually prefer black and white figure photographs. Color often distracts from the subject, and sometimes makes a nude seem lurid as well. That textural contrast is an important mechanism for portraying the beauty of skin and the human form, so I look to incorporate it whenever appropriate.
How does this change when you work in the studio?
There seems to be less texture available in the studio. Often the backdrop in the studio is just a roll of plain paper. These days I'm usually searching for gigantic negative spaces in my studio shots, rather than the intimate settings which allow one to focus on the contrasts between the rougher natural environment and the smooth human body.
What new considerations arise with color?
There has to be a reason to include color in the image. Especially with nudes, I desire to capture a photo which has a certain abstract quality. Black and white helps to achieve almost instant abstraction.
Color can be distracting. Unless I feel that color has status equal to form, line and framing in the composition, I will go with the monochrome.
Digital photography has made this an easier decision, since all digital images start out as color. Once post-processing begins, I can view the image in myriad ways before I commit to rendering the scene one way or the other.
In "Arch Rock" there is such a strong interplay between the positive and negative; and the curves of the forms, both human and rock. The figure and rock seem to become one. How are these rock formations similar to the human body?
We usually look for what I call "ergonomic" characteristics in the natural environment. So often, these matters are simply matters of scale. In "Arch Rock", the rock was so much larger than the model that it seemed natural that she would go and occupy that huge opening. We then tried various poses to either mimic or oppose the shape of the opening before finding the final pleasing result.
Besides physical appearance, what makes a good model, in your opinion?
You might be surprised to hear that physical characteristics are not so high on my list when selecting models.
Personality is key. The models need to understand that we're trying to create a thing of beauty, grace and celebration. A lot of people, even many professional models, don't really understand that.
It's interesting how difficult is it to appear natural in a photograph. Models who have experience in yoga and dance have an advantage here, and I look for that when choosing subjects.
Reliability is also important. I'm pretty laid back but I can tell you that one surefire way to never work with me again is to leave me waiting alone at a freezing cold trailhead at 4:30 in the morning while you're sleeping in your warm bed.
I'd prefer to find more women with more conventional looks, but I find that many very attractive people are not comfortable with their appearance or their bodies. So many of my subjects end up being those who are in some way "perfect" enough that those issues are not part of their personality.
In the Claire photographs, Claire seems to be very engaged in the play with the mannequin parts, enjoying the whimsy of it. Do the models' personalities often have an influence on the final photograph? Do you want that? Is that sort of a magic thing when it happens?
Actually, if you look at the Claire series you'll see that those photographs feature different models. "Claire" is the mannequin's name. I found her on EBay, thought she'd make a nice addition to the family, and brought her home. Little did I know that my small (at the time) children would find her terrifying! So after getting second-class treatment around the house she was donated to a friend's studio, where I began the "Claire" project.
Not surprisingly, people who spend time posing nude for art photographs are a little unconventional. Most of the models I know are a true joy to be around. They tend to be a little whimsical and fun-loving themselves.
Tell me about your first camera.
Tough question. For a short time my dad was an engineer at Argus Camera, a venerable American camera company which was largely responsible for bringing 35mm photography to the masses. So our home was filled with cameras and pieces of cameras, which I quickly turned into space ships, fortresses and objects of various boyhood fantasies.
The first camera which I remember as mine was a Kodak Instamatic. It used 110 format films. Not very impressive but I still have slides from a European trip which I made with it around 1970.
My first serious camera was a hand-me-down from my dad, a Canon AE-1. That was a big step up and anyone looking for a quality used film camera today would be lucky to find one in good working order.
What different file formats do you use when working with digital photography? Do you use more than one for different purposes?
Particularly in the digital era, I find that those unfamiliar with photography assume that the camera determines the quality of one's work. Having less sophisticated equipment is not necessarily a handicap, and the point-and-shoot devices which you can buy at your local electronics store can produce very credible photographs.
The cameras favored these days by serious photographers shoot so-called "raw" images, which means that the camera merely ingests digital data, not assigning any characteristics such as sharpness, color rendition or file format. The raw image is then digitally processed in the computer later on.
This allows for much greater quality and flexibility, but does take slightly more time. Also a more powerful computer is a big help. For outputting image files, I usually use the .jpeg file format.
Do you ever work with film or work in a darkroom? What advantages are there for digital vs. film or vice versa?
About 1/4 of my art photography is done on film. Despite the myriad advantages of digital, there is still a pleasing characteristic of film which is seen particularly in the highlights of an image.
The magical moment when the film image is viewed for the first time is priceless. Digital photographs viewed on the camera' screen are too immediate—viewed at the same moment and in the same setting as the photograph itself. When shooting with film, you don't have that luxury and you must think ahead to the next frame, instead of fretting about the one you just made.
How much do you do to a photograph after the shoot?
I don't alter body shapes or make any drastic changes to the model.
The computer and the darkroom are truly analogous. Most of the essential manipulations done on the computer have darkroom equivalents.
Every photograph, film or digital, needs contrast and sharpness adjustments to be complete. With digital photography this is more controllable and more repeatable, and I take advantage of that power. I retouch blemishes and sometimes tattoos on the models, and often retouch distracting elements in a background which I was unable to "edit" out of the scene when on location.
Lately I've been interested in striking color alterations, so when making color images I play with the mood of the finished piece by trying various treatments to the scene. The desire is usually to maintain the "feel" of the setting, even if the colors end up being rather abstract or surreal.
Do you listen to any music while working? If so, what? Does it change to suit mood or photo?
Constantly. If in the studio I'll have music on and sometimes I even have music of some sort when on location. Models love it, and I usually let them pick the music. I've learned that many people in their 20s have atrocious taste in music!
Seriously, you'll note that a lot of my pieces are named after song titles or lines from songs. Song lyrics are a constant source of inspiration to me. Sometimes when I'm working on something which is inspired by a lyric, I'll put the song on "repeat" on my computer and play it over and over and over while editing the image.
I keep a playlist titled "Make a Picture" of songs which inspire me. I will never make all those pictures, but the fun is in the trying.
Which of your pieces is your favorite?
I'm planning to make a really awesome one tomorrow.