Sara G. Umemoto: Featured Artist - Interviewed by Sharon Passmore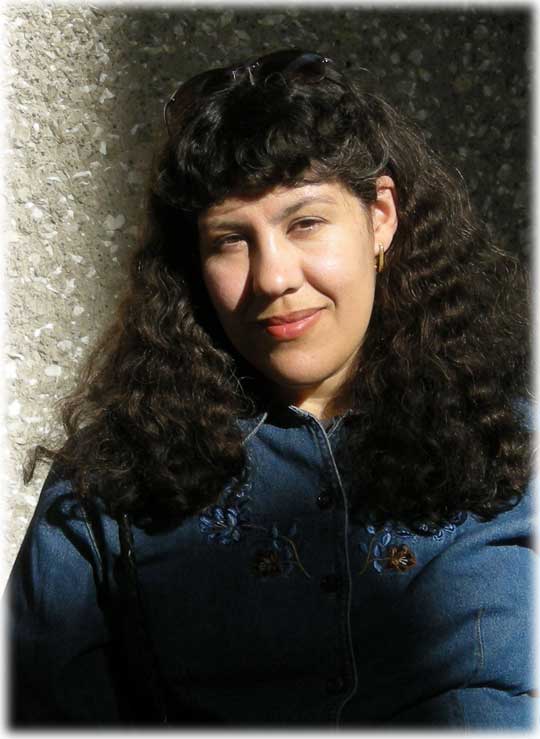 An Interview of Sara G. Umemoto
by Sharon Passmore
‡
Artist Statement
Sara G. Umemoto, is a self-taught photographer and artist who debuted her works in the world of digital photography in 2000. For her, photography has been a versatile medium for storytelling. She produces three different types of photography: straight photography, photo composites, and digital imaging or photo illustration. For Sara, straight photography is for enjoying one instant—the catharsis of mind, eyes and soul through the camera. Photo composites and photo illustrations have different processes and meaning for her. The joy of making a composite lies in blending or combining two or three photos. On the other hand, digital imaging means creating a new image with much more time inverted and with several resources, using digital files which have various layers of photographic elements previously edited and modified with a imaging software. It is a technique better known as photo manipulation. By combining some of these layers of photos with other layers of digital painting, her imagined stories emerge. Some of her imagery are the result of compositional experimentation and others were planned and sketched before producing them using photos.
For decades, digital imaging has been a favorite activity among amateur and professional photo artists, but the genres and styles are so different between these artists. It is difficult for Sara to define her style and artistic genre. In her youth when she studied and practiced painting she was mainly influenced by the classic paintings and works of surrealist movement. Later, the experience of having studied graphic design intrigued her into producing imagery that uses two main tools for visual communication: computer graphics, and photography. She believes that her photo montages are just collages of digital photos, as if they were incongruous nice dreams. These days, many photo artists have been coining terms for their activities as part of art movements: grunge art, surrealism, neo surrealism, pop surrealism, dark art, gothic art, etc. However, Sara does not feel identified with them and questions any of those terms applied to her digital art with photography. She only considers herself as a photo artist who produces digital narrative.
The personality of Sara's photographic works has two moods: one is serious, and the other humorous. Generally she tries to produce simple compositions. She moved to Japan in 1996. That is the reason why we often see models of Asian origin in her imagery. As a self-expatriate and outsider photo artist, she admires the Japanese art and culture, both traditional and contemporary. She also loves travel and meeting other cultures. Through it she has managed to make a large collection of digital photography and produce related artistic work.
§
Sharon Passmore: Some of your work seems more spontaneous like "Nardos y Gladiolas" or "Turquoise and Amber", whereas some seem very planned, like "Farewell". How much of your photographic work is done in a studio versus on location?
Sara G. Umemoto: Most of my photographs are done outdoors because I prefer daylight. However, some of my photo montages are created using photographs taken indoors but not in a studio.
Do you always have your camera with you?
Yes, when the weather and time permit me to do this, I love seeing the world through the camera.
What was the most surprising shot you ever captured spontaneously?
It's difficult to answer because it depends on the subject or genre. The first example that comes to mind is a case that happened in 2005 at an ancient costume festival, held every year in the city of Kyoto and known as Heia Matsuri. At that time I brought a small digital camera. I saw a girl passing who had participated in the parade. Without planning the shot, I held the camera with my arms outstretched and took the picture following the movement of the car where she was seated. The result of the picture was great because she clearly contrasts against the background motion effect. Her long hair seems to float slightly in the air, as if the wind had caused this effect. Many people praised me for that shot.
I notice the influence of many of my favorite artists in your work, for example Frida Kahlo and Magritte. Are there any other artists that have been influential?
It is hard not to be influenced by the masters or even by someone loves the visual expression as much as I do, whether they are famous or unknown painters, photographers, designers, etc. I also believe that these influences can be sometime conscious, sometime unconscious. Many years ago, when I practiced drawing and painting I was a great admirer of the works of Salvador Dali and Remedios Varo. On the other hand, I was fascinated by the work of my sister who is a painter and was my teacher. Through my family I have had the great opportunity to get acquainted with Luis Nishizawa who is one of the most important painters and muralists in Mexico and whose works I appreciate very much. Through these years, I have discovered many talented men and women through books, magazines, museums and the Internet whose work fascinate me.
Some of your pieces show a strong love of textiles, such as "Equinox" and "Red Silence". Are there other artforms you love, besides textiles that find their way into your work?
I have a strong penchant for visual composition—simplicity, design, color, geometric shapes— because of my academic training. I also cannot resist admiring the aesthetics of cultures in the world. There are many that are so beautiful, from the ancient traditional arts and crafts to the modern trends.
Do any of your other interests in your life influence your art?
Conceptual art is another interest of mine. I think this is so because I am married to a sociologist. My husband is very involved in social problems so I became interested in documentary photography and later I began to make some rather thought-provoking imagery.
Do any of the elements in your images carry special meaning for you?
With regard to my digital imaging works, yes—sometime I use forms or elements to evoke a certain symbolism from a psychological point of view. I had fun reading about the psychology of color, the psychology of women, psychoanalysis and art, etc. I beg you all, if one day you see a photo montage where I applied knifes, snakes, cockroaches, etc., to blame their connotation to the authors of these theories.
What music, if any, do you listen to while working? Does it change to fit the piece you are working on?
Most of time when I work on photo edition, I usually hear no music. But every once in a while when I work listening the music, I choose one depending on my mood at the moment. I am not sure if the music influences my brain when I'm working.
What technical challenges do you encounter while working digitally?
This question makes me smile, yeah! My big challenge was and still is the software that I use. It is a Japanese version and it is the same with the manuals of my cameras, computer, etc. Japanese writing is very hard to understand because it uses three types of scripts, of which the most difficult is ideograms. The ideograms or 'kanji' are around 100,000. So, every good student of Japanese must memorize a considerable part of them (naturally not all). Although software programs use a technical language derived from English, there are also commands written with ideograms. Fortunately the practice of trial and error has worked for me. Thus, I have learned the functions of the software I use mechanically, and when I'm in big trouble my husband helps me.
How many file formats do you use and for which purposes?
Usually I use the most common file format jpeg, uncompressed, high resolution for archival prints. But it depends on the recommendations of the print store. For displaying my photos on the web, I also use jpeg, 72 dpi level, 7-8 medium-high quality.
What are some of the criteria for selecting photos to composite or digitally manipulate?
It depends. Sometime, the idea comes first as I start to imagine what I want to tell in my story. Once I've visualized the whole idea, I then seek the appropriate photos from my stock. If I lack photographic references then I take the photos. Another way is to experiment with those photos that I think will be good to combine or blend with others. I use these digital experiments as backgrounds in some of my photo montages. For these cases I enjoy to explore new textures and atmospheres.
Is it sometimes difficult to know when to stop working on a piece?
Generally no. I produce more than three images at the same time. I've never been able to dedicate myself to only one image. If at some point in the work some of my images are 'stuck' then, I set the image aside for some time. I return to explore it again and again until the piece is ready to display to the public. Thus, I've had photo manipulation works that were completed only after a long process and others that were completed very quickly.
I notice that "Citrus Road" is quite perfect as it is. Did you manipulate that image and if so, what did you do to it?
"Citrus Road" is a completely straight photography without manipulation. I just felt it's necessary to increase a little bit the contrast. This shot was done in a cloudy day of early spring. The trees had their leaves bright yellow-green, fresh and young. The scene was really beautiful. The foliage had a sharp contrast with the dark color of the trunks. From where I was standing, the scene looked like a curtain even though it was a row of trees in perspective. Behind these trees there are houses and buildings but I wanted the frame without that architecture as background. When I found the perfect frame, I was standing on my tiptoe—I mean, I needed a higher position to make the photo. I stretched my body as much as I could and got the shot.
Finally, "Fibonacci's Garden" is an amazing work, I just love it. Which came first, the head or the shell?
I am glad to know that you like this piece. Thanks for the compliment. The head came first and later, the shell. By the way, this work was the result of experimentation. In brief, the process of this piece is as follows. When I was working on the background it occurred to me to superimpose the photo of the model. Then, I added a layer of white color to make his face pale. To break the monotony, the picture of the shell was inserted repeatedly in his head.  And then, I remembered the theory of Fibonacci. So, I had the idea to complete the work with stylized ferns using the photo of another shell. In this way "Fibonacci's Garden" was completed.
Thank you so much for the opportunity and for choosing my photographic works for Able Muse Magazine. I am much honored.