After the Hunt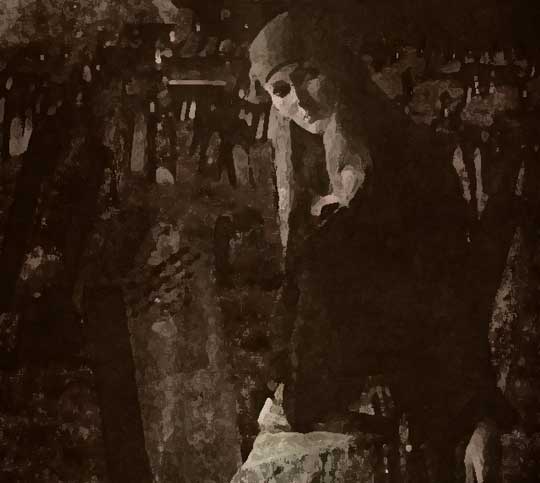 spicorder
After the Hunt
§
Gloria did not write him many letters. In fact, she only wrote him one short, cruel letter; she then moved to Albacete, known for its knives and aged cheese, to start anew. Eventually, the smell of her hair left the pillows, but there were things that would not leave. He had a privileged view of the woods from his home in Granada; through his bedroom window he could see trees with bark like alligator skin, clumps of wildflowers, and the usually quiet deer who roamed about.
Around October, unusually early, the bellowing began. Trembling, haunting, blood-curdling cries of wild deer crashed simultaneously into the warm bodies of the white-tailed does, and into the cerebrum of Ramón Camomila. In his bed, he stared into the darkness, thick as black currant jelly, and listened to the deep lust for the thin-legged does reverberating from tree to tree, traveling under the spidery branches, causing noses and hindquarters to twitch. It was utterly impossible to sleep.
On the seventh night of the bellowing, Ramón got out of bed. He placed a glass on the olivewood table in the kitchen and poured himself a drink—a strong, honey-flavored Orujo. With little in his stomach, he became tipsy fast. He shut his eyes against the hooves drumming against his temples, and thought of Gloria, how she had sighed when he gave her the box. He drank another glass, put on music to drown out the moans, but the louder he made the music, the more he could hear—the moaning, the heavy breathing and the tearing up of wet earth.
Fucking animals, he thought, and put on his coat. One howl and you have a mate; that's it. Simple. No boxes, no rings. The ring had been beautiful, with a thin band and a small diamond surrounded by intricate lattice work carved in gold, like the petals of a magnolia. She refused to even try it on.
Ramón stepped out into the crisp air; he felt a cold snout on his hand and warm breath on his neck, so he ran toward the blinking lights of the bars and restaurants in the center of the city, ran far enough so that the animals and the noises faded, and crawled back to the forest blindly, where they were swallowed up by the darkness.
By the time he reached "The Upsetter," he was sweating and halfway sober. At the bar, he ordered three consecutive vodkas, and chased them down with handfuls of sunflower seeds. He ordered two glasses of vino tinto, one for him and one for the 'lady,' he told the bartender. He downed the one for the 'lady' before descending the stairs to the performance room and sat at a table next to an older man with long gray hair.
"What's happening tonight?" he asked.
"A show," the man replied.
"Who?"
"Flamenco."
"Gypsy music. Great. Duende," he said, and sipped his wine. "My girlfriend used to hate this music."
The man nodded. "Where is she?"
"Well, she's not my girlfriend anymore." Ramon drank more. "When will it start?"
The man glanced at him, shook his head. "Already started, hombre," he said.
Surprised, Ramón looked at the stage. A large man was in fact playing a guitar, and a woman with one leg shorter than the other clapped her hands and clucked her tongue in time with the chords. Behind them hung a thick, black curtain of cheap velvet. It quivered, and a small, brown hand appeared, holding a navaja, the blade glinting under the one light in the room. Soon came the crook of an elbow, followed by the slight curve of a bicep, a strong shoulder, and finally, a face framed by a tangled net of copper hair.
"Dios," Ramón whispered.
The dancer pointed the blade at the audience, then placed it between her teeth and walked to the front of the stage, her heels clicking like sharp hooves. She stopped, lifted up her dress with both hands and began a slow and gentle rhythm of heel toe close, heel toe close, heel toe close. The large man began to play faster; the woman with one leg shorter than the other opened her mouth to sing, then yell, and the dancer spun and trembled and flung her hair about. The rhythm mutated, became fast and violent and she let go of the dress and quickened the steps heeltoecloseheeltoecloseheeltoeclose, snapped her claw-like fingers and snarled and drew back her lips. A small white rose escaped from her locks and fell to the stage, and she crushed her heels into the petals, biting down hard on the blade in her mouth, while the blood rose to her chest and cheeks and lips; olé.
The music stopped, and she stood with one hand raised in the air, the other clutching her chest, feet spread apart and knees bent, finished, yet prepared for another brawl. The music lingered like the silence after a kill, but just for a moment. The people around Ramón yelped and whistled; he jangled his pocket change, his eyes locked on the dancer. She bowed, stepped down off the stage. With the courage of drink, he grabbed her elbow before she could pass him.
"Thank you for the show," he said.
"Thank you for your money," she responded.
"What's your name?" he asked.
"Loli." She turned to leave, but he gripped tighter. "I'm Ramón," he said.
With sweet, large, brown eyes she smiled at him, and he felt something jab into his side. He peered down and saw her holding the navaja, the blade just under his ribs.
"Ok Ramón," she said. "Let me go, so I can get drunk." He released her, and she placed her lips to his cheek, then went up the stairs, flanked by three gigantic men.
Ramón also went upstairs; he chose a table across from them. All four had a strange resemblance, but it was hard to tell with the light, and the lingering drink. The men had a greenish tint to their skin, and meanness to their eyes, even when three whores came over and arranged themselves accordingly. Loli headed to the bar, and Ramón met her there.
"Let me buy you a drink," he said.
"Whiskey," she said.
"Ice?"
"No. Whiskey."
He watched her drink, watched her neck, long and brown, and ordered her another.
"Are you Italian?" he asked.
"Why?"
"The hair."
She finished her drink. "No," she said. She moved closer to him, touched his hand. "You like my hair?"
"I like how you dance," he said.
"I'm good because I never sleep," she said. Her eyes were foggy and scratched and red; Ramón had the urge to kiss her brow. He had the urge to carry her to his bed.
"I haven't slept in two months," he said.
"I don't believe you." She laughed and broke her gaze. "I think you're lying to me, so that I can feel sorry for you."
"I want to see you again," he said.
Loli dipped her fingers into the bowl of sunflower seeds on the bar, and put a few in her mouth, chewing slowly. She spit the shells on the floor, at Ramón's feet. One of the men yelled something at her, then kissed the whore on his lap.
"Why?" she asked.
"I don't know," he said.
Loli ordered four whiskeys, then wrote an address on a napkin.
"Come see me on Friday," she said, and slid the paper under the bowl. "That's when the hunting starts."
With two whiskey shots in each hand, Loli returned to the table, and did not meet his stare again for the rest of the evening.
~
What happened in the days between that night and Friday was an inescapable babel. The creaking of unsteady trees, the strange thump of a heartbeat, and of course, the fur shrouded racket night after night after night. Ramón contemplated going to his cousin's house, the one who had a vineyard and wife in Fuente Vaqueros. However, the thought of hearing them talk about family in between sucking on pig bones made him wait until Thursday, when he would need wine. Ramón busied himself during the days shopping for Loli, something Gloria never allowed him to do. He bought aged sheep cheese, loaves of pan de pueblo, slabs of salmon, and a chocolate tart with tiny glazed pears sprinkled on top, which he imagined in her mouth on her tongue, between her dark lips. He bought a new shirt, a new pair of socks, and a new aftershave. He got a haircut. On Thursday morning he rang his cousin, brushed his freshly trimmed hair and drove to the vineyard.
"This for Gloria?" his cousin asked, as he led him to the back of his wine cellar.
"No, someone else," Ramón said, marveling at the hundreds and hundreds of green bottles, some without labels, sitting, waiting to be opened.
"Always thought she was a nice girl. Real pretty."
Ramón fluttered his fingers at the bottles. "What wine goes best with salmon?"
His cousin pursed his lips, let his eyes roam, and reached for one with a clean, white label that read: Familia Camomila. "This is good," he said. "It's a Tempranillo, a 2004."
"Can I have more than one?" Ramón asked, stretching out his hand.
His cousin scratched his beard, tilted his head to the side. "You doing all right, hombre? The wife asked me to ask you."
"I'm fine. Great." Ramón puffed out his chest, straightened his spine. "I have a date tonight, don't I?"
His cousin shrugged, and handed him two more bottles. "Yeah, but you were with Gloria for five years. That's a long time."
"Thanks for the wine, tío. I owe you," said Ramón, and took out his car keys.
~
Ramón Camomila arrived early, and looked up at the hill he would have to climb. The Friday sun was low, casting an amber light on the caves, which were quiet and serious. With one hand gripping his bag of food and wine, the other extended for balance, he made his way up the hill, which had no path. Once at the top, he searched for a name, and realized he did not know Loli's last name, nor were there any sort of markers on these bizarre homes, these homes of rock, where there were probably petroglyphs, where people did not have television or microwaves, and maybe they all went to the bathroom outside. His chest felt like it was shrinking, like it would squeeze him to death; he swiveled his head around, confused, and wondered if it was all a trick—another lying woman. Then he saw the Alhambra.
Of course, Ramón had been in the palace many times as a boy, but never had he seen it from this side of town. The Alhambra was majestic in the yellow and orange tint, the shadows from the white towers a deep smoky blue. There were tourists the size of ants down below, and tiny buses moved as if pulled by an invisible string. Only the Alhambra retained its size; large and white and magnificent, the windows carved with fine tools, the gardens lush, the memory of sultans and kings still alive in every room, under every tile, between each step, at home. A bellow rang out; Ramón was surprised he could hear it from this side of town. He set his bag down and perched on a rock, admiring the marvel of architecture. Another deer cried out; its voice traveled over the dusty hills toward the palace, jumped through an open window into the dining hall which was empty today, but had once held a large olivewood table polished with cold-pressed olive oil.
Once, in the middle of that table, gold dishes held servings of deer heads glazed with rosewater and honey, a roasted pear in each stilled mouth. A knife was poised by the heads, ready to dig and carve the pink, soft meat for the sultan, then for his guests, then for his courtesans, and finally for his servants, who licked the bones clean. After dinner, the sultan and his guests retreated to the smoking room, inhaled from hookahs, and passed a dish of sugar-coated green almonds to one another. They reposed cross-legged on silk pillows from Asia, blinked and smiled at the honeycombed ceiling which was painted blue and white and carved with pictures and the words Allah Allah Allah. Astonished by the skill and their full bellies, they lowered their heads onto soft female lapses and touched the smooth, white, sweet-smelling skin. If they did not fall asleep, they allowed the women to caress their flushed and fat bodies.
"You're here."
Startled, Ramón looked down to see a dark hand on his shoulder, the nails chipped and uneven in length. Loli sat next to him and lit a Fortuna cigarette.
"You have a beautiful view," he said.
Loli spoke and exhaled smoke simultaneously. "What's in the bag?"
Ramón opened the bag and removed the items one by one, arranged the dishes carefully, offered everything to her, everything for her enormous eyes and soft lips and dangerous tongue.
"Hungry?" he asked.
With both hands she picked up the food, and ate as if she hadn't eaten for days, ate everything with the same desire, not bothering to wipe away crumbs from her mouth, letting bits of cheese and fish and vegetables fall to her chest and lap.
"Open a bottle," she said, and he uncorked the Familia Camomila.
They ate and drank until they were surrounded by darkness, and when the last of the chocolate tart with the tiny glazed pears had been consumed, Loli stood up and walked into a cave. Ramón assumed he was supposed to follow, so he gathered the trash in his bag and went inside.
"Do you live alone?" he asked, taking in the ribbed walls of rock, the floor scuffed from wooden furniture, a lone guitar by the water basin.
"I live with my brothers," she said, her teeth stained.
"Where are they?" he asked.
"Hunting," she said, patting the rug she was sitting on. Ramón crouched down, ran his fingers clumsily through the short hair of a wild, dead deer. As if feeling this touch in the afterlife, a deer moaned in the distance. Loli widened her eyes and embraced him tightly; he touched her bare knee and pushed his fingers up higher, under her skirt, to just below the thick curve of her hip, where his skin suddenly met cold metal.
"My navaja," she whispered. "You never know when you might need a knife."
"Do you think I'm going to hurt you?" he asked.
"You couldn't hurt me," she said. "But I could hurt you."
He looked at her. "I've never seen anyone dance like you. You must be famous here."
"I don't make any money from that. Just change, to buy drinks for me and my family." She paused and unstrapped the holder from her thigh. "Do you know how I make money?"
He glanced at the guitar, then at her face, the dark chicory skin, the deep circles under her eyes. "Do I want to know?"
She leaned into him, he smelled the Familia Camomila on her breath. "What I do, what I really do for money, is I let the tourists come into my home and see how real eastern European gypsies live—for ten Euros a head." She leaned back. "It was my brothers' idea. They said it would work better with a woman."
"What do they do?" he asked.
"Hunt."
"Oh."
"What do you do?" she asked him.
"I'm a lawyer."
She looked like she was going to laugh, but didn't. "Sometimes I put dirt on the horses," she said.
He took her hands, which were calloused and rough, like splintered wood.
"Sometimes I use the kids, make them play without shoes in front of my cave, so I seem more pitiful."
"You are not pitiful," he said. "I was scared of you when you were dancing. I was jealous."
"Jealous of a gypsy woman?" she asked.
He nodded. "I bet you feel everything when you dance. I feel nothing."
She put her lips to his lips, which were still sticky from the glazed peaches. He kissed her back and thought, this woman would not know what to do with a black velvet box, and he felt a sickening relief.
"Do you feel that?" she asked, and he nodded and she put her hand between his legs. They struggled with their clothes and he would have ignored the rising bellows if Loli had not shoved him away so roughly.
"Don't be scared," he said. "They're just doing what they're supposed to do."
She ignored him. "Did you hear a gun shot?"
He listened, but only heard the cries.
"You need to go," she said.
"What? Why?"
She dressed rapidly, put up her hair, ran to the basin and began to scrub at her face with a rough cloth. "I heard it. My brothers," she said, scrubbing, scratching away his scent, "they're coming."
A shot rang out, piercing the silence of the cave.
Ramón went over to her, still naked. "You're a grown woman"
She threw her cloth at him; it hit his chest with a cold smack. "They'll kill you," she hissed. "They'll kill you if you don't leave now!"
He stepped back, shivering. "I'll put on my clothes. But I don't want to leave."
Before he could put on his pants, another shot released, stinging their ears, and a new smell filled the cave, of smoke from a barrel, of cool sweat, of family. Ramón turned around and saw the three brothers in the mouth of the cave, sharp-edged and smoking. On their shoulders hung rifles, on their legs were navajas like Loli's, but larger. They made no moves to speak as they swayed in the dark mouth like loose fangs; all five remained still, the only sound their breathing, like a faraway stampede, a low, collective growl. Finally, the tallest one spoke.
"Looks like a Yanqui."
Another one replied, "No, an Irlandés."
And another, "Not pale enough. Even the ass ain't pale enough."
Loli stooped to pick up Ramón's clothes, shoved them at him and shuffled over to her brothers. "It's not what you think. It's…"
"What, puta, what is it? It's not you with a naked man. It's not you alone in our cave, with a naked hijo de puta?"
She hung her head. "He's from Granada."
In unison, they let out a peal of laughter, opening their dirty mouths, laughing in the mouth of the cave, moving their shoulders up and down, the rifles clicking. The tallest one pointed a black finger at Ramón. "We're not from the same Granada, cabrón." He shoved Loli away and spit on the floor. "Come over here."
Ramón tugged on his pants then lifted up his hands, keeping his eyes on the rifles; all of the wine previously swimming in his head suddenly and miraculously disappeared.
"Listen," he said, standing in front of the tallest one, at an arms length, "I respect your sister. She is very talented."
All three narrowed their eyes, and reached for their navajas.
Ramón's heart was thumping. He shook his head, "No, no, I meant with her dancing. I saw her dance. She's talented!" he cried.
They relaxed their fingers; one pulled out a tin box, passed a cigarette to the other two, then offered one to Ramón.
"No, I don't smoke," he said, and waved it away.
Again the silence. The one with the tin box sucked on the filter, while the other two kept their eyes on him, waiting for a signal.
"So, were you planning to marry our little sister before or after you fucked her?" the brother with the box asked.
Ramón wiped away the sweat trickling into his eyes, willing his legs to stay strong. "I, I hadn't thought that far ahead," he whispered.
The brother nodded, stomped out his cigarette and turned to the other two. "Put down your rifles," he said. "We won't need them."
They lowered the weapons and stepped closer, teeth exposed, threatening to bite into his thin flesh. "I like your hair, guapo," one said, dragging his fingers through his locks, then curling the ends tightly in his fist. "Let me get a better look, eh?"
One grabbed him then by the arm, and another by a leg, and pulled him outside to face Loli's cave and all the surrounding caves, the small white shelters glinting under the moon.
"Let's see how talented you are, puto," they said, and flung him to the ground. They circled him like angry bulls, kicking up dust and licking at the spittle on their lips. One broke from the pack and flew at him with two ugly fists, and beat upon his temples like small grenades—boom, boom, boom. Then another dove in, his strong arms like black wings across his face and torso, and another scratched at his eyeballs until Ramón could no longer see, only hear their brawl song like singing blades. He could smell their naked lust for blood. Boom, boom, boom. Soon, his limbs turned limp and wilted like lilies, and as he lay there, he wondered how it was that these men, these brothers, had survived for so long with hearts of pure oil.
"Enough!"
Someone was shouting, running toward him.
"Enough!"
Someone was struggling, writhing, clawing at the ground and pounding their flesh against a rough flesh that would not give. Then, all at once, the pounding stopped. Everything was quiet, and Ramón turned his head to cough into the dirt.
"Stay away from here."
"No place for your soft ass."
"Next time we'll skin you and hang you on our wall."
Ramón considered this final threat, imagined his body stretched out, translucent against the cave wall, forever staring at a lonely guitar.
"All right, boys, that's plenty. Loli, clean this thing up."
Ramón heard her yell, and they laughed and told her to take him home, and then to never speak to him again. The voices were replaced with a small wail which rose like a furious wind, chewing at his earlobes and poking at his wounds. Then, the wind was over his face, and opening his eyes with its rough fingers.
"I'm so sorry, Ramón," she said, her eyes shiny.
"That's alright," he said.
"No," she choked. "I couldn't do anything."
She leaned over and dirtied him with kisses until her lips grew dry.
"I'm covered with blood, aren't I?" he asked.
"One of your eyes is bleeding. I don't know how to fix that," she said.
"Call the police."
"I can't."
"Call an ambulance."
"They'll call the police, Ramón."
"I'm going to die."
Loli wrung her hands. "I can't call the police. They're my brothers. What would I do without them?"
Ramón closed his good eye. "I'm very tired," he said. "I'd like to go to sleep."
Loli swept his hair back. "Wait. I'll go get a horse."
Her bare feet scraped and crunched on the gravel as she hurried away; after a few minutes, Ramón opened his good eye and searched overhead. His ears buzzed and the bones in his skull creaked with each painful blink. He wasn't sure after a while if his good eye was really open, because there were no stars and there was no moon to be found. The sky, if it was the sky, looked cold and wet; not how a sky should look, but more like the quivering nose of a wild deer.