Shekhar Aiyar: Spotlight Poet - Interviewed by Timothy Murphy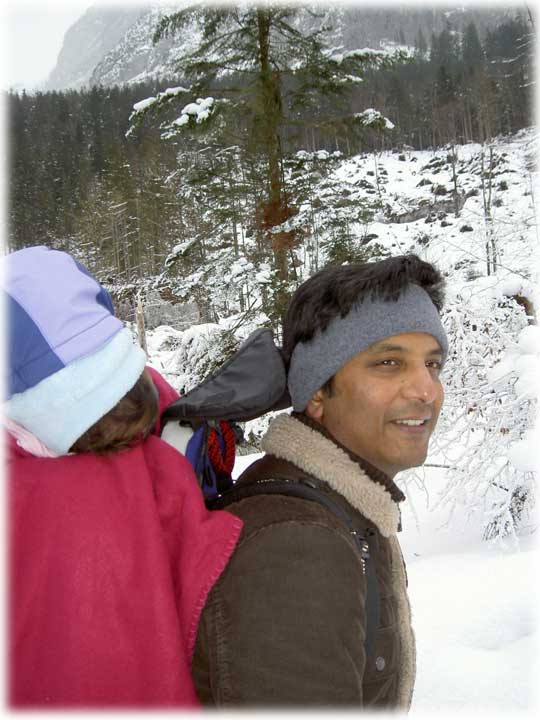 An Interview of Shekhar Aiyar
by Timothy Murphy
Shekhar Aiyar was born in Delhi, and currently lives and works in Washington, D.C. He has degrees, in ascending order of pompousness, from Delhi University, Oxford University and Brown University. His poetry has been published in magazines and anthologies in India, Sri Lanka, England, Canada and the USA. Credits include the Formalist, the Atlanta Review and the Avatar Review.
§
Shekhar, is India with its vast human resources destined to lead the English-speaking people?
I think India is very interestingly poised. Obviously its economy has shifted gears since the early 1990s. Having English as one of its native languages gives it a leg up in the global marketplace, not just functionally but also culturally. It has a huge pool of college-educated talent, a vibrant media and the world's most prolific movie industry. Most impressive of all, it has a genuine multi-party democracy: each successive Indian general election sets the record for the largest exercise of popular franchise in world history, and incumbent governments are routinely sent packing. In fact India is the obvious outlier in studies of the relationship between income and democracy; the glorious exception to the "five thousand dollar rule" (which says that a democratic system of government is only sustainable once a country has passed the income threshold of five thousand dollars per person).

That's the silver lining. There's a dark cloud underneath. India remains a desperately poor country. It's often compared to China, but its per capita income is half its neighbour's, it has a far greater percentage of people who live in absolute poverty and it lags behind in many areas like primary education and public health. The state is weak in areas where it should be strong, and overbearing in areas where it should be absent. Armed conflicts between Naxalites and police forces are so common in many swathes of the country that they go almost unnoticed. And then, of course, there's religion. Luckily there have been no religious clashes on the scale of Partition for the last fifty years, but the growth of explicitly religion-based political parties means that there is a large constituency that stands to benefit from communal bloodletting.

So I'm wary of linear narratives about India's future and I don't think we have a manifest destiny. What we have are grounds for (very) cautious optimism.
Are you a Hindu? What is your relationship with Mahabharata and Bhagavada Gita? Have you considered undertaking their translation? What do you think of Christopher Isherwood's translation of the latter?
I consider myself to be culturally a Hindu. My mother was—and remains—a devout Hindu. As a kid growing up in Delhi I learned stories from the Ramayana and Mahabharata, visited temples, sang devotional songs, and energetically celebrated Diwali and Holi. I did not ask myself questions such as whether I believed in God or whether I was a Hindu.
Today I would probably describe myself as a secular humanist. Belief in an actual deity, especially of the wise and compassionate anthropoid variety strikes me, to paraphrase Wilde, as the triumph of hope over experience. But the customs, imagery, music and stories of the religion I was brought up in will always be a part of me.
The Mahabharata is, of course, a magnificent epic, and even this is an understatement. Its fund of legends is inexhaustible, and most are open to an array of interpretations. It easily rivals—I would say surpasses—the Iliad and Odyssey in scope and complexity, with the advantage of being very much alive, as an essential part of a vigorous and growing faith. At a personal level I must admit to finding the Bhagavada Gita one of the less interesting parts of the Mahabharata; I find the stories far more compelling than the philosophy. I haven't read Isherwood's translation.
Would you consider translating the Lord Buddha? There are teachings of the Lord which just crack me up. An old man at the river asserts that he has spent seventy years in prayer and meditation, and now he can walk on water. The Lord says, "What a pity, when you could have hired a ferry for a penny!"
That's a fabulous story!
But I believe that the rather heterogeneous Buddhist canon is in Pali, Sanskrit and Chinese. I don't speak any of those languages.
To be honest, I'm quite linguistically challenged. I have two native tongues, English and Hindi, and little else. Despite wrestling with Spanish and French for some years, I will not, to put it kindly, be reading Cervantes or Rimbaud in the original anytime soon.
There was an extraordinary efflorescence of saintly men round about 500 BC. The Chinese had Confucius and Chuang Tze, who dictate my relations with my seniors. The Greeks had Pythagoras, and India, the Lord Buddha, the Jews had Jeremiah. What happened in 500 BC?
Tim, that's a fascinating question, and I haven't the faintest clue as to the answer.
If this is not too intrusive and personal a question, what is your caste?
Those who cross the ocean lose their caste, which is just the way I prefer it.
What do you think of the film Gandhi, and of Ben Kingsley's performance? And the performance of Rohini Hattangadi?
Gandhi is a marvelous movie. Salman Rushdie famously dismissed it as "unhistorical Western saintmaking", which is unfair. Yes, it tells a selective narrative, and simplifies a complex man. But reality is inevitably more complex than art, so a biopic must prune and prune. Yes, it makes him out to be a saint, but of all the public figures of the twentieth century he most closely approached that ideal. I think the essentials of Gandhi's life, his conversion of a debating club, the Congress Party, into a mass movement for independence, his utterly revolutionary adoption of non-violence as a political weapon, his insistence on India as a home for Muslims and Hindus alike, all these things are faithfully and powerfully portrayed. Kingsley is hardly acting, he is channeling. And Hattangadi's performance is only one of a number of excellent supporting roles; to this day when I think of Nehru, it is Roshan Seth's face that comes to mind!
Shekhar, tell us about your boyhood in India, your education, and your emmigration to the States.
I was born in Delhi, and educated at schools there and in Dehradun, at the foot of the Himalayas.
As for college, that's a rather long chapter of my life. I studied economics as an undergraduate at St. Stephen's College, which is part of Delhi University. Then I obtained a scholarship to read philosophy and economics at Oxford University. If you already have an undergraduate degree— as I did—you get something called "senior status" and can complete a three year degree in two years. Moreover, and most pleasingly, this BA magically becomes an MA five years later, at the modest expense of twenty pounds.
After a year off, during which I taught at a high school in Sri Lanka, I joined the Ph.D. program at Brown University in Rhode Island. Four years later in 2001, Ph.D in hand, I began working for an international organization in Washington, D.C., where I've lived ever since.
The greatest election in the world was just held, and Congress demolished the BJP. It received scarcely a mention in the Western, mainstream press. Your thoughts? (Note: This interview was conducted in the summer of 2009, shortly after the general election).
Yes, I agree that the Indian election was hardly covered in adequate detail by the international press. But in a way, the very lack of perceived newsworthiness in India's election is a massive compliment to the country. The fact that it held the largest election in world history, with universal suffrage, little violence and untrammeled domestic media coverage, is considered entirely normal. This is not the case in practically any other country at India's level of development. As for the results, I'm happy with them. The Congress party, for all of its myriad faults, is more secular than the BJP. And its margin of victory means that it is now less dependant on coalition partners than before, so the chances of implementing urgently needed reforms have improved.
What do you think of A Suitable Boy, The Golden Gate, and Vikram's translations from the T'ang Dynasty Masters? I asked a very senior poet his opinion of Seth, and his response was: "Insipid." I just started reciting, because I had some poems and translations in mind. I changed the great man's opinion, but I would like to know yours.
I think of Seth as easily India's finest living poet. I read The Golden Gate in high school, and that was my first real introduction to poetry, not the snippets of verse in our school curriculum. The effortlessness and subtlety of his tetrameter just took my breath away. That he could use verse to tell such a complex story, and sustain that story over a couple of hundred pages, seemed to me at the time to be an almost superhuman achievement. I remember being inspired to write a review of his book for the school magazine in iambic tetrameter; it was unsurprisingly awful, but constituted my own first attempt at verse.
Later, when I was in college, his two collections of shorter poems were published: The Humble Administrator's Garden and All You Who Sleep Tonight. By that time I had read and absorbed a much wider rage of poetry, but I was still blown away by them. The sweeping scope of the Golden Gate was replaced by poetry at a much more intimate scale, but his subtlety of voice and mastery of technique seemed to have improved even further. Those two books remain my favourites by him. Three Chinese Poets, to which you refer, I find very good, and admire for their technical skill and ability to bridge the centuries, but they don't pack the same emotional wallop for me.
I do wish, though, that he would stop writing novels and give us more poetry. I thought An Equal Music was a fine novel, but couldn't get past the first 100 pages of A Suitable Boy.
What did you learn at the Eratosphere?
As an entirely self-taught poet, I've never studied creative writing or literary theory of any sort. Any technique I have was developed through reading an enormous amount of poetry and through the trial-and-error process of writing myself.
So it was a revelation to me to come to Erato and find this community of poets—running the gamut from raw to distinguished—discussing issues of form and meter that I'd often struggled with myself. As a sounding board for poems Erato is tremendously valuable. In everyday life my acquaintance with poets and poetry lovers is very limited. So the feedback that Erato enables me to get on poems—both in terms of quantity and quality—would be inconceivable in its absence. And I think that's a very important function, because with the exception of a few solitary geniuses like Emily Dickinson, poets who write without any review become very solipsistic. I speak from experience!
What are your plans for the publication of your poetry?
I haven't thought about it in a sufficiently focused way. I have enough poems in hand for a full-length collection, so I suppose I should start looking for a publisher at some point. The problem is that writing poetry is so much more rewarding than seeking publication that the former crowds out the latter in a finite world.