By the River Wensum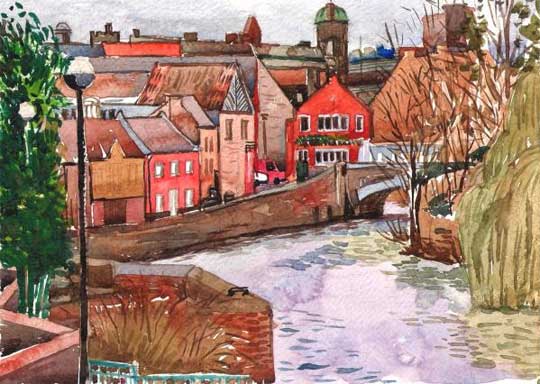 Hopebaby Pradit
By the River Wensum
Tears smudge your syllables as on the phone
you tell me that last week your father died
during your visit home, where he'd been ill.

Tracery of winter trees
along this stretch of river-path, an angler
motionless on the bank, as ever ducks—

though which of those we threw bread to when you came
here to England still survives, I wonder,
among these rippling past today?

Flashback: I'm nine again, pressed to the pane
staring out as rain pelts garden laurels,
pierced by such greenness and a blackbird singing.

That's what goes. When any person dies
a whole world dies: first day at school, first kiss,
sunlight on the handlebars freewheeling,

certain jokes, and friendships,
that dingy street stunned into sudden beauty
by jazz flickering from a cellar grating—

the myriad disparate moments intermeshed,
configured to a singularity
no-one else can ever live in.

Here they come running now along the path,
a dozen children waving wooden swords,
'We are samurai,' they inform me.

A black dog hurtles in to bound among them,
and here is their teacher, as I suppose she is,
who tells them: 'The little dog loves you because

he knows you love dogs,' and 'Run ahead to the tower,
there you can have your ultimate battle,
but we have only five minutes.' The swords are clacking,

and some of them will never forget this moment.
This is how lives define themselves,
it is nothing to do with careers and examinations.

And I have learnt many things, yet know no more
of depths than when through streaming window-glass
I thrilled to thrumming rain.

I hope for your father that at last complete
the world he had become, which could not be
without him, brimmed into lucidity.

Turning for home as the low orange globes
of lamps come on, I stoop to look: through grass
still strewn with skeletons of autumn leaves

clusters of green blades thrust, stalks
paling to tips not swelled to buds yet, barely
divining their gold blaze as daffodils.