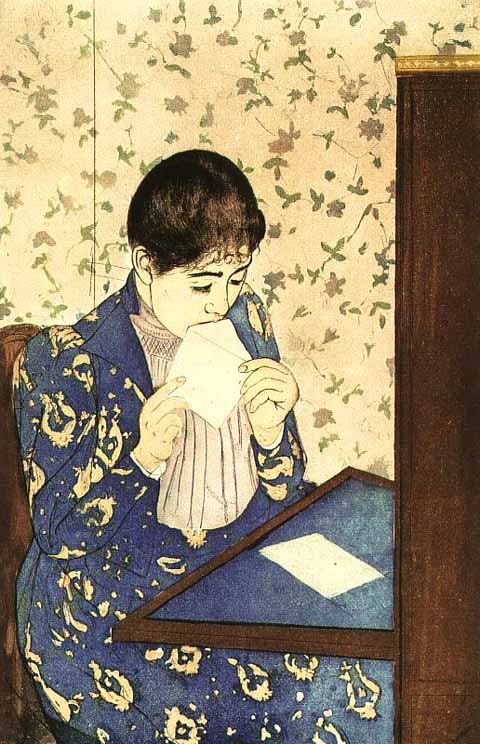 Mary Cassatt 1844 -1926
The Letter, 1890-1891drypoint and aquatint on laid paper,
Chester Dale Collection, National Gallery of Art, Washington, D.C.


Leslie Monsour reads



Mary Cassatt:
Two Studies--
II. The Envelope



in RealAudio format.





II. The Envelope
— after "The Letter," color print with drypoint and aquatint
Olivia's at her desk and vainly tries
To end a letter carefully begun,
Inviting him (nerves flash behind her eyes)
To come to tea next week at half-past one.
The wallpaper creates a little park,
A curling hedge of safe, ungiving thought.
Her dampened brow knits rows of question marks
Entwined with wisps of hair. Her throat grows hot

At sealing up the letter with her tongue —
So intimate an act will never do.
And yet she doesn't like to keep a sponge,
Endures, instead, the pungent taste of glue.
She lays the letter down upon the blotter
And smoothes her bodice, while her throat grows hotter.