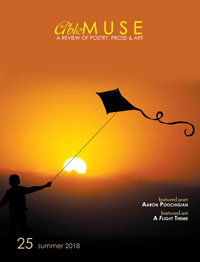 The NEW ISSUE of
ABLE MUSE
, Print Editon (Number 25) - Summer 2018, has just been released, with order/subscription information (for
print
&
Kindle, NOOK, Kobo, & iBooks
editions), with online excerpts at:
www.AbleMuse.com
.
The digital and web editions of the complete issue (provided to the print edition subscribers only as a bonus), is also available now online at
www.ablemuse.com
, along with generous excerpts of the issue for non-subscribers.
editorial
: Alex Pepple •
featured artist
: A
Flight
Theme •
featured poet: Aaron Poochigian (interviewed by Christopher Childers)
•
fiction
: Michael Woodson, Vincent Yu •
essays
: Charles Martin, Barbara Haas •
book reviews
: Brooke Clark •
poetry
: Timothy Murphy, Dan Campion, Charles Baudelaire, Arthur Rimbaud, Catullus, George David Clark, Katy Rawdon, M. Ann Hull, Mark Blaeuer, Ranjani Neriya, Roy Bentley, Susan de Sola, Susan McLean, Ryan Wilson.
Read all the details at
Able Muse
.
----
With special thanks for an outstanding new issue to -- Nicole Caruso Garcia, Susan de Sola, Scott M. Miller (Assistant Poetry Editors); N.S. Thompson (Nonfiction Editor); Karen Kevorkian (Fiction Editor); Cheryl Diane Kidder, Rob Wright (Assistant Fiction Editors).
# # #

~~~~~~~~