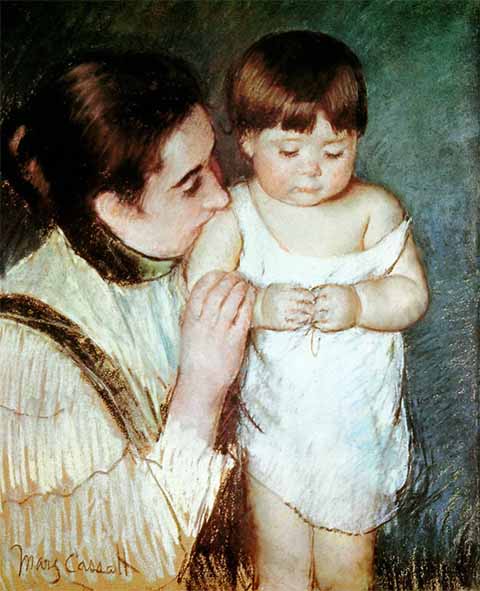 Mary Cassatt, Young Thomas and His Mother,
1893 Pastel on cardboard, 24 x 20 inches
Pennsylvania Academy of Fine Arts


Leslie Monsour reads



Mary Cassatt:
Two Studies--
I. Patience



in RealAudio format.






I. Patience
— after "Young Thomas and His Mother," pastel
She props him on the couch after his nap.
He's damp and warm. He whimpers, will she let
Him see her necklace? Afternoons are wet
And heavy since July. He finds her lap
Too sweltering, her dress does not feel nice
Against his skin. He much prefers the cold
Metallic chain, the locket made of gold.
She sniffs his tender arm, that sweet, rare spice.

He's glad Papa has gone away for now —
Mama reclines her head and pays no heed
To passing time, dexterity, or speed.
Unlike Papa's, "Let ME, I'LL show you how,"
She quietly lets him try. The halves divide
A little world with ticking hands inside.