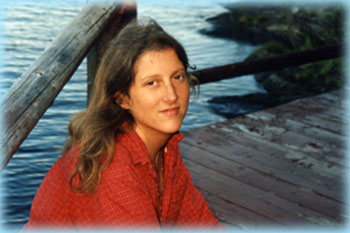 Annie Finch
Poet, translator and librettist Annie Finch earned her BA from Yale in 1979, MA from Houston in 1986 and Ph.D from Stanford in 1990. Her books of poetry include Calendars (Tupelo Press, 2003) and Eve ( Story Line Press, 1997) as well as a translation of the Complete Poems of French Renaissance poet Louise Labé, forthcoming from the University of Chicago Press.
Finch's poems have appeared in numerous journals including Yale Review, Kenyon Review, Prairie Schooner, Poetry, Partisan Review, and Paris Review, and in anthologies including Norton's Anthology of World Poetry and the new Penguin Book of the Sonnet. She has collaborated on musical and theater productions including, with composer Deborah Drattell, the opera "Marina" based on the life of poet Marina Tsvetaeva, which premieres in 2003 from American Opera Productions in New York. She has also written, edited or coedited five books on poetics: The Ghost of Meter; A Formal Feeling Comes: Poems in Form by Contemporary Women; After New Formalism; Perspectives on Carolyn Kizer; and, most recently, with Kathrine Varnes, An Exaltation of Forms: Contemporary Poets Celebrate the Diversity of Their Art (Michigan, 2002). Her poetry has been a finalist for the Yale Series of Younger Poets, the Faulkner Award, the National Poetry Series, and others, and she has won grants from the Cincinnati Arts Council and the Wesleyan Writers Conference.
She is Associate Professor and member of the graduate faculty of the creative writing program at Miami University, and lives in Cincinnati and in Maine. More information on her works can be found at her website, here.
---
Giving Back to the World its Lost Heart:
An Interview with Annie Finch
by R.S. Gwynn

R. S. Gwynn:  Your work as a poet, critic, and editor shows an interesting balance between the traditional and the experimental. Could you talk about your beginnings in poetry—early influences, education, etc.—and discuss how your interests have developed?
Annie Finch:  My background in poetry was an unusually eclectic one, though it started out simply enough:  both of my parents adored poetry.  In fact, they met while attending Auden's lectures on Shakespeare in New York.  I got the full impact of my parents' knowledge and affection for the art—frequent discussions about poetry and even more frequent recitations of wonderful poems.
I have many good memories of my mother reciting to me her favorite Millay sonnets, of our stopping some household task to reread "They flee from me that sometime did me seeke" or "The Lake Isle of Innisfree."  She loved Wyatt, Herbert, and Hopkins, early Yeats, Millay and other American women poets, George Oppen, and numerous others; she is a very fine poet herself, and was always astute with her comments on my own early poems.